City Spotlight | Find Your Flow: 8 Hong Kong Waterfalls to Hike Before You Die (Part I)
By J.B.Browne
Some hikes are more challenging than others, but all waterfall hikes are worth each smoldering calorie. One of Hong Kong's biggest mysteries is that its international reputation doesn't rest on the abundance of parks and recreation it has to offer its citizens. "Asia's World City" is a dramatic landscape with steep, undeveloped mountains and hills that cut steeply to the coastlines where wild, free-flowing waterfalls cascade down ancient rock-faced hillsides. But which are the best, and how do you get to them? Read our practical guide to find your flow.
8/8
Lugard Falls, The Peak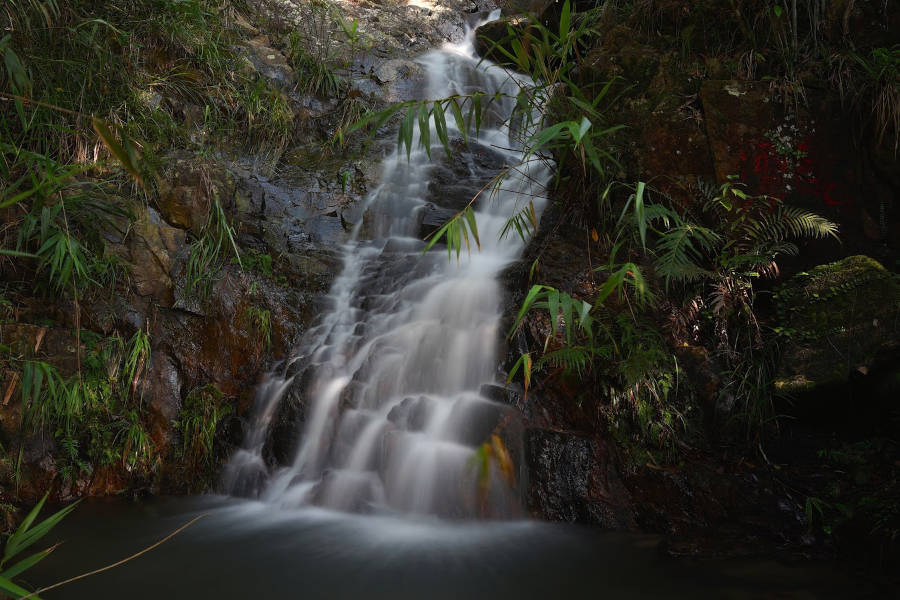 There are times when you're on the bridge on Lugard Road taking pictures of Lugard Falls when some cheeky humans come up from under the arch out of nowhere from the jungle below. And then you realize that the waterfall has to go somewhere, and that's the way they came.
Trekking up Lugard Falls is one of the more unusual ways to get to The Peak. One of the most hidden in plain sight falls in the city, it's noticeability is perhaps highest during the rainy season when the falls are positively gushing. Once in the stream, the first section will have natural rock steps flanking the water flow, which naturally eases you into the more demanding sections above. There are ribbons to guide you, so follow them to the top—best after heavy rain or in the rain for maximum fun.
Difficulty: Upper-intermediate
Getting there: We recommend starting the trek from HKU MTR (A2 exit) and then heading south to University Avenue, where you'll see stairs and a path.
Did you know?
Lugard Falls at Victoria Peak was named after the 14th Governor of Hong Kong.
7/8
Waterfall Bay Park Waterfall, Pok Fu Lam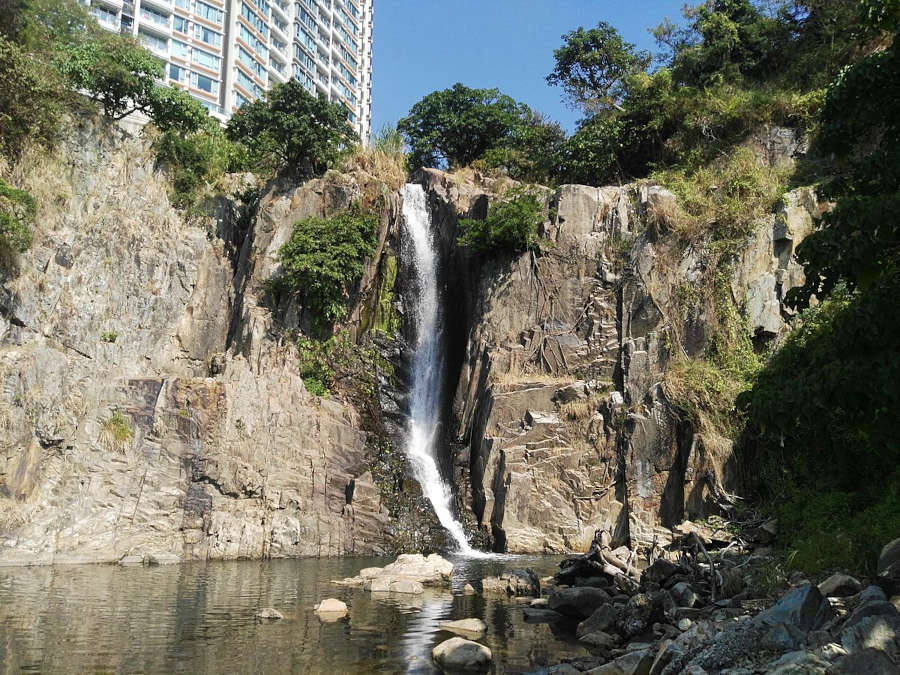 An "urban" waterfall, if there ever was one, Waterfall Bay Park is a short saunter from Pok Fu Lam's Wah Fu Estate, flowing down onto a small beach with the estate's residential buildings keeping watch. Not the most glamourous or isolated falls on the Island but easy enough to access with little fuss and ideal for cooling off in the summer months. The promenade is home to porcelain statues of deities leading to the waterfall.
Difficulty: Lower-intermediate
Getting there: Buses to Wah Fu Estate from Central include 4X, 4, 40, 40M, 30X, and 4, including a 10-minute walk when you arrive.
Did you know?
Relics from the Second World War include a pillbox and searchlight constructed by allied soldiers against the Japanese invasion.
6/8
Bride's Pool Waterfall, Tai Po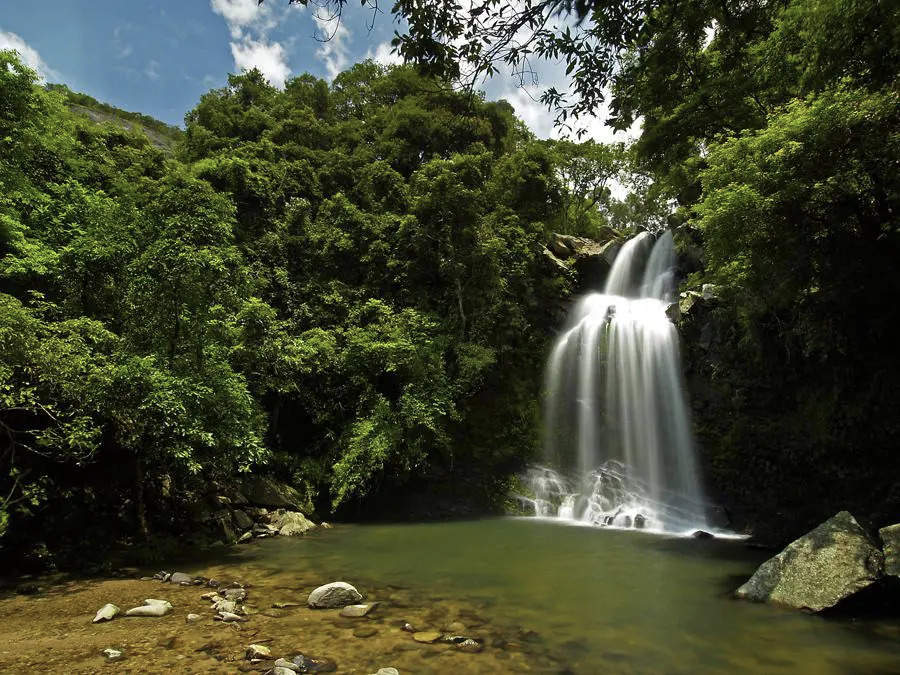 Bride's Pool is a secluded yet popular stream pool and waterfall located in Plover Cove Country Park, near Tai Mei Tuk. Bride's Pool lies within the Bride's Pool Nature Trail and is especially busy on weekends and in the summer months.
Difficulty: Easy
Getting there: From Tai Po Market MTR, take the 20C minibus to Tai Mei Tuk, where you'll begin an hour-long hike to the Bride's Pool. On weekends when it's busiest, there will be a 275R bus directly from Tai Po Market to Bride's Pool bus terminus.
Did you know?
Bride's Pool is named after a mythical bride who fell down the 15-meter waterfall in a sedan chair and drowned when one of the porters slipped.
5/8
Tai Tam Mound Waterfall, Tai Tam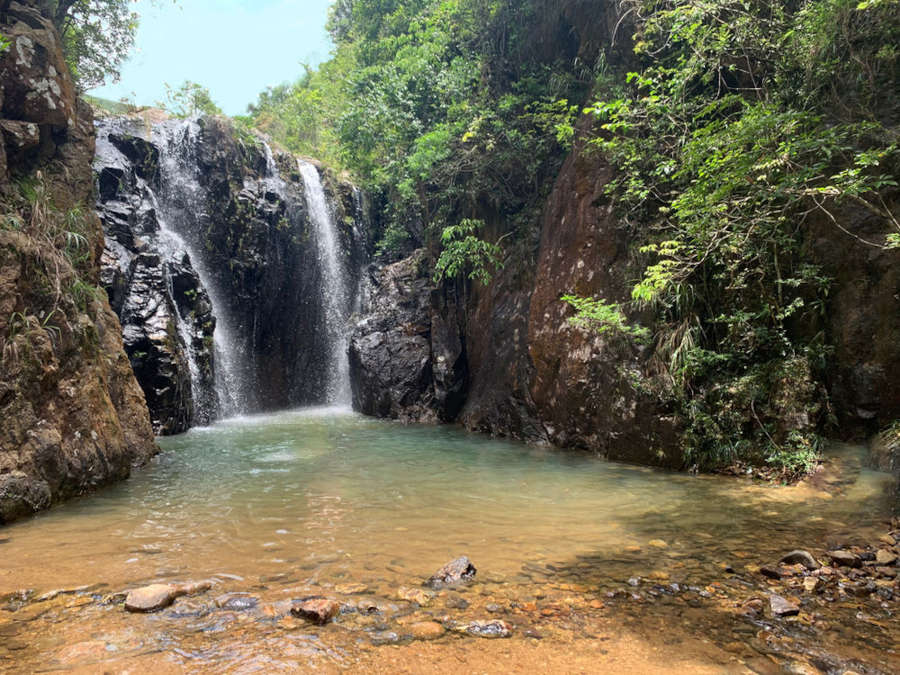 Tai Tam Mound waterfall (© GetHigh HK)
Tai Tam Mound Waterfall is another secret oasis with beautiful cascading blue waters and lush surrounding greenery. Hidden along Section 6 of the Hong Kong Trail that connects Tai Tam Road with Tai Tam Reservoir Road, Tai Tam Mound Waterfall is an easy 7km hike popular with seasoned hikers and families with kids alike. The perfect foil for mid-summer to late summer humidity.
Difficulty: Lower-intermediate
Getting there: To get to the starting point, arrive at Sai Wan Ho MTR station's exit A for bus 14 from the Grand Promenade bus terminus to Tai Tam Reservoir (North), Tai Tam road stop.
Did you know?
Tai Tam Country Park consists of one-fifth of Hong Kong Island's landmass. Also, during World War II, the Japanese encountered strong resistance from British colonial forces here.
As he would refer himself, J.B. Browne is a half "foreign devil" living with anxiety relieved by purchase. HK-born Writer/Musician/Tinkerer.
The views do not necessarily reflect those of DotDotNews.
Read more articles by J.B.Browne:
City Spotlight | Tai Shing Stream: Nature's Kaleidoscope (Part II)
City Spotlight | Tai Shing Stream: Nature's Kaleidoscope (Part I)
City Spotlight | Find Your Flow: 8 Hong Kong Waterfalls to Hike Before You Die (Part II)