Freeze Peach | Beijing 2022 Olympics Recap (Part I)
By Ric d'Stard Lee
So it's been a week since the end of the Beijing 2022 Winter Olympics.
And depending on who you talk to, they were either a massive success or an inexcusable dystopian nightmare.
Before the games had even begun, there were waves upon waves of moralizing, boycotts, and political virtue signaling from leaders in the West — would international athletes be safe inside of China? Could China contain the ever-raging coronavirus and host the event successfully?
Weight loss marvel Republican bigot Mike "led by God" Pompeo still had this to say this week, though. Hey, Mike, just because you're paranoid definitely means they're after you.
Now that the artificial snow has settled, let's break down whether the Beijing 2022 Winter Olympics were indeed a success for China, objectively speaking, and how they were perceived internationally through the now fanciful prism of anti-China Western media.
In a way, the Beijing Winter Olympics could be nicknamed COVID-19 Olympics 2.0, with last year's delayed Tokyo Summer Olympics being the first games to be hosted successfully during a global pandemic. But when Beijing's time came, the risks were far graver. The Omicron variant was spreading like wildfire, and even though China had been vigilant, Omicron had jumped the starting gun arriving in Beijing weeks before the opening ceremony.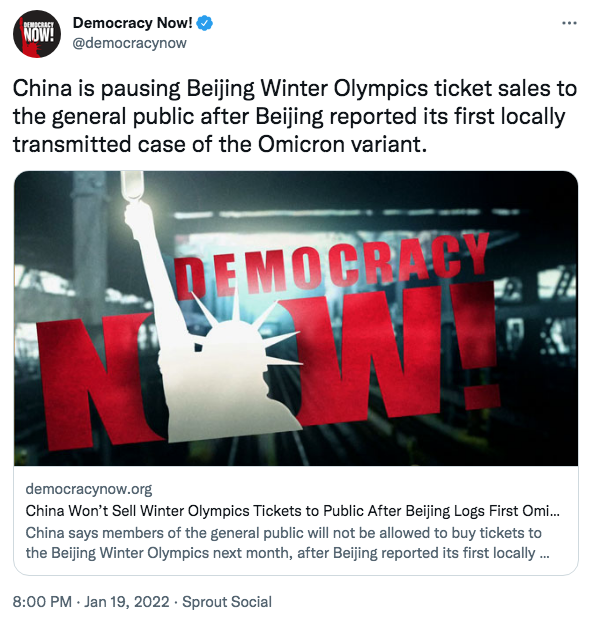 Beijing residents were disappointed that their city, the first to host the Summer and Winter Games and the first Global South nation to host the Winter Olympics, would be a closed event.
Yet despite all this, China's major logistical success for these games was ensuring the safety of all athletes from the outset.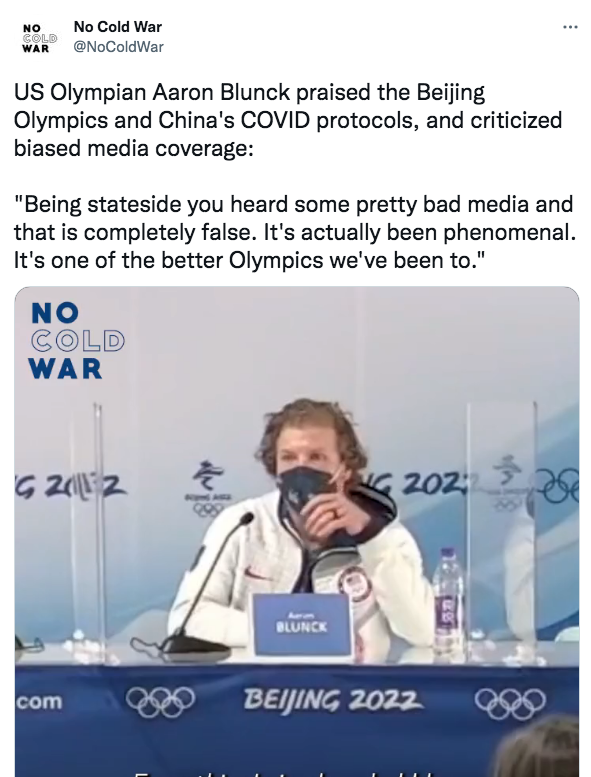 Blunck's Twitter account got suspended after this video of him describing his experiences went viral. As usual, anything positive about China in US media means being doxxed and accused of being a traitor.
There was no #WhereIsAaronBlunck hashtag when his account was removed. We just hope he wasn't harassed back home.
Still, others were quick to praise the Olympic organizers on social media, including Bunck's fellow Team USA snowboarder, Alex Ferreira:
"I just think all the people and the staff within the Olympic Village are so genuine and kind; they're such a happy [community] … it's just refreshing, and it's nice to see."
Even non-athlete participants echoed these positive sentiments: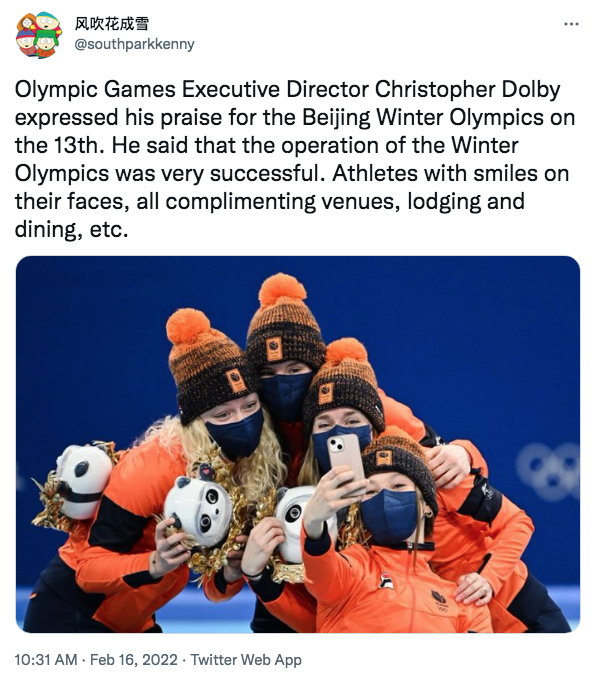 As the games moved into the second week, many international athletes praised their lives in Beijing's "closed-loop," emphasizing how safe they felt compared to COVID experiences back home.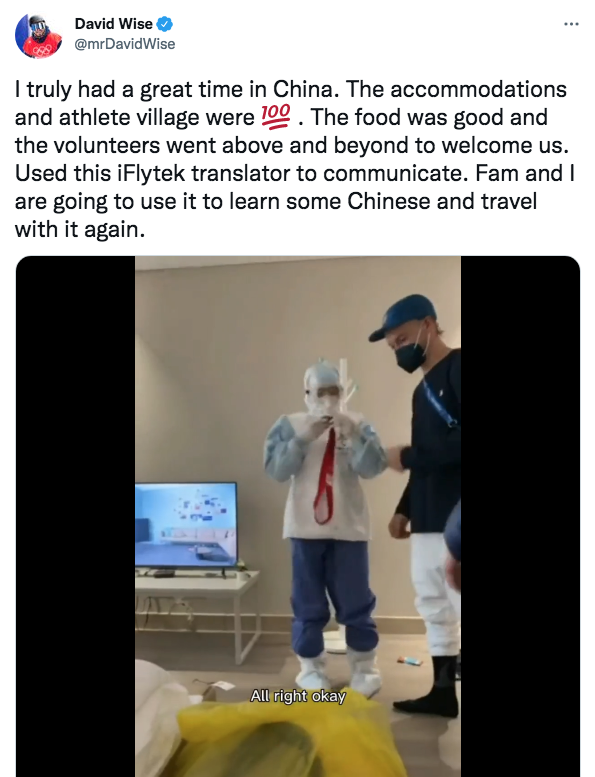 Oh, what's this? Last week Adam Minter for Bloomberg Opinion opined that the Beijing Olympics were a "raging success," if not through distorted global narratives, but inside China, where it counts.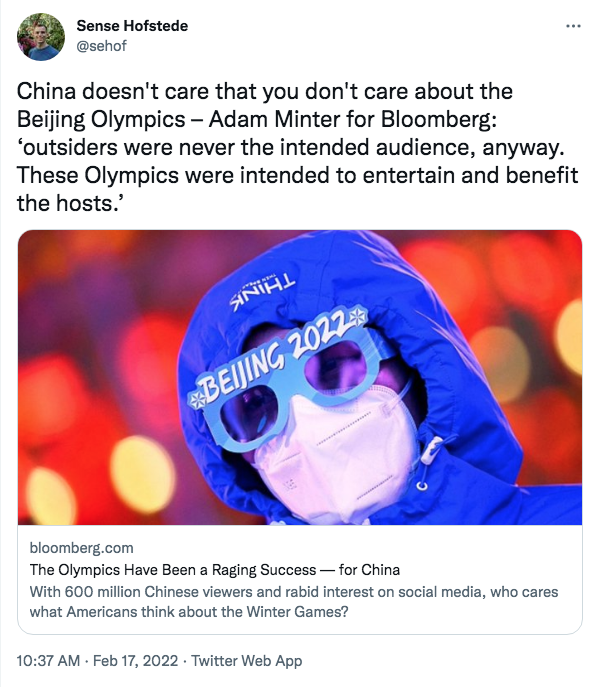 "Amid omicron threats and fears," Minter writes, "the Chinese people, as well as the government, are reveling in their athletes and their achievements, as well as in the successful pandemic-era staging of the world's biggest athletic event."
High praise indeed.
As he would refer himself, Ric d'Stard Lee is a rogue-ish journo working from Hong Kong, China. Semi-prolific on US Empire, media, culture, and humans of late capitalism. Inquisitive. Tell it like it is. Sarky. Zen.
The views do not necessarily reflect those of DotDotNews.
Read more articles by Ric d'Stard Lee:
Freeze Peach | Beijing 2022 Olympics Recap (Part II)
Freeze Peach | Rings of Fire: US 'deterrence' surrounding Ukraine and Taiwan is final phase end game for war (Part I)
Freeze Peach | Rings of Fire: US 'deterrence' surrounding Ukraine and Taiwan is final phase end game for war (Part II)