Chinese expedition team leaves Arctic Circle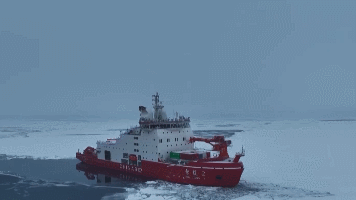 China's domestically built Xuelong-2 polar icebreaker, carrying the country's 13th Arctic Ocean scientific expedition team, sailed away from the Arctic region on Thursday.
The team concluded all the expedition tasks on Tuesday after recovering the survey equipment and finishing the benthic trawling operations.
During the 53-day voyage in the Arctic region, the team carried out an integrated survey of the sea as well as geological and geophysical research of the sea ice mainly in the Pacific sector of the Arctic Ocean and Gakkel Ridge, a mid-ocean ridge stretching about 1,800 kilometers in the Arctic.
They also completed related scientific research projects and international cooperation projects with Thailand and Russia as planned.
Xiao Zhimin, captain of the Xuelong-2 icebreaker, told China Media Group that the icebreaker's capability and supporting institutes have provided solid support for the expedition.
The density of sea ice at high latitudes in the Arctic is still very high with great thickness. Without Xuelong-2's strong ice-breaking capability, the team wouldn't be able to reach the North Pole, said Xiao.
Xiao added that timely information on the sea ice and weather sent by supporting institutes enabled the team to plan the route and reach the destination safely and efficiently in spite of multiple tasks.
The icebreaker is scheduled to return to a base dock in Shanghai by the end of September.
(Source: CGTN)