'If you cannot say blanket in English, you cannot have it': Cathay Pacific suspends crew involved in discrimination
A recent article written by a netizen that a Cathay Pacific flight attendant discriminated against a non-English-speaking passenger is trending on Weibo today (May 23), sparking widespread debate in society. Cathay Pacific issued a statement regarding the incident last night: The airline is aware of the passenger's unpleasant experience on flight CX987 and apologizes for the incident.
Cathay Pacific stated that it is committed to providing passengers outstanding customer service and takes this incident very seriously. The airline has reached out to the affected passenger for further understanding of the situation and will conduct a thorough investigation. Cathay Pacific would like to apologize again for any inconvenience this incident may have caused.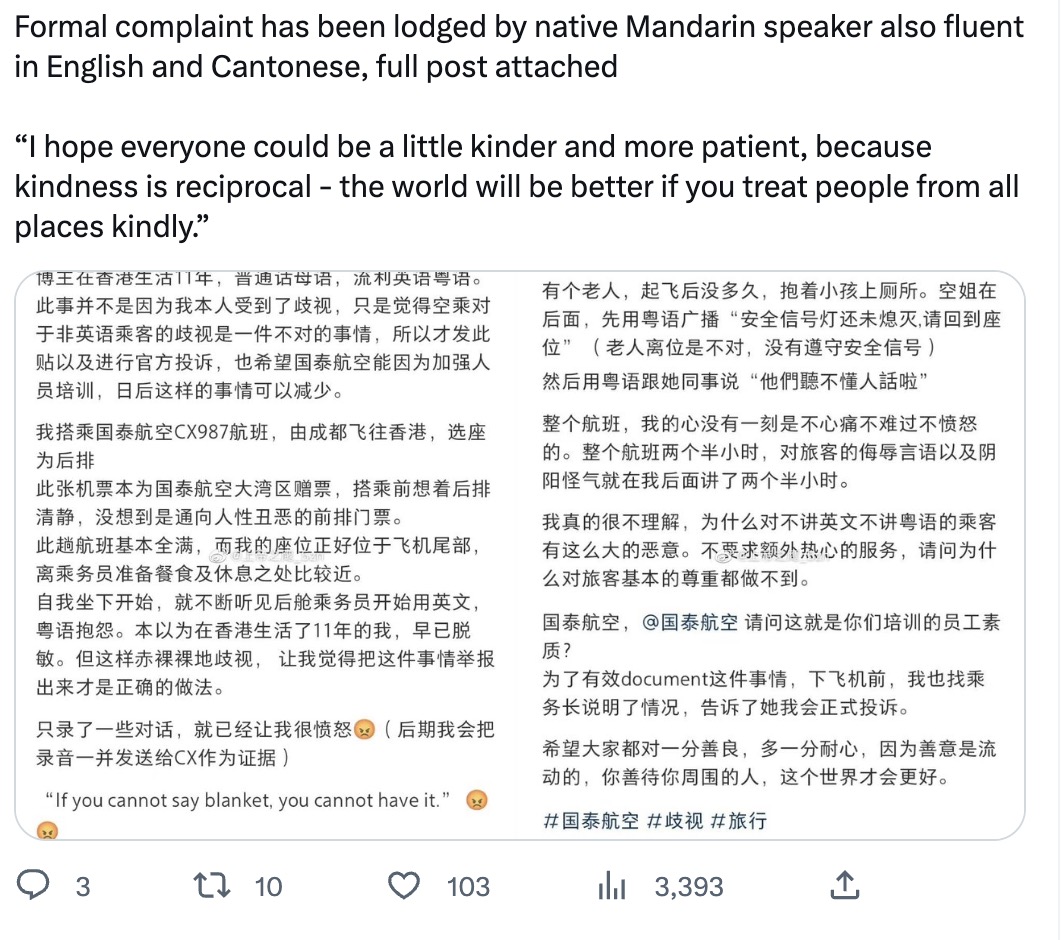 As previously reported, a netizen posted on the social media platform Xiaohongshu that the flight attendants discriminated against non-English speaking passengers when he flew with Cathay Pacific. The netizen said he was on Cathay Pacific flight CX987 from Chengdu to Hong Kong on May 21, 2023, and was seated in the back row, where the flight attendants were preparing a meal and taking a break. The netizen described the Cathay Pacific flight attendants as using English and Cantonese to complain about passengers during the flight. The flight attendants made fun of others for asking for a carpet instead of a blanket in English. "If you cannot say blanket, you cannot have it…carpet is on the floor," a flight attendant said, according to a recording that was circulated widely online.
"I think the front-row passengers tried to use English to get blankets from these 'English-only' attendants and were made fun of instead," he described, "the passenger in the row in front of the user also received an impatient response when he tried to ask the flight attendant in English how to fill in his arrival card."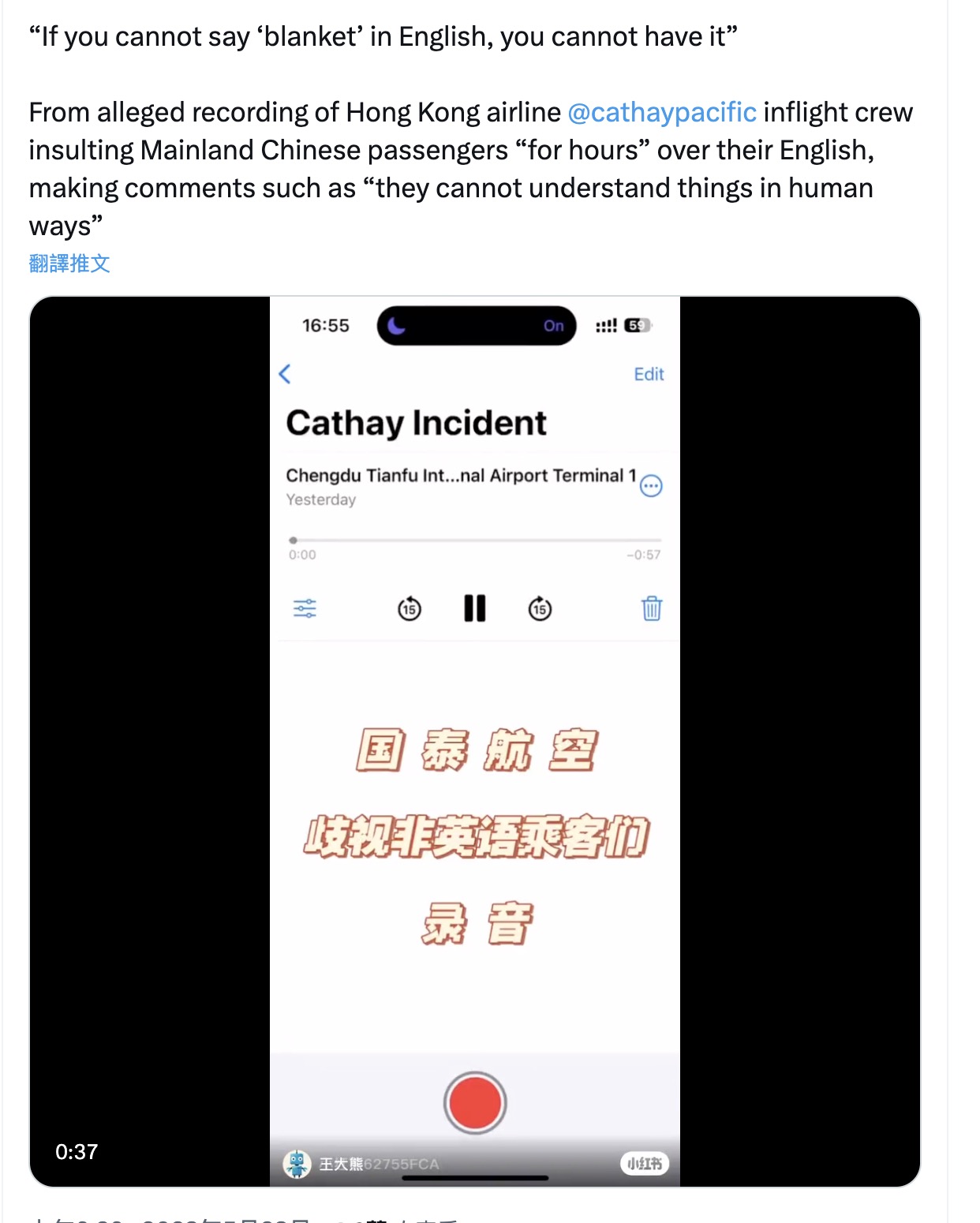 In addition, a flight attendant even said to her colleagues in Cantonese, "They don't understand human language", and "The entire flight lasted for two and a half hours, but the insulting words and the strange attitude towards the passengers were spoken right behind me for two and a half hours." The netizen could not understand why there was so much malice towards passengers who did not speak English or Cantonese and why they could not show basic respect to passengers without asking for extra warm service. Ultimately, the netizen approached the flight attendant to explain the situation before disembarking from the plane and said he would make a formal complaint.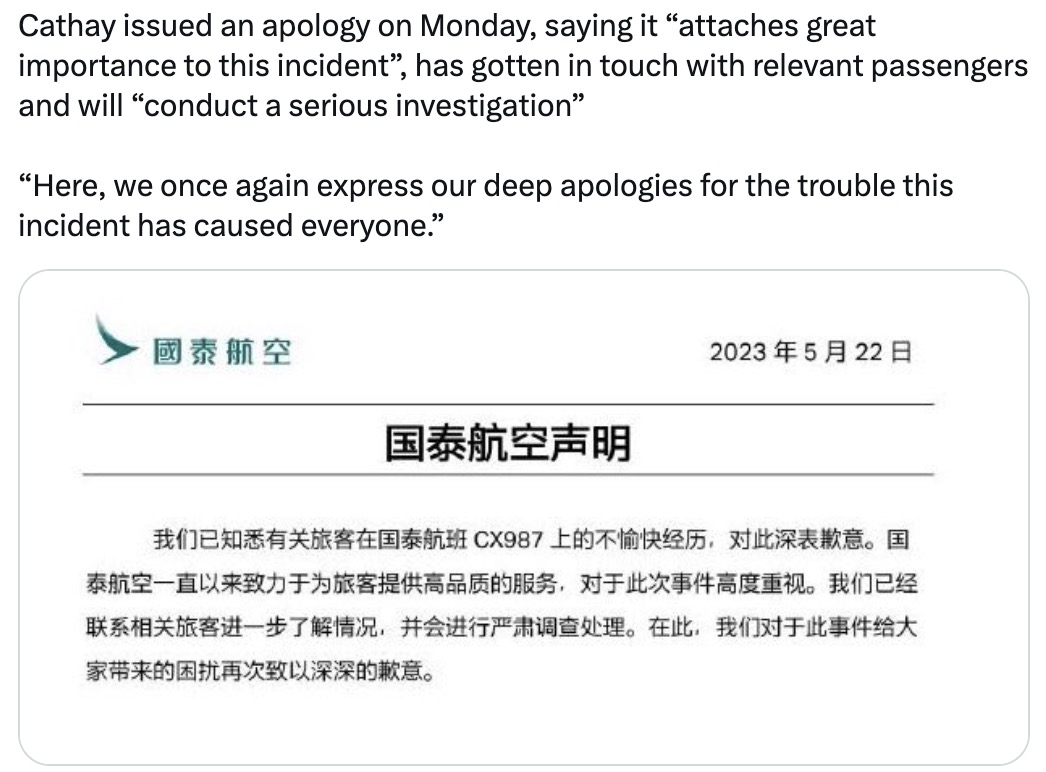 This afternoon (May 23), Cathay Pacific issued a second statement on its Weibo account, apologizing once more for the widespread concern regarding the passenger's experience on flight CX987 on May 21. The statement said it takes this incident very seriously and has already contacted the passenger to learn more about the situation. Now, the flight attendant has been suspended from duty, and an internal investigation will begin immediately, with the outcome to be announced within three days.