Local premiere of FFFI-funded project 'A Light Never Goes Out' to be held tonight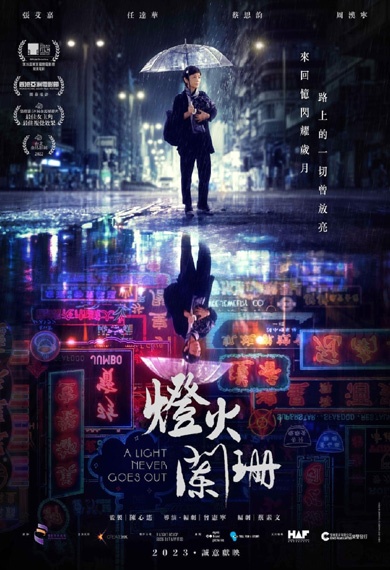 The local premiere of a winning film project in the Professional Group of the 5th First Feature Film Initiative (FFFI), "A Light Never Goes Out", will be held this evening (April 3). The film will be officially released on April 13.
"A Light Never Goes Out" is produced by Saville Chan and directed by Anastasia Tsang, with a screenplay co-written by Tsoi So-man and Tsang. The film stars Sylvia Chang, Simon Yam, Cecilia Choi and Henick Chou. The story is about a wife, being devastated by the loss of her skilled neon sign-making husband, decides to carry on his unfulfilled dream of making neon signs.
The Chairman of the Hong Kong Film Development Council, Dr Wilfred Wong, said, "'A Light Never Goes Out' offers a passionate exploration of the beauty and struggles behind keeping Hong Kong's distinctive neon signs alive."
He added, "The seven editions of FFFI launched so far have funded a total of 24 winning teams to make their films and have incubated 26 new directors. I hope the Government will continue to support the FFFI through the Film Development Fund (FDF) for nurturing more potential talent in order to help the industry thrive."
The FFFI is one of the Government's initiatives to support the film industry. It takes the form of a competition in two groups, the Higher Education Institution Group and the Professional Group. The director of each participating team shall not have previously shot any commercial film of 80 minutes or above. The FDF will provide funding for the winning teams to implement their film proposals and make their first commercial feature films. The winning teams are required to complete the whole film production and sales process, which involve planning, shooting, distribution, and more, in order to acquire knowledge from creation to practical application in making a feature film.