Envoy: China-Russia ties should 'move forward steadily'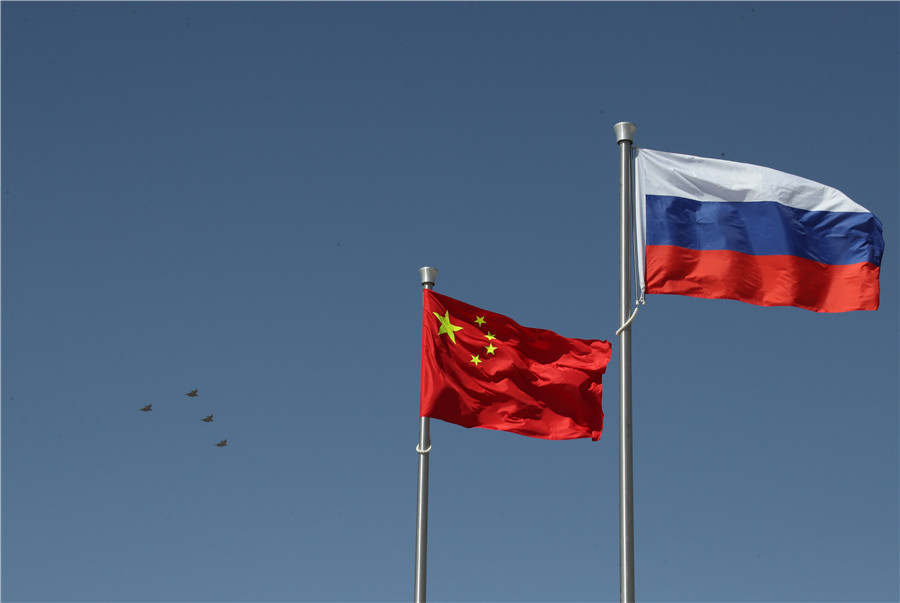 Chinese Ambassador to Russia Zhang Hanhui said that "the more turbulent the world is, the more important it is for China-Russia relations to move forward steadily" in a recent joint interview with Chinese media.
The ambassador noted that no matter how the international situation changes, the China-Russia comprehensive strategic partnership of coordination for a new era will continue to move forward at a higher level under the strategic guidance of the two heads of state.
Chinese President Xi Jinping will pay a state visit to Russia from March 20 to 22 at the invitation of his Russian counterpart, Vladimir Putin, Chinese Foreign Ministry spokesperson Hua Chunying announced on Friday.
Zhang said the heads of state of China and Russia have maintained close contacts and exchanged views on bilateral cooperation and major international issues, which is the compass and anchor of the development of bilateral relations.
Xi and Putin have reached a series of important strategic consensuses on promoting an upgrade of bilateral relations, maintaining regional security and stability, and building a community with a shared future for mankind, Zhang noted.
Over the past 10 years, the China-Russia relationship has entered a new era, with bilateral cooperation achieving new results, and strategic coordination reaching new levels, he said.
The ambassador stressed that facing multiple challenges such as the prolonged COVID-19 pandemic, the complex evolution of the international situation and a weak global economic recovery, the China-Russia economic and trade cooperation has withstood the pressure and continued to advance.
In 2022, bilateral trade between China and Russia hit a record-high of 190.27 billion U.S. dollars, Zhang noted, adding that energy trade has played an even more pivotal role in bilateral trade, while China's exports of mechanical and electrical products, automobiles and auto parts to Russia have all seen substantial growth.
The proportion of settlements in local currencies continued to grow, with Russian banks extensively carrying out RMB business, he said.
Noting the ever-deepening subnational cooperation between the two countries, Zhang said local institutions and enterprises from both sides have actively participated in the China International Import Expo, the Canton Fair, the Eastern Economic Forum, and the St. Petersburg International Economic Forum, further synergizing cooperation requirements and fully unleashing cooperation potential.
The Heihe-Blagoveshchensk cross-border highway bridge, the Tongjiang-Nizhneleninskoye cross-border railway bridge and other boundary river bridges have opened to the traffic one after another, and cross-border logistics and transport channels have been further expanded, he said.
Following China's optimization and adjustment of epidemic prevention measures, customs clearance at ports of the two countries has gradually returned to the pre-pandemic mode, effectively ensuring the smooth flow of personnel and goods between the two sides, he said.
"In the first two months of this year, bilateral trade sustained strong growth momentum, reaching 33.69 billion dollars, up 25.9 percent year on year, which was a good start," Zhang said. "It demonstrates again that the foundation of bilateral economic and trade cooperation remains solid."
As two neighboring countries, China and Russia enjoy strong political mutual trust, high economic complementarity and great cooperation potential, he said, adding that more Russian companies have shown strong willingness to cooperate with the Chinese side.
"We believe that the China-Russia trade will reach new heights in 2023, and we strive to achieve the trade target of 200 billion dollars by the end of this year set by the two heads of state," he said.
Zhang also noted that people-to-people cooperation has always played an important role throughout the history of the development of China-Russia relations.
In 2022, the two heads of state officially launched the China-Russia Years of Sports Exchanges at the Beijing Winter Olympics, and jointly called for opposing the politicization of sports, which was of extraordinary significance, he said.
Within the framework of the Years of Sports Exchanges, sports cooperation between the two countries has become closer, with China's national ice hockey, handball, snowboarding and other sports teams coming to Russia for joint training programs, a group of high-level Russian coaches going to China to teach, and the third Russian-Chinese Winter Youth Games being successfully held in China's northeastern city of Changchun, he said.
In the cultural field, the Chinese Ambassador Weiqi Cup in Moscow and the "Happy Chinese New Year" temple fair held by the Chinese embassy were both well received, while the Russian Cultural Festival held by the Russian side in China has also attracted much attention from the Chinese people, he said.
"At the beginning of this year, following the optimization and adjustment of China's epidemic prevention and control measures, the two countries are prepared to hold various cultural exchange activities," Zhang said, adding that according to the agreement signed by the cultural departments of both sides, this year will see the Chinese Cultural Festival held in Russia, while China's Ministry of Culture and Tourism will hold exhibitions in Russia and send performing groups to Russia for exchanges.
In addition, a series of sports exchange activities will be held this year under the framework of the Years of Sports Exchanges, he said.
Noting that this year marks the 10th anniversary of the proposals for a community with a shared future for mankind and the Belt and Road Initiative, Zhang said that Russia has become China's important partner in Belt and Road cooperation, and the two countries have joined hands in building a community with a shared future for mankind, while the internal momentum and special value of bilateral cooperation have become more evident.
"In the past 10 years, the China-Russia comprehensive strategic partnership of coordination for a new era has withstood the test of the volatile international landscape, and has become increasingly mature and tenacious," Zhang said.
The two countries have successfully blazed a path of mutual strategic trust and neighborly friendship between major countries, he said, adding that the China-Russia relationship is not targeted at any third party, nor will it be disturbed or even threatened by any third party.
"President Xi's state visit to Russia is a milestone for China-Russia relations in the new era. It will inject a strong impetus into bilateral relations, and push forward bilateral relations to continuously develop at a high level," he added.
(Source: Xinhua)