New upgraded URBTIX system to provide enhanced ticketing services from Thursday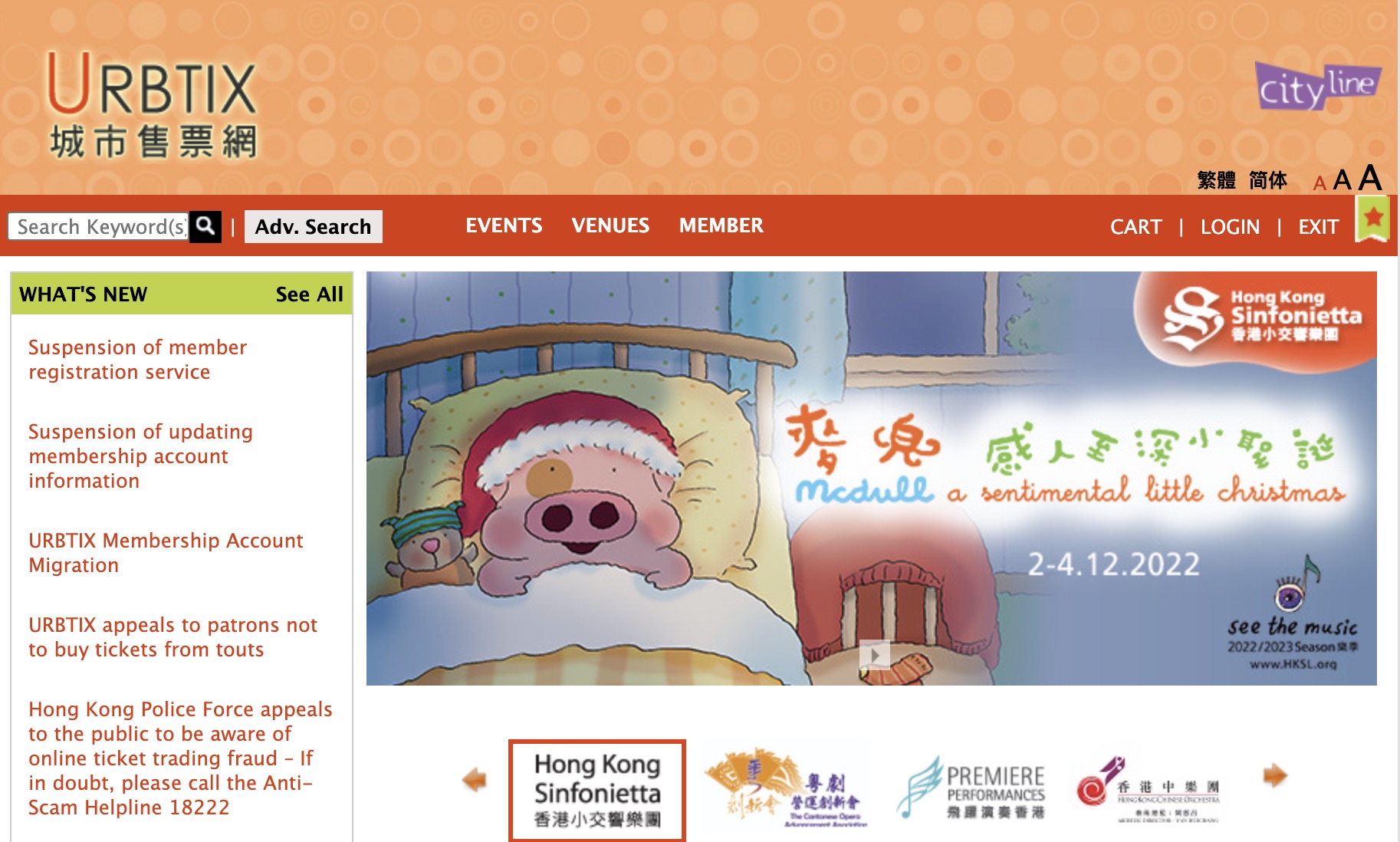 The Leisure and Cultural Services Department (LCSD) will launch a new URBTIX ticketing system this Thursday (Dec. 1) to provide an enlarged system capacity and enhanced capabilities along with a revamped website (www.urbtix.hk), a brand-new "URBTIX" mobile ticketing app and newly introduced self-service ticketing kiosks.
Starting from noon on Thursday, all tickets for events on sale through URBTIX will be processed via the new system, which has new features including:
* Expanded system capacity and flexibility with the use of cloud technology platforms, enabling the accommodation of a tenfold increase in the number of concurrent users from the existing provision of 2 000 to around 20 000 and scaling up to higher volume according to operational requirements so as to facilitate more effective handling of the immense demand on the first day of sale of tickets for popular events;
* A new virtual queuing function with the display of real-time queuing information to customers in the queue for logging in during busy periods (see Annex 1);
* Provision of more diversions to separate individual popular events with tickets on sale from other events, facilitating a more streamlined ticket purchase process;
* Customers can preview the locations of their selected seats more conveniently and clearly through interactive seat plans with multiple layers of zooming capability at the revamped website and the new mobile app (see Annex 1);
* Support for more e-payment methods;
* The brand-new mobile app offering more new functions to enhance users' experience, including in-app payment with preloaded e-wallet in the customer's mobile phone; a wallet for storing e-tickets; and a push notification function for sending queuing reminders, performance reminders and event cancellation notifications to customers; and
* New self-service ticketing kiosks, which support both ticket purchase and collection, at URBTIX outlets located at various performance venues and major LCSD museums (see Annex 2).
The new mobile app "URBTIX" will be available for downloading at the Apple App Store and Google Play starting Thursday to replace the existing "My URBTIX" app.
Members of the public can purchase tickets through the following channels:
1. URBTIX outlets located at LCSD and non-LCSD venues (see Annex 3);
2. New self-service ticketing kiosks located at specific performance venues and major LCSD museums (see Annex 2);
3. URBTIX website (www.urbtix.hk);
4. Mobile ticketing app; and
5. Telephone booking hotline.
In view of the requirements of respective credit card organizations and payment platforms, there will be a specified payment limit per transaction using credit cards and individual e-payment methods at the self-service ticketing kiosks. No specified payment limit is applicable for credit card transactions at other ticketing channels.
The URBTIX ticketing system and the service contractor will levy a handling charge of $9 per ticket purchased through Internet, mobile app and telephone booking services. Customers do not need to pay any handling charges for tickets bought at the self-service ticketing kiosks and counters of URBTIX outlets.
To facilitate the final preparation before the launch of the new system, URBTIX will suspend service from 8 pm tomorrow (November 30). Upon the launch of the new URBTIX system, the ticketing inquiries and customer service hotline will be changed to 3166 1100, and the telephone booking hotline to 3166 1288.
The LCSD has always attached great importance to the privacy of customers. The contractor is required to meet all the requirements under the Personal Data (Privacy) Ordinance (Cap. 486). The information collected in the course of the operation is owned by the LCSD, and the data will only be stored in Hong Kong. After the launch of the new system, the LCSD will closely monitor to ensure the smooth operation of the new system.