Second round of enrolment for Corporate Games 2023 starts today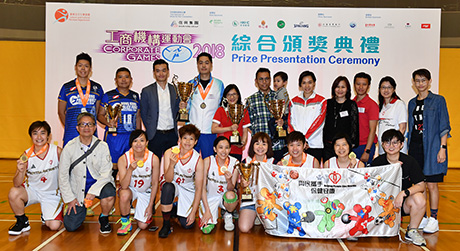 The Leisure and Cultural Services Department (LCSD) started the first round of enrolment for the employees of private and public sector organizations in the Corporate Games 2023 last month. Meeting with an overwhelming response, places of certain events are full, while others events with remaining places will be open for the second round of enrolment starting from today (Nov. 29).
The Corporate Games organized by the LCSD is a major multi-sport event for employees of private and public sector organizations. It will be held between February and October next year at various recreation and sports venues throughout Hong Kong. The Games comprises 11 sports competitions, namely athletics, badminton, basketball, distance run, snooker, table tennis, tennis, tenpin bowling, volleyball, futsal and 11-a-side soccer. All events are divided into three groups according to the number of employees of the organizations. Organizations with 300 or more employees in Hong Kong will join Group A and organizations with less than 300 employees in Hong Kong will be in Group B, while Group C is for government departments.
Badminton (Women's Singles), Badminton (Women's Doubles), Badminton (Team), Volleyball (Women's Team), Volleyball (Men's Team) in Group B; and 11-a-side Soccer (Men's Team) in Group C are full. Interested organizations can enroll for the competition events with remaining quotas from today by returning the completed enrolment form to the LCSD by post (Address: Major Events Section, 2/F, Leisure and Cultural Services Headquarters, 1-3 Pai Tau Street, Sha Tin) or by fax (2634 0786), until the places are full or the final enrolment deadlines for the respective competitions are reached on a first-come-first-served basis. Organizations are welcome to form teams for the Games.
In view of the latest situation of COVID-19, the enrolment dates of the Distance Run Competition will be announced later. As the dates, time and venues of the other competitions are also subject to change, please pay attention to the latest announcements.