Nomination period for HK NPC deputies starts today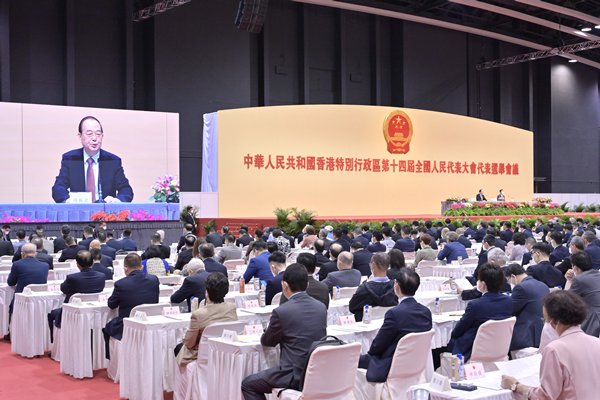 The nomination period for Hong Kong deputies to the 14th NPC starts today (Nov. 23) and lasts till Nov. 30. Each electoral conference member will nominate a maximum of 36 electives.
The Conference for Electing Deputies of the Hong Kong Special Administrative Region to the 14th National People's Congress (NPC) on Monday held its first plenary session to prepare for electing 36 deputies on December 15.
The plenary session was hosted by National People's Congress Standing Committee Secretary-General Yang Zhenwu at the Convention & Exhibition Centre and was attended by 1,107 members of the electoral conference.
A 19-member presidium was elected, including Chief Executive John Lee as well as National Committee of the Chinese People's Political Consultative Conference Vice-Chairman Leung Chun-ying.
Lee was elected to chair the presidium and will preside over future meetings. Due to testing positive for COVID-19 through a polymerase chain reaction-based nucleic acid test, the Chief Executive is undergoing isolation and had to join the meeting online.
Hong Kong residents with Chinese citizenship aged 18 or above are eligible to contest for the candidacy. They need to obtain at least 15 nominations from electoral conference members for their registration to be effective.
The election for the deputies representing the Hong Kong SAR to the NPC will be held on December 15 at the electoral conference's second plenary session.