Gala dinner held in Seoul to celebrate 25th anniversary of establishment of HKSAR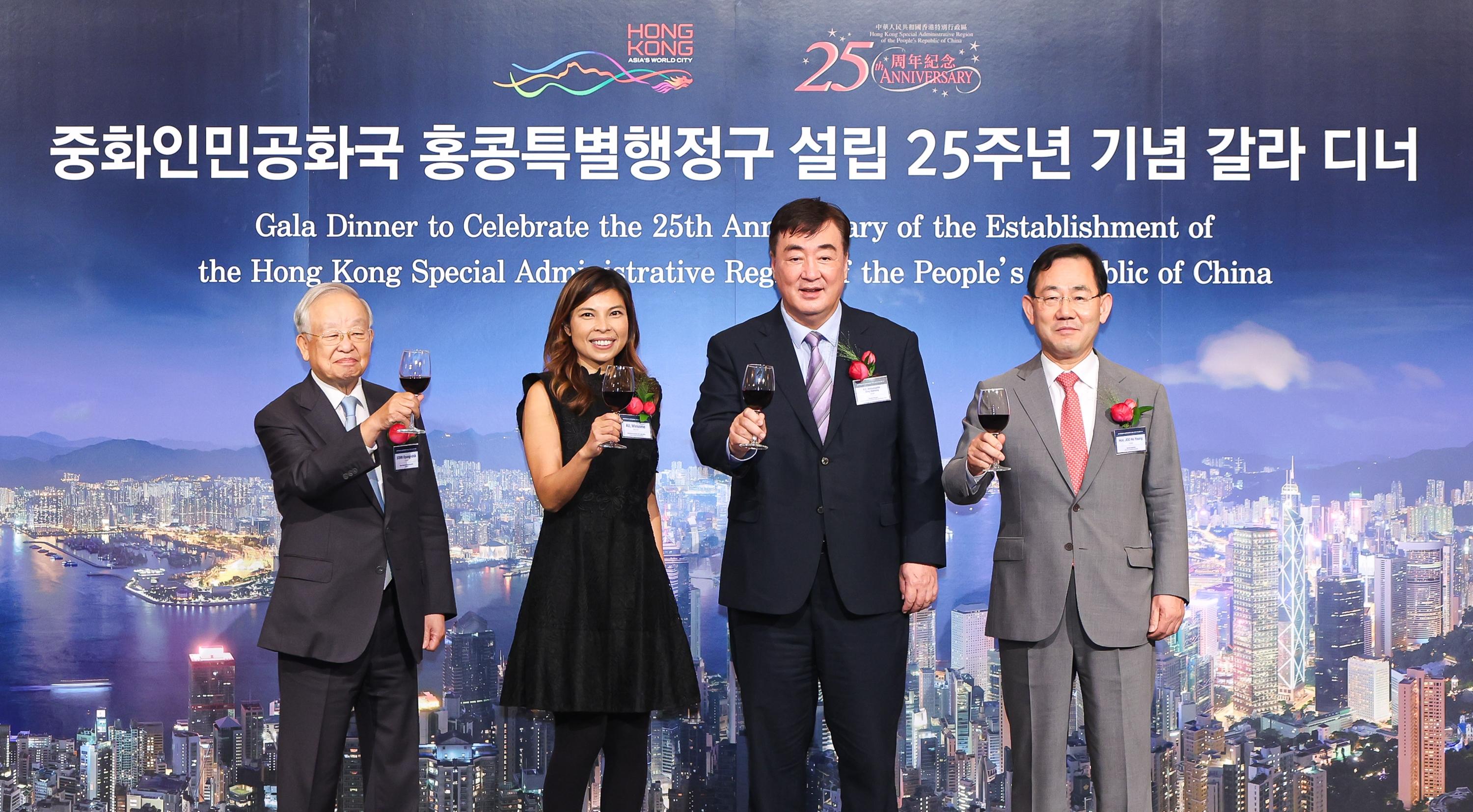 The Hong Kong Economic and Trade Office in Tokyo (Tokyo ETO) organized a gala dinner in Seoul, Korea, on September 22 to celebrate the 25th anniversary of the establishment of the Hong Kong Special Administrative Region (HKSAR).
Speaking to some 250 guests from various sectors, including the Korean government, political and business sectors, academia, the media, and community groups, the Acting Principal Hong Kong Economic and Trade Representative (Tokyo), Miss Winsome Au, set out the substantive progress achieved by Hong Kong in the past 25 years in various areas.
Miss Au said, "Since our return to the motherland, the HKSAR has been implementing the 'one country, two systems' principle in strict accordance with the Basic Law, and various rights and freedoms are fully protected. The successful implementation of 'one country, two systems' has gained recognition throughout the world.
"Hong Kong's distinctive status and edges are clear, including the rule of law and judicial independence, free flow of capital, a free trade and investment regime, a simple and low tax system, a favorable business environment and an efficient and clean government. We have been recognized as the world's freest economy, the world's No. 3 global financial center and the fifth most competitive economy in the world. Hong Kong is also the world's largest offshore Renminbi hub and the world's No. 1 in terms of air cargo throughput," she added.
Recognizing that Hong Kong and Korea have maintained close relations over the years, with Korea being Hong Kong's fifth largest trading partner, Miss Au said she believed that there are ample opportunities for collaboration between Hong Kong and Korea in many areas of common interest, including green-related areas and sustainability, innovation and technology, trade and investment, financial services, and arts and culture.
"The exemplary achievements over the years demonstrate that the unique advantages of 'one country, two systems' have scripted a success story for Hong Kong. Thanks to the Central People's Government's full support and diligence, and determination of the Hong Kong people, our business environment is as resilient as ever with the strong foundations we have. Looking forward, we will leverage our unique strengths, maintain a global outlook, and continue to play our unique roles as a gateway, a springboard and an intermediary between Mainland China and the rest of the world," she said.
The gala dinner was part of the series of events organized by Tokyo ETO in Korea to celebrate the 25th anniversary of the establishment of the HKSAR. The dinner featured various Hong Kong elements and the city's close ties with Korea, including a dedicated menu incorporating Korean ingredients and Western and Chinese culinary cultures.
Hong Kong dance company R&T (Rhythm & Tempo) and the Hong Kong Federation of Youth Groups, also staged tap dance and cappella performances in Hong Kong by using hologram technology to showcase Hong Kong's diverse cultural talents.