Beyond Borders art exhibition launched in Vancouver to celebrate HKSAR's 25th anniversary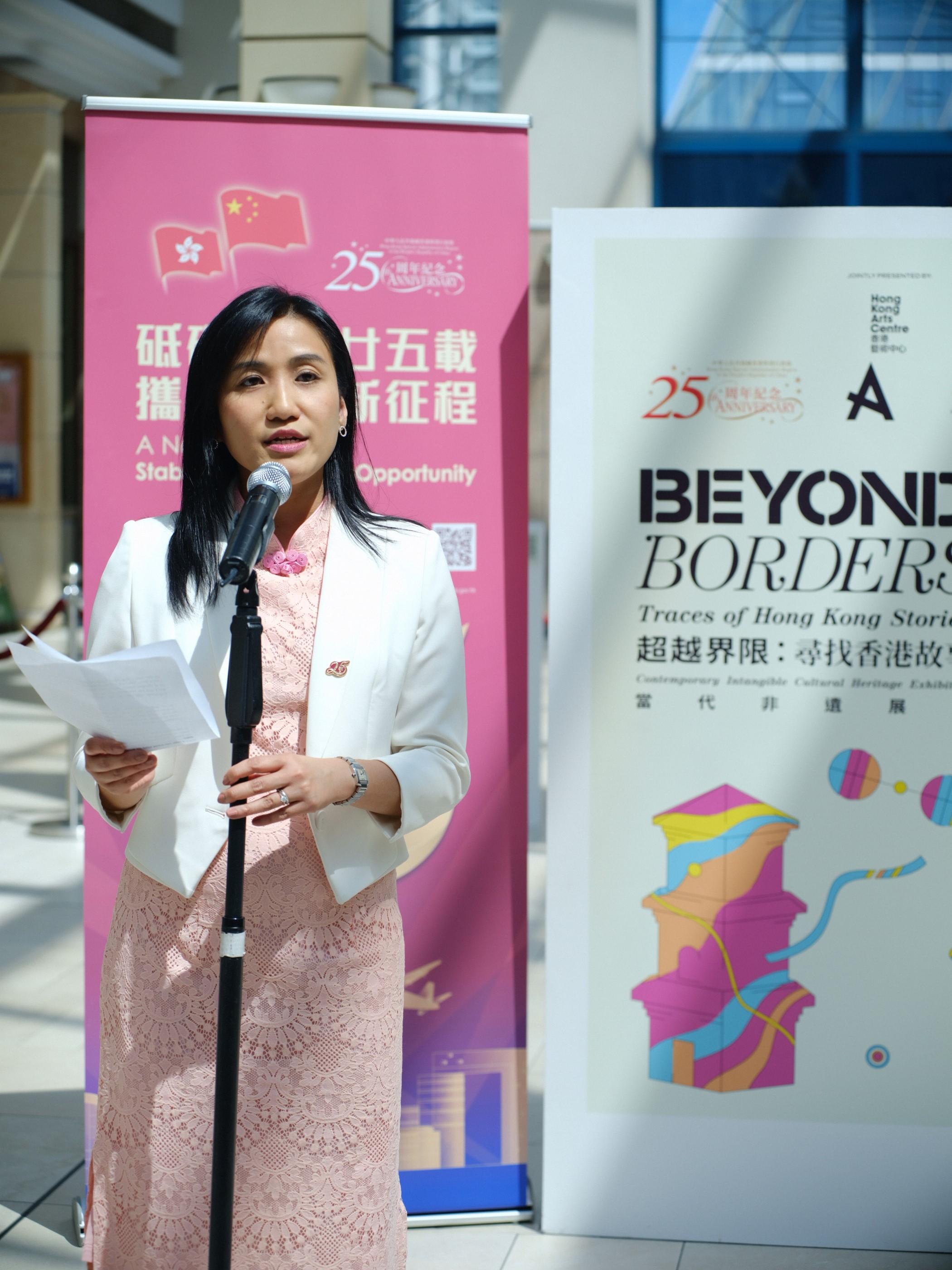 The opening ceremony of the "Beyond Borders: Traces of Hong Kong Stories" art exhibition was held at CF Richmond Centre in Vancouver yesterday (June 22, Vancouver time). This exhibition, together with the "Beyond Borders: Re-shaping the Ordinaries of Hong Kong" in Toronto are jointly presented by the Hong Kong Economic and Trade Office (Toronto) (Toronto ETO) and the Hong Kong Arts Centre (HKAC) to promote cultural exchanges through exhibiting more contemporary Intangible Cultural Heritage (ICH) artworks to Canadian community, while sharing how ICH can integrate into people's daily lives.
The exhibitions are part of the Toronto ETO's celebratory events for the 25th anniversary of the establishment of the Hong Kong Special Administrative Region (HKSAR). The Vancouver exhibition is supported by the Hong Kong Tourism Board in Canada and Dramaone Canada. It features four out of a total of 480 Hong Kong ICH items, namely galvanised iron product making technique, bamboo steamer making technique, cheongsam sewing technique and Chinese flower button technique.
Delivering a welcome speech at the opening ceremony of the art exhibition, the Director of the Toronto ETO, Emily Mo, said that the Toronto ETO was delighted to bring the art pieces from Hong Kong to Canada to showcase the ever-changing spirit and dynamic East-meets-West character of Hong Kong. "This exhibition, together with the relevant online talks and workshops by the HKAC and participating artists, will provide a unique perspective to the Canadian community about the vibrancy of Hong Kong," Ms Mo said.
The theme of the HKSAR 25th anniversary celebrations is "A New Era – Stability • Prosperity • Opportunity". Mo said, "It not only captures the spirit of Hong Kong's achievements over the past quarter century but, more importantly, our confidence in a brighter future underpinned by the principle of 'one country, two systems'."
Hong Kong has been reinforcing its status as an international hub for arts and culture, and is enhancing its positioning as an East-meets-West centre for international cultural exchanges as set out in the National 14th Five-Year Plan.
Mo pointed out that in the past few years, Hong Kong's West Kowloon Cultural District has opened the doors of the Xiqu Centre and M+ museum, while numerous revitalisation projects have turned historical and heritage buildings in Hong Kong into art and exhibition spaces. Looking forward, the Hong Kong Palace Museum is due to open in July and the East Kowloon Cultural Centre, a major venue and incubator for arts technology, will be opened in phases in 2023.
Mo added that Hong Kong has enjoyed very strong ties with Canada over the years and she hoped to share the joy of the wide range of celebratory events with Canadian audiences. "Other exciting events to be held across Canada include gala dinners in June, photography exhibitions from September to October, a business conference in September and an academic seminar at the end of this year," she said. The Canadian community is encouraged to visit the Toronto ETO's dedicated website (25a.hketo.ca) for information on these events.
The "Beyond Borders: Traces of Hong Kong Stories" showcases the artworks of six Hong Kong designers and artists, namely Jasmine Cheung, Grace Choi, Polly Ho, Inkgo Lam, Luk Tsing-yuen and Po Ming-wah. Their exhibits include galvanised iron letter boxes and milk cartons, bamboo steamers and clock towers, contemporary cheongsams and flower buttons. The Vancouver exhibition is now being staged at CF Richmond Centre and will run until July 3.