Peel the Onion | Top Gun: Maverick is a great movie, but it's also recruitment porn for the US military, obviously (II)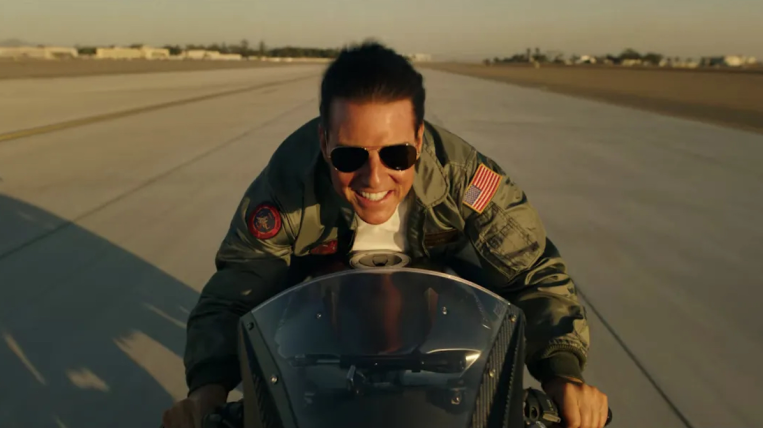 By J.B.Browne
Director Joseph Kosinski dials in just the right amount of nostalgia with the same music, settings, and performance songs, beaming us all back to the hazy VHS days of the late 80s and early 90s when Top Gun was still a force to be reckoned with on Sunday afternoons. Old man Mav is not the spring chicken he used to be, so instead, he gets tasked with training a bunch of Top Gun grads for a special mission against an unknown enemy, but that which requires air maneuvers no US airforce man has ever seen let alone attempted — let alone attempted by a fifty-something Cruise that is.
Ol' Mav has to face a shaky future and square up with the ghosts of his past, his guilt over the tragic death of Goose in the first movie lingering over this one like a time machine blanket.
"The future is coming, and you're not in it," exclaims Ed Harris as the no-bullshit Admiral Chester "Hammer" Cain.
"The end is inevitable, Maverick; your kind is heading for extinction," he adds with dusty venom.
"Maybe, so, Sir," Maverick retorts with trademark Cruisian, "you gotta be kidding me" swag.
"But not today."
Twangy guitar motif - motorcycle shot - sunset - Ray-Bans - cuts of jets doing cool stuff.
Maverick is the quintessential lone wolf DIY rebel who not only goes against the grain of accepted rules and ranking but creates the grain in his singular obtuse greatness. He's a bit like American foreign policy with internationally recognized institutions — "yeah, we set the rules but screw it, they don't apply to us because we're Top Dog."
But it's Top Gun, it's fantastic, and it does its job even with the same ending as the original, the no you're amazing, no you're amazing, good job yeah finale on the aircraft carrier where differences are set aside and existing beef is already on the BBQ.
But where the film executes so professionally satisfying nostalgia fans and new ones (garnering gushy review love in the process), there is a subsect of review much wiser as to why a new Top Gun movie even exists. Some mainstream media outlets are calling out Top Gun as a US military propaganda tool, noting the Navy's intricate help and dictates by the loaning of their jets, carriers, bases, and cooperation to make the movie happen.
And it's no secret that the Department of Defense (DoD) has, throughout Hollywood history, at times or many times, effectively co-produced thousands of movies to the extent that Hollywood is simply a mouthpiece for military propaganda.
It was reported recently in the wake of the film's release that actor Mathew Modine turned down the role of Maverick in the first movie because he disliked the pro-military message of Top Gun amid the cold war. He instead decided to star in Stanley Kubrick's anti-war epic, 1987's A Full Metal Jacket a year later. Full Metal Jacket did not receive any support or help from the DoD because of its study about what war does to the human mind when faced with combat stress.
As he would refer himself, J.B. Browne is a half "foreign devil" living with anxiety relieved by purchase. HK-born Writer/Musician/Tinkerer.
The views do not necessarily reflect those of DotDotNews.
Read more:
Peel the Onion | Top Gun: Maverick is a great movie, but it's also recruitment porn for the US military, obviously (I)