Pic of the Day | To be, or not to be: Guns are easier to get than baby formula in US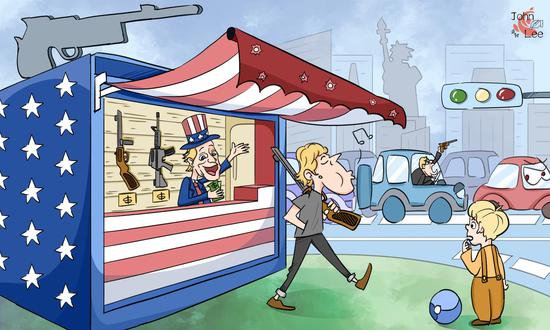 The death toll from an elementary school shooting in the US state of Texas has risen to 21, including 19 children, a state senator said Tuesday (May 24), citing the Texas Department of Public Safety.
An 18-year-old man opened fire at the school in Uvalde city on Tuesday afternoon, Texas Governor Greg Abbott told a news conference.
Investigators say the suspect was armed with a handgun, an AR-15 semi-automatic rifle, and high-capacity magazines.
The teenager is suspected of shooting his grandmother at the start of the rampage.
On Tuesday evening, US President Joe Biden ordered flags to be flown at half-staff at federal buildings and military posts through Saturday.
At the same time, the formula shortage continues to grip the US. Many parents have struggled to access the product they rely on to feed their babies. At the start of May, 43 percent of baby formula was out of stock at retailers. One mother in the US described the situation as "a nightmare."
In Dallas, Texas, Damion Lee of the Golden State Warriors speaks to the media after Game 4 of the 2022 NBA Playoffs Western Conference Finals on May 24, "Guns shouldn't be as easily accessible. Like it's easier to get a gun than baby formula right now. That's unbelievable in this country that we live in."