Peel the Onion | The Batman Review: A retro-futurist throwback that feels like an Arkham game on emo steroids (Part II)
By J.B.Browne
Part II: Smells like teen Batman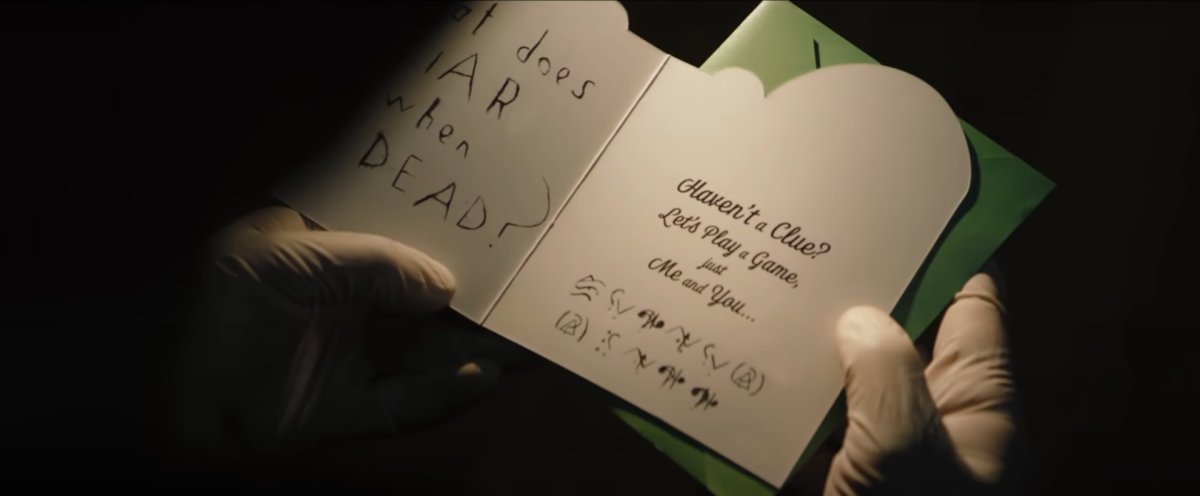 In a recent cover story for GQ, Robert Pattinson talked about his preparation for the role and how he realized that Batman was not just a superhero but "the world's greatest detective."
It's an exciting angle that's a bit #tbt throwback to before Batman got a comic book series of his own, appearing first in Detective Comics, which cemented his identity as a Sherlock-type long before he became a battle-hardened warrior with "I should probably see a shrink" issues.
"They think I'm hiding in the shadows," broods Pattinson's soft-spoken masked hero in the film's epic opening monologue.
"But I am the shadows," now with naive world-weariness.
Remember, this is only the second year on the job, but the weight of self-expectation and responsibility is a heft only a softly broken voice can carry.
From the outset, The Batman feels like a tonal tome to neo-noir thrillers of yore like Seven, Zodiac, and a bit of philosophy from Fight Club. It's dark, bleak, cerebral, but mostly it's just captivating storytelling. Reeves has drawn from the realism we've come to expect from Nolan's Batmen. And with such a masterful grasp of the source material, he has pitched The Batman's tone perfectly, combining his distinct visual style with the desire to make the hero more of a detective.
And that visual style is unapologetically gothic-grunge, recalling Nirvana's rain-heavy Come As You Are video circa 1992.
Nirvana - Come As You Are (Official Music Video)
https://www.youtube.com/watch?v=vabnZ9-ex7o
Even Nirvana's doom-ballad Something in the Way makes a compelling soundtrack to Pattinson's earnest monologues throughout the film. Fun fact: Reeves cast Pattinson because of his bleached-blond appearance in the movie Good Time (2017), which reminded him of Nirvana Kurt Cobain's inner turmoil and rage.
It's a distinct aesthetic for a film trying to reidentify itself from the original pages of the comic books. Reeves and his team have made no bones that The Batman's intent was as a straight-up noir. Its 1970's vibe with Batman in detective mode make for a solid nod to Roman Polanski's Chinatown (1974), whereby both cities in each film stand on the shaky pillars of vice, greed, and all the ugly sides of abusive capitalism with a titular villain wanting absolute destruction for a chance to "renew" anew from the rubble.
Of course, as much as it is fun and refreshing to have Pattinson be a genius riddle solver, stroking his chin and working out crime scenarios a step ahead of the Gotham police, no Batman would be complete with a bit of biff-pow-wow. Pattinson arrives loudly with metal toe-capped Dr. Marten boots when the action descends — another timeless nod to 90s grunge culture. Every step towards a bunch of thugs pounds like slow dynamic Euro techno, echoing through the theatre seats and our heads.
Every punch and karate kick is visceral and emotional, a powerful manifestation of the torment and inner drive he feels towards his past and the desperation of vengeance. Another deft touch to Pattinson's Batman character is his level of competence at this juncture of the timeline. He's still new to this vigilante game. We see him make mistakes or hesitate at various tasks as he collects XP points towards Nolan's ultra-capable warrior deluxe version.
An example of this is when Batman escapes to the top of a building only to show fear at the prospect of having to use his Batsuit to glide off of it. He's fallible—human—just a regular Batbro in a bat suit with wondrous toys and zero superpowers.
WHERE DOES HE GET THOSE WONDERFUL TOYS?
https://www.youtube.com/watch?v=GuAXcZmLNmM
Paul Dano's performance as The Riddler is spine-chillingly disturbing, offering a classic, chaotic menace not seen in a Batman villain before. To these eyes, it's even more deranged and anarchic than Heath Ledger's Joker because of the childhood trauma inflicted on him hinted at in various scenes drawing parallels to Batman's own "abandoned" orphandom. By saying very little, at least in the movie's first half, Dano manages to be a constant looming presence, even when offscreen.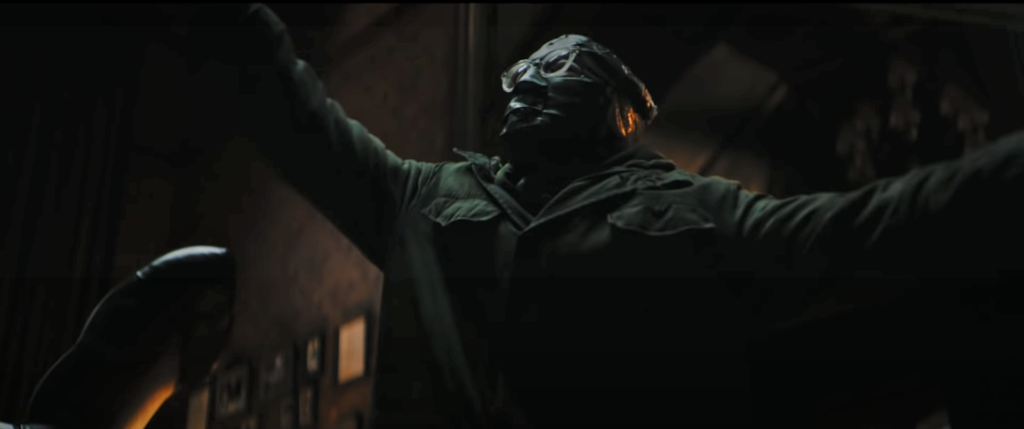 Much of this effect has to do with Riddler's new look, which Dano himself helped create. Dano's Riddler is a full face mask with clingfilm around the hair and head (to stop forensic evidence), goggles, and a military jacket with a single question mark on the lower left side of the jacket's torso. A complete reinvention for The Batman, which is more adrift from Riddler's previous outing in the guise of Jim Carry's campy skin-tight green jumpsuit "riddled" with question marks.
Dano's co-creation is the sort of terrifying terrorist that could emerge today—using technology to manipulate his victims and social media to influence individuals with fellow broken mindsets (his followers). When decostumed, Dano is just plain outright creepy. In a scene reminiscent of The Dark Knight's Joker in custody, Dano is all smiles, psychological foreplay but interspersed with complete mental breakdowns. Of all the villains in the Batverse, Riddler's ominous intelligence matches only the Joker.
Reeves knows his effective supervillain balance scales, and more than once does Riddler remind Batman that his brutal vigilantism is not too dissimilar to his own end goals. Other mentions go to Jeffrey Wright as Commissioner Gordon, who has a trust bond with Batman, and Zoe Kravitz as Catwoman, whose backstory runs independent of Batman and is worthy of narrative pursuit. An unrecognizable Colin Farrell as The Penguin — doing his best fat Robert De Niro at the end of Raging Bull — is the film's comic relief but is arguably underused given Farrell's hilarious portrayal.
The Batman is three hours you don't really feel. A lot of that has to do with how cinematographer Greig Fraser cuts you right in on the action with lots of close-ups — rearview mirror side shots on vehicles, not unlike Grand Theft Auto — and POV shots, which all help bring an immersive experience akin to playing an Arkham game.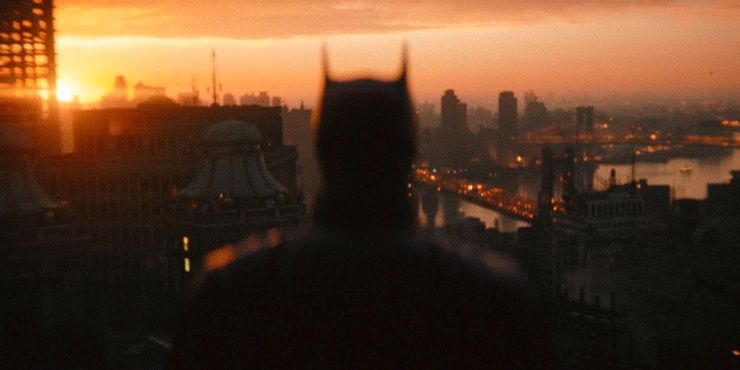 So, is it a better movie than The Dark Knight? Overall, yes, even though there are things in the realism world that remind us of Nolan's standout trilogy movie. However, Reeves's singular future-retro-90s aesthetic gives the whole thing a gothic grunge uniqueness not felt since Burton's seminal world-building from 1989.
Exhaustion for Gotham City may exist, but with this level of maverick reinvention, can't we leave climate change until the next one?
As he would refer himself, J.B. Browne is a half "foreign devil" living with anxiety relieved by purchase. HK-born Writer/Musician/Tinkerer.
The views do not necessarily reflect those of DotDotNews.
Read more articles by J.B.Browne:
Peel the Onion | The Batman Review: A retro-futurist throwback that feels like an Arkham game on emo steroids (I)
Peel the Onion | The Beatles: Get Back A Must Watch for Artists and Creatives (Part I)
Peel the Onion | The Beatles: Get Back A Must Watch for Artists and Creatives (Part II)