Peel the Onion | In Defense of Cowboy Bebop: A Netflix Review
By J.B.Browne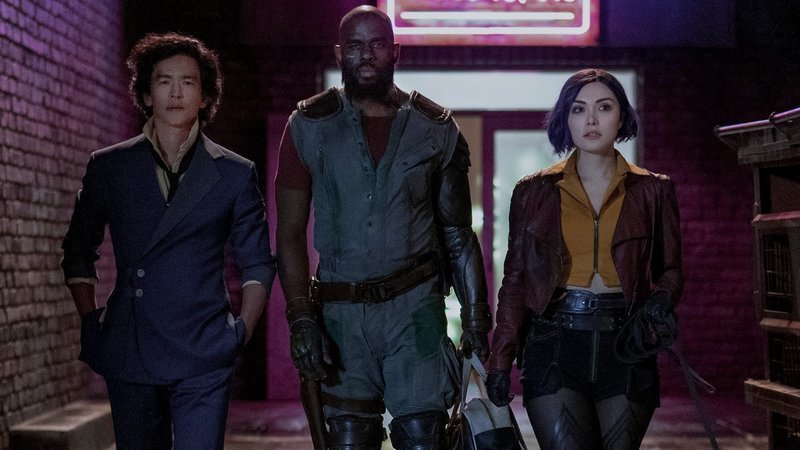 I was warming to Netflix's live-action adaptation of Cowboy Bebop, the late-90s neo-noir "space western" anime classic when it got royally canned after a spate of horrendous reviews. Poorly received by critics and original space cowboy fans alike, Netflix dropped the axe in December, a measly 21 days after its November 19 premiere.
Maybe you've seen it; maybe you haven't. Perhaps you hated it; perhaps you worry about debt or mutual nuclear destruction. Nevertheless, it's one of recent memory's most polarizing live-action adaptations. Accused of lousy pacing, cheap-looking sets, and school play quality costumes, critics have howled bitter moon about how it failed to capture the essence of the beloved anime. To which I say, duh, they never do; one is a cartoon, and the other is real people pretending to be cartoons.
In an age of countless pointless remakes, humanoid-Bebop holds its own when assessed independently. I'm not the only one who thinks this. Superfans of the one-season show created a petition via Change.org — Save the live action cowboy bebop — for Netflix to commission a second season. With nearly 90,000 signatures, the petition declares, "For those people who want a second (or more) of the live-action Cowboy Bebop. It wasn't a direct copy of the anime, but the world they put together was amazing and deserved [sic] a second season."
That's some endorsement.
And no, it's not the original anime, but then again, it doesn't try to be.
From the opening episode, "Cowboy Gospel," we're thrown into a creatural-Bebop verse where laissez-faire hustler type Spike Spiegel (a neat John Cho) and his cohorts, Jet Black (Mustafa Shakir), captain of the eponymous starship Bebop, and deuteragonist bounty hunter Faye Valentine (Daniella Pineda), form the cowboys of spaceship Bebop, combing the solar system in search of bounty and cash, yes, but mainly the drug Red Eye; mass-produced by Red Dragon Crime Syndicate member Vicious (Alex Hassell).
From the off, there's comfort in familiarity. The iconic bop-jazz-chase title sequence and accompanying soundtrack—Blade Runner sax ballad, Road to the West by The Seatbelts, casting the most potent transportive spell. As our bounty hunters travel through space to track down the drug lord and his girlfriend, the new adaptation unfolds as more of a fun twist on the beloved anime series.
Though spiritually loyal to the anime, new Bebop is not afraid to bop to the beat of a different jazz drummer, diverging starkly from the original.
Firstly, the format is somewhat different. In the 90s, we had roughly 24-minute episodes, now stretched to 40-60 minutes each. Amazeballs bouffant-clad John Cho riffs on Spike Spiegel decently, shocking at first because he is the titular fleshy player, but once you're over the fact he's not THE cartoon, he and his performance work. In other ways, anthropoid-Bebop is divergent in its choices to adapt itself to live-action appropriately. The way production strays from over-sexualizing Faye's character — a stylistic Anime/Manga trope that demeans and objectifies women in cartoon form — are obvious yet crucial changes to be made to fit a contemporary context.
In other ways, Homo erectus-Bebop forges its own righteous path, carving a unique narrative that entirely rewrites the original show. None more evident is this than in the season finale, which culminates with Julia's (Elena Satine) transformation into a full-blown villain (o come, all ye anime faithful – bloody el mate, steady on). Perhaps this wayward arc is the most significant change from the anime, though ironically not the reason most hated the show because they likely never got this far.
But I digress.
A big part of what made the anime Tick with a capital T — and this goes for all classic vibe anime — was the writers' ability to project the protagonist's feelings and emotions onto us within a wildly imaginative and far-off distant hand-drawn land. And so we drifted along the viaducts of their imaginations like guided space debris, becoming the anime characters themselves through some magic wave of self-projected fantasy. In this way, most if not all live-action adaptations fail from the fact that they are anything but their anime DNA counterparts.
Another element is time and the framing of character development. In the unlikeliness of Netflix granting live-action Bebop 20 one-hour episodes from the outset, it might well have unfolded more satisfactorily, with consistent pacing beats, throwing some placation at the anime faithful in the process. Perhaps then it could have delved deeper into the lessons, meanings, and character development like its anime parent.
So, Cowboy Bebop, widely considered one of the best anime series ever, is recaptured in this criminally dismissed live-action adaptation. Does Netflix's recapture bring the magic? Some like to shit on things before they've taken the time to give them a shot, and sheep mentality is contagious. No one wants to swim against the grain when the weight of opinion threatens their cultural self-esteem.
Living, breathing Bebop is an entertaining series worth way more than its detractors would love for you to hate. It's somewhat serendipitous then that the original anime was collecting digital dust on people's watchlists, but now it's trending again. Love them or hate them, live-action adaptations often bring much-needed attention to their beloved titles.
SEE YOU, LIVE-ACTION SPACE COWBOY ...
As he would refer himself, J.B. Browne is a half "foreign devil" living with anxiety relieved by purchase. HK-born Writer/Musician/Tinkerer.
The views do not necessarily reflect those of DotDotNews.
Read more articles by J.B.Browne:
Peel the Onion | The Beatles: Get Back A Must Watch for Artists and Creatives (Part II)
Peel the Onion | The Beatles: Get Back A Must Watch for Artists and Creatives (Part I)
Peel the Onion | 'The Battle at Lake Changjin' Film Review (Part II)
Peel the Onion | 'The Battle at Lake Changjin' Film Review (Part I)