Full text | CY Leung urges HK to be more proactive in connecting GBA to RCEP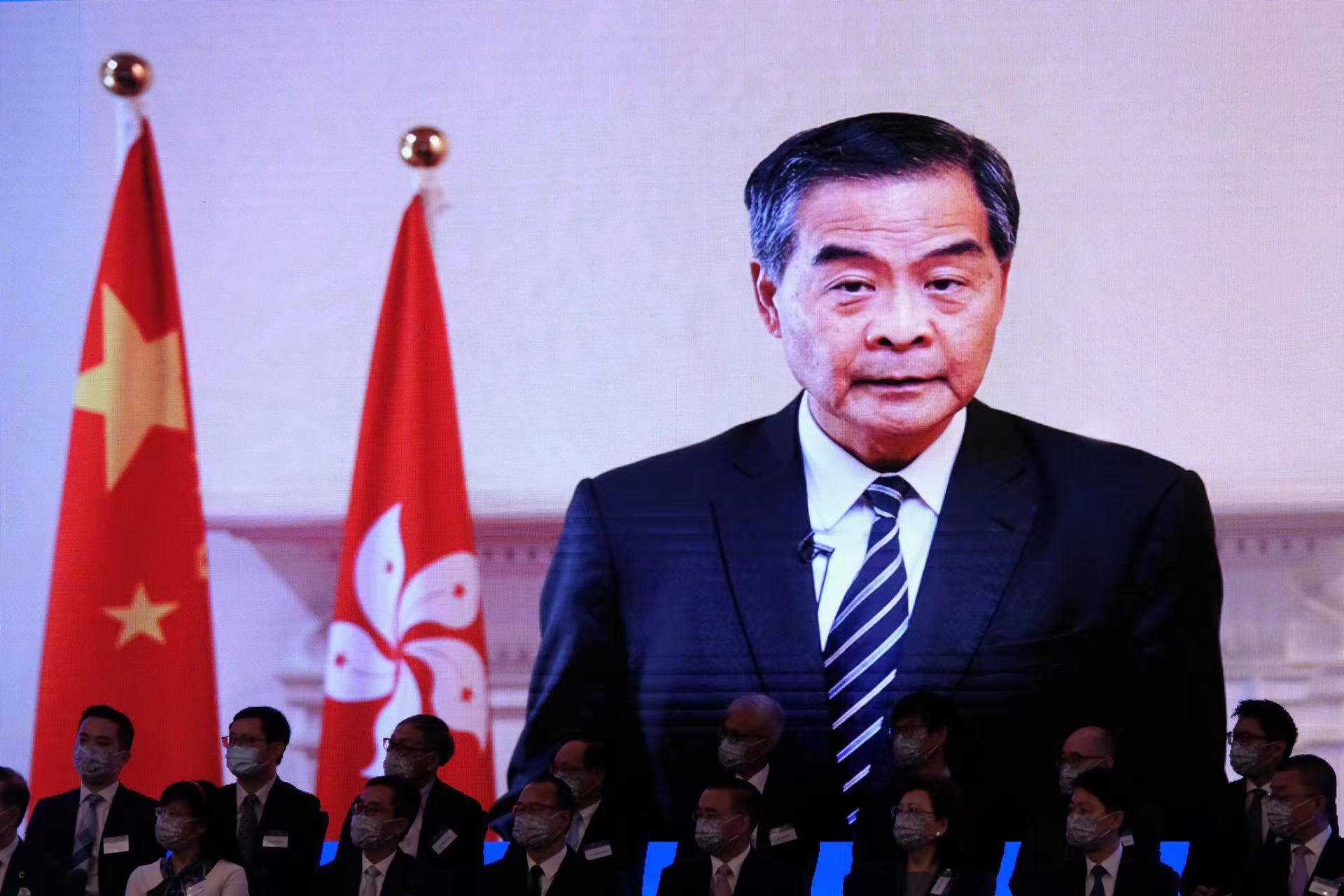 The Greater Bay Area Conference, co-organized by China Daily and the Hong Kong Coalition, kicked off today (Nov. 30). The following is the full text of the keynote speech by Leung Chun-ying, Vice Chairman of the National Committee of the Chinese People's Political Consultative Conference (CPPCC).
Be More Proactive
Commissioner Liu, Mr. Zhou, Distinguished Guests, Ladies and Gentlemen,
Good morning. I am away in Beijing. My sincere apologies for having to deliver my address by this pre-recorded video.
We are here today to identify new opportunities and, more importantly, to embrace them.
Definitely in trade matters, Hong Kong is the super-connector of the world. We are one of the largest global trade hubs for both goods and services. Now we have a new boost. The Regional Comprehensive Economic Partnership (RCEP) is the largest free trade agreement ever forged. As we speak, barriers between Hong Kong and the other cities in the Guangdong-Hong Kong-Macao Greater Bay Area (GBA) are being lowered one after another.
What are the implications of RCEP
RCEP covers around one-third of the world's population, and economies that account for one-third of global GDP and nearly one-third of global trade. It offers more opportunities than existing free trade agreements. For the first time, the three biggest economies of Asia - China, Japan and Korea are enjoined in a free trade arrangement. Significantly Japan is the third-largest re-export and the fifth largest off-shore trade partner of Hong Kong.
RCEP also expands market access for services. It opens up some 65% of the service sector to foreign service-providers, with a level of access that is higher than, for example, the free trade arrangements between China and ASEAN, in particular in financial, legal, construction and transportation services.
What does trade mean to Hong Kong
Trading is in Hong Kong's DNA. The history of Hong Kong as a trade hub can be traced back to the 1850's. It started in Sheung Wan before the days of reclamation, berthing ships that ferried cargoes between Southeast Asia to the south and the Mainland of China to the north. Notably, few if any of the goods handled by Hong Kong were made or needed locally. But Hong Kong had the trust, the relationships, the market intelligence and the languages needed. Added to this our financial services, the ecosystem of an international trade hub was complete. It was aptly known as "Nan Bei Hang" (南北行).
Today, trade is still a big chunk of Hong Kong's economy. Contributing around 17% to our GDP, it is bigger than is generally appreciated. Trade also puts us on the world map. Last year, we were the world's 6th largest trading entity in goods, and 21st as a "commercial services trading entity". Over 430,000 people work in about 106,000 trading companies, each employing on average 4 persons. Our traders may be small, but they are well connected to and respected in the world, trading in anything that is tradable, from vegetable seeds to electronic components.
Last year, the value of Hong Kong's total merchandise trade exceeded one trillion US dollars, which was equivalent to 3 times of our GDP. What it means is that we don't consume most of the things we buy, and we don't produce most of the things we sell - as in the days of Nan Bei Hang. But unlike the days of Nan Bei Hang, much of the goods we source nowadays from one country are sent directly to third-country markets without touching our shores or the airport. Our trade no longer depends on geographic proximity to suppliers or markets. We are one of the most efficient offshore trade centers in the world. How big is it? We can only estimate - about US$600 billion.
What about services? In 2019, the total Hong Kong trade in services amounted to US$180 billion or about 49% of Hong Kong's GDP. Hong Kong is also well established on the Mainland in other service sub-sectors. These include banking, insurance, information technology and logistics. Similar to the transformation of our manufacturing sector from "made in Hong Kong" to "made by Hong Kong', our service sector is transforming from "provided in Hong Kong" to "provided by Hong Kong".
To the list of existing service types I would add maritime services which cover ship registration, finance and management; marine insurance and legal services. Qianhai of Shenzhen which is part of the GBA would be our ideal partner, leveraging on the special policies granted by the Central Government and their close proximity to Hong Kong. Together Shenzhen and Hong Kong could forge a national maritime services platform in Qianhai, offering unparalleled growth opportunities to foreign marine services companies now based in Hong Kong. A delegation of Hong Kong experts in these fields have been put together to engage with the Shenzhen authorities.
Lastly intellectual property (IP) services. China is the largest IP country in the world in terms of the number of new registrations. As for Hong Kong, the total trade in IP-related services in 2019 amounted to $21 billion.
What does RCEP mean to Hong Kong
It is important to reiterate this point - Hong Kong does not buy and sell just for itself. We buy for the world and sell for the world. Mainland government officials with whom I work to utilize Hong Kong's trade functions have coined this phrase to describe this particular trait of Hong Kong – 全球,賣全球(buy for the world, sell for the world). I thought this phrase was quite neat.
So the significance of RCEP to Hong Kong lies not so much in Hong Kong itself being a producer or a consumer - we are too small at that - but in our close relationships with the Mainland of China - a huge producer, assembler and ultimate consumer. And the GBA is a significant part in this equation.
Last year, 73% of the total merchandise trade of Hong Kong was with the RCEP economies, but only 40% of the exports and 50% of the imports were within the RCEP bloc. Patently there is a good deal of potential for Hong Kong.
RCEP will strengthen Hong Kong's status as a regional hub for professional services. Within RCEP, the Mainland of China is the biggest market of professional services and Hong Kong the biggest overseas provider. Hong Kong is extremely well placed to facilitate foreign firms in utilizing the new access to the Mainland Chinese market under RCEP. We have a wealth of practical experience and a deep, diverse, bilingual and dual-culture talent pool in a user-friendly job market. We have had the first-mover advantage since the reforms started 43 years ago. The Closer Economic Partnership Arrangement between the Mainland and Hong Kong (CEPA)which was enacted 18 years ago has beyond any doubt strengthened this advantage. CEPA gives Hong Kong among others such privileges as recognition of professional qualifications and relaxed shareholding restrictions. The level of market access is higher than, for example, the free trade arrangements between China and ASEAN.
What about the GBA
Last year, the GBA accounted for 11% of China's GDP. The GBA Guangdong cities have been our close working partners for over a century. As with other partners, Hong Kong has the trust, the relationships, the market intelligence and the language factors to extend our international trade functions to Guangdong. As the GBA strategy envisions many of the barriers between Hong Kong and Guangdong coming down, integration will unleash huge energy for growth in the trade and related sectors.
Three weeks ago, I organized for several Hong Kong business chambers a visit to a distribution facility in a bonded area in Nansha, which is a district of Guangzhou and 35 minutes away from the West Kowloon high-speed rail station. One of its functions is the provision of intermediate bonded warehousing for Hong Kong buyers of imported goods. Why Nansha? Huge hinterland of Guangdong, low costs, good roads and sea access. More importantly the container port there now handles 17 million TEU's a year - 17% more than the Kwai Tsing container port.
Seven months ago, the Consultative Committee on Guangdong-Hong Kong Cooperation (Guangzhou Nansha)(廣州南沙粵港合作諮詢委員會)was formed by the Guangzhou Government to solicit Hong Kong's input in a B2G mode. One of the 9 working groups of the Committee is on trade. RCEP will be on their to-do list.
The Committee have set up a service center in Nansha which provides free service to member bodies which include the major Hong Kong business chambers and professional bodies.
What about other parts of the Country
Last year, Hong Kong was the Mainland's 4th largest trading partner. Significantly, the value of goods re-exported through Hong Kong from and to the Mainland accounted for 89.6% of Hong Kong's total re-export trade. Hong Kong was also the Mainland's second-largest export market, taking up 10.5% of its total exports. Beyond the GBA, Hainan with its unrivaled free trade policies offers lucrative opportunities. We should examine the prospects of facilitating a tripartite trading mechanism involving Hong Kong, the GBA and Hainan.
What about ASEAN
10 of the 15 RCEP economies are ASEAN. For the first 10 months of this year, trade between Hainan and the Philippines increased by 70% over last year, and with Indonesia by 43%. Last year, ASEAN was Hong Kong's second-largest trading partner, after the Mainland of China. In the past 4 years, Hong Kong imports from ASEAN grew at 7.2% per annum. Hong Kong plays an important role for merchandise trade between ASEAN and the Mainland of China. Last year, re-exports between the two economies through Hong Kong amounted to about HK$500 billion in 2020. Hong Kong should re-discover its role in north-south trade between the Mainland of China and ASEAN.
Let's be more proactive
Four years ago in a speech to the Hong Kong and Macao delegation to celebrate the 40th anniversary of the country's Reform and Opening-up, President Xi Jinping expressed his four hopes for Hong Kong and Macao, namely, more proactively contributing to the country's new round of opening-up, more proactively integrating into the country's overall development, more proactively participating in national governance, and more proactively promoting exchanges of humanities on the international level. The words that I would borrow today are "more proactively". Opportunities for Hong Kong to connect the GBA to RCEP will remain no more than opportunities unless and until we turn them into realities - realities of economic and social progress.
So far this year, I have spent 109 days in the Mainland, mostly in Guangdong. I am constantly impressed by the developments there, not only in terms of speed, but also the quality of growth, the progressive outlook and the new approaches. Put simply, one has to see them to believe them, and one has to be on the ground to make things happen.
Distinguished guests, ladies and gentlemen, for two years now, physical contacts between Hong Kong and the Guangdong GBA cities have been seriously interrupted by the COVID-19 pandemic. The effects of "didn't know" (不知道)between the two sides are aggravating. When the boundary check-points are re-opened, albeit partially, Hong Kong has to execute a catch-up plan. We should launch a global publicity campaign to tell our RCEP partners that Hong Kong the super-connector is back in business, and that Hong Kong has a unique role in the GBA. Among the first batches of exempted travelers into Guangdong should be policy researchers, representatives of professional bodies, local and foreign business chambers, the media, and foreign governments. The chambers and professional bodies should have permanent staff in Guangdong to roam and explore, to re-build and extend our relationships, to expand our knowledge base and to help local and foreign businesses based in Hong Kong turn RCEP opportunities into results for all in the Greater Bay Area.
Thank you.