HKSTP hosts Shenzhen-HK 5G Joint Roadshows, showcasing enormous innovation potential of GBA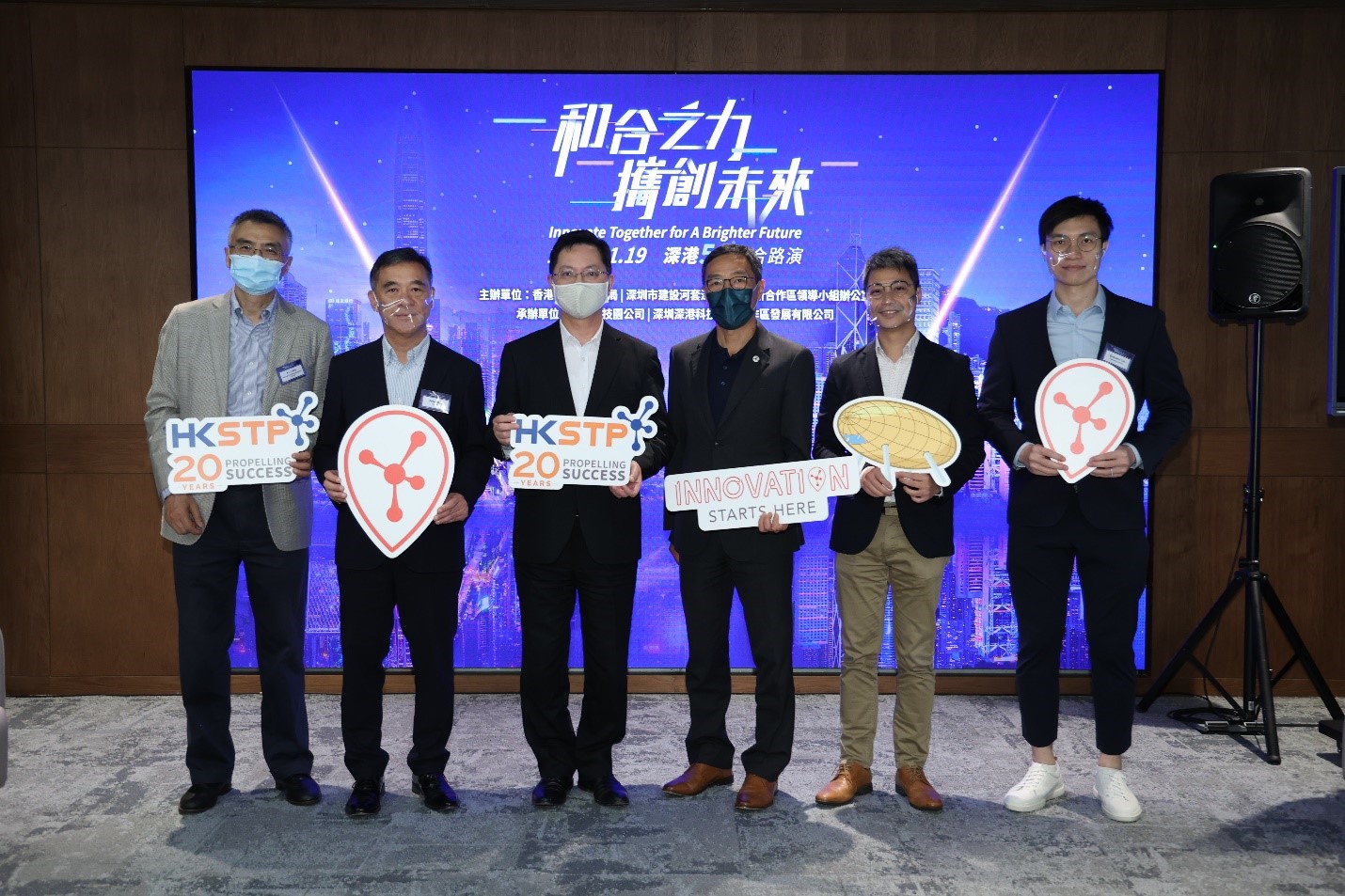 Hong Kong Science and Technology Parks Corporation (HKSTP) has joined the Innovation and Technology Bureau of HKSAR government, Shenzhen Leading Group Office for the Construction of Hetao Shenzhen-Hong Kong Science and Technology Innovation Cooperation Zone as well as Shenzhen-Hong Kong Science and Technology Innovation Cooperation Zone Development Co., Ltd to host a series of technology industry roadshows, starting with the first-ever Shenzhen-Hong Kong 5G Joint Roadshows (the Joint Roadshows).
Alfred Sit, JP, Secretary for Innovation and Technology, Huang Min, Member of the Standing Committee of CPC Shenzhen Municipal Committee and Vice Mayor and Member of the Party Leadership Group of Shenzhen Municipal People's Government separately attended the two simultaneous events in the two cities to provide the main event address. Fang Lin, Deputy Director of the Shenzhen Science and Technology Innovation Commission and Albert Wong, CEO of HKSTP, also briefed audiences on the policies and I&T ecosystems of Shenzhen and Hong Kong respectively.
Backed by cutting-edge 5G technology, the Joint Roadshows were held simultaneously at Hong Kong Science Park in Hong Kong as well as the Shenzhen State-owned and State-owned Enterprise Industrial Innovation Center in the Futian Free Trade Zone in Shenzhen, gathering city leaders, industry experts, investment institutions, and business representatives to exchange and showcase local and international 5G technologies and scientific research. Themed "Innovate Together for A Brighter Future", the conferences brought together industry leaders and young entrepreneurs from the two cities to share their experiences and visions to promote joint policies and develop the I&T ecosystems of Shenzhen and Hong Kong.
"The collective ground-breaking innovation demonstrated by entrepreneurs and some of the finest R&D talent from these two cities will be proof of how Hong Kong can be a unique gateway into GBA technology and market opportunities while also being a launchpad for local innovation to go global," said Albert Wong, CEO of HKSTP.
HKSTP is speeding up the construction of Hong Kong Science Park Shenzhen Branch in Futian Free Trade Zone in Shenzhen to help institutions and enterprises interested in developing business in the Greater Bay Area to settle in Shenzhen. With Hong Kong's advantage as an international gateway within the GBA, HKSTP will be setting up GBA InnoAcademy in the Shenzhen Branch to provide comprehensive services to I&T talent of both sides, covering three important functions of a resource center, a training hub, and an exchange platform. HKSTP will also establish GBA InnoExpress to provide business development support to I&T enterprises from the two cities.
The 5G Joint Roadshows included a co-sharing roadshow session featuring three companies from each city to showcase their innovative 5G projects. All three participating companies from Hong Kong are HKSTP Park companies: Mechawaves, ANTwave Technology, and Velenova. And the three companies from Shenzhen are Nation RFID, Raisound, and Reexen.