Opinion | US ambassador: Maturity required to regain trust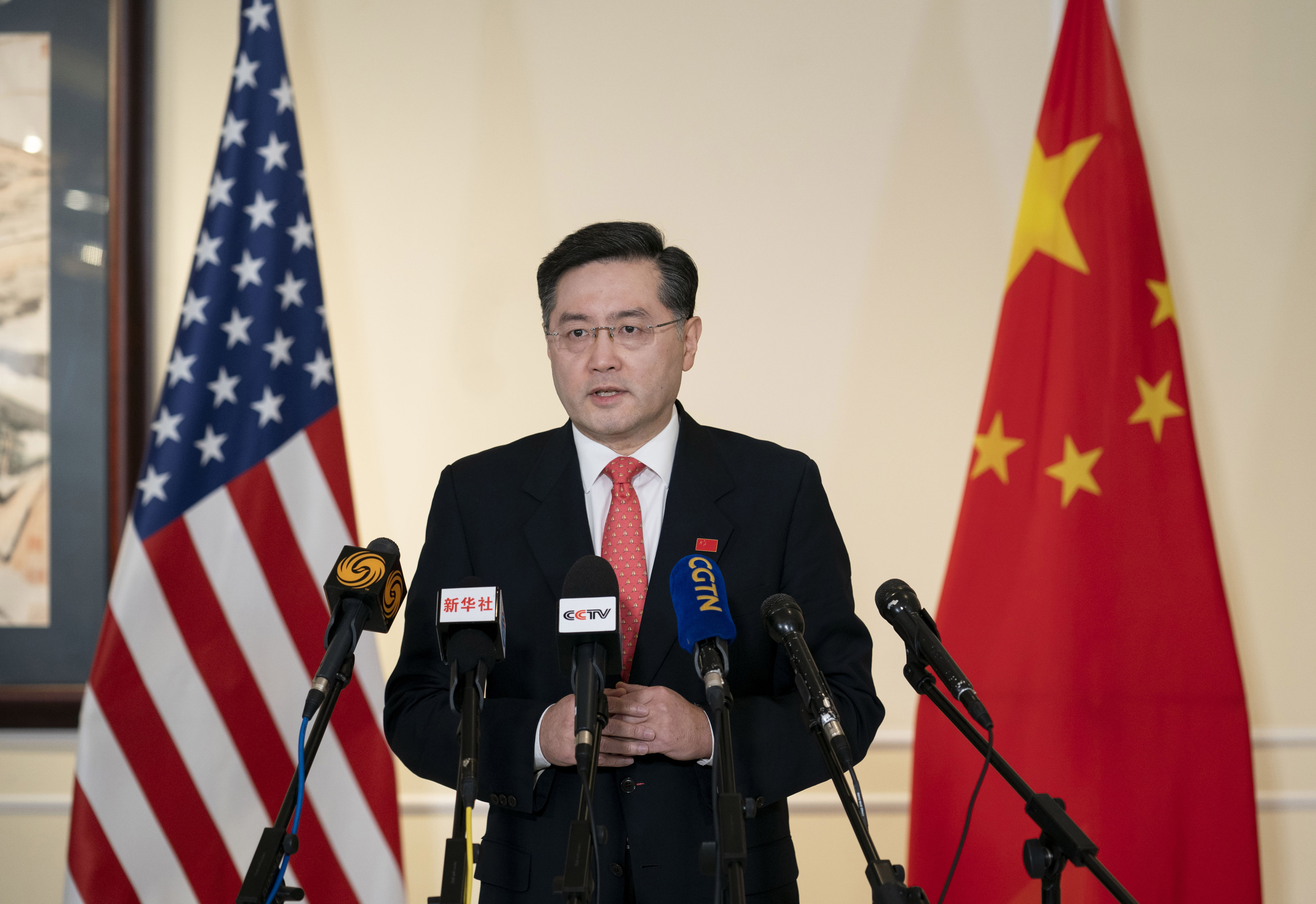 By Grenville Cross
On Sept 13, shortly after assuming office, China's ambassador to the United States, Qin Gang, addressed the US-China Business Council, in Washington, DC. He urged the US to "make earnest efforts" to improve bilateral ties, stressing the role of economic and trade cooperation as the "ballast and propeller" of relations between the two countries.
He noted that, despite the pandemic, China has faithfully implemented the Phase One trade agreement, while the US, for its part, has continued to impose sanctions on China, including subjecting over 900 Chinese entities to restrictions.
Qin was, therefore, like any good ambassador, trying to establish good relations with his hosts, and was prepared to go the extra mile. While he could, of course, have alluded to the Sinophobia, and the associated aggression, which has gripped so much of the US, he did not, appreciating that diplomacy is built upon mutual respect and positivity. He told the business leaders that, apart from the "certainty" China was offering, he would also "love to talk to you, and be a good listener to you, so that we can uphold and promote the common interests of China and the US".
If, like Qin Gang, he (Richard Nicholas Burns) can show some real maturity, he may yet be a positive influence, not least in promoting more understanding and less tension. If, however, he cannot rise to the challenge, he will be just another peripheral timeserver, like Smith, now reduced to attention-seeking by lighting candles in the hope of irritating his hosts
Although Qin has been the model diplomat, this, unfortunately, cannot be said of his opposite number-in-waiting, Richard Nicholas Burns, who awaits confirmation. When the US president nominates an ambassador, the appointment has to be confirmed by the Senate, which can delay things, and, if the nominee refuses to kowtow or genuflect sufficiently, block the nomination altogether. As President Joe Biden's Democrats only hold a wafer-thin majority in the Senate, his political opponents have sought to make a mockery of the appointment process.
According to Foreign Policy magazine, Biden had, as of Oct 11, nominated 61 ambassadors, but only two have been confirmed. The nomination of the US ambassador to Vietnam, for example, has been held up for over six months. A key player in the obstruction is Senator Ted Cruz, who has been using procedural tactics to block appointments in order to pressurize Biden over a Russian gas pipeline. The White House press secretary, Jen Psaki, has said "we are frustrated over the slow pace of confirmations, particularly for noncontroversial nominees".
Since the resignation of its ambassador, Terry Branstad, in September 2020, the US has been without an ambassador to China, and this has had consequences. When the US deputy secretary of state, Wendy Sherman, visited China in July, to have meetings with the foreign minister, Wang Yi, and others, there was no substantive ambassador in place, and this she found a hindrance. Indeed, when appearing before the House Foreign Relations Committee, she revealed that her trip to China could have been more fruitful if she had the expertise of the nominees on board. She said the US was "currently hamstrung in our ability to advance America's interests around the world without confirmed ambassadors", clearly wanting to see the process kick-started.
The Senate is now considering Burns' credentials, and, on Oct 21, he showed just how desperate he is for the appointment. Having told senators that China has "very few friends" and "no real allies", he then declared that "it is not an Olympian power". He alleged Beijing was untrustworthy as it had reneged on the "one country, two systems" principle in Hong Kong, displaying an ignorance, probably feigned, for which the US consul general in Hong Kong and Macao, Michael Hanscom Smith, must bear at least some responsibility.
Sounding exactly like one of the bigots sitting in front of him, Burns then declared that the US had "enormous latitude" to deepen its security assistance to Taiwan, a remark that can only inflame cross-Straits tensions. He said it was necessary to increase Taiwan's "asymmetric defenses", with everybody coming together to "help Taiwan to maintain a self-defense capability". Grasping for support, he then talked about China's "abuses" in its Xinjiang Uygur and Tibet autonomous regions, imagining that this would seal the deal.
By any yardstick, Burns' performance was boorish and superficial, and an object lesson to aspiring diplomats in how not to comport themselves. If diplomacy is, as he has previously claimed, about human relations, he has simply poisoned the atmosphere going forward, which seems out of character. Apart from being a graduate of Boston College and the University of Paris, Burns is a former ambassador to Greece and a professor at the Harvard Kennedy School, and an urbane, if suitably nuanced presentation might have been expected of him. This, however, was the very last thing the Senate's bovver boys wanted.
The Senate, of course, comprises some of the most virulent Sinophobes in American politics. Indeed, Burns probably feels unbridled contempt for most of them, yet the only way of ensuring their support was for him to join them in the gutter. They include, for example, Senator Cruz, who, when he visited Hong Kong in October 2019, attired himself in black from head to toe, in order to "express solidarity with the protesters". When asked about the protest-related violence, he initially feigned ignorance, then blamed it all on Chinese agents. Before departing, he maligned the police force defending the city, accusing it of "the brutal repression of Hong Kong". Anybody witnessing Cruz's performance that day will have understood why, in 2016, the future president, Donald Trump, had called him "the biggest liar I have ever seen", yet Burns' future is now in his hands.
Throughout his visit, Cruz was accompanied by Senator Josh Hawley, a political lightweight of the first order, who was determined not to be outshone by his more senior colleague. In words that were as false as Cruz's clothes, he accused the police force of using excessive force, and declared that Hong Kong was becoming "a police state". This, of course, is the same phony who, having trumpeted democracy for Hong Kong, then tried to block the election of Joe Biden as president in the US Capitol vote count on Jan 6, infamously raising his fist in a gesture of solidarity with the pro-Trump mobs preparing to trash the building.
If, however, anybody is more antagonistic toward China than Cruz and Hawley, it has to be Senator Marco Rubio, the man Trump christened "Little Marco", and whom Burns also needed to impress. In 2018, as co-chair of the Congressional-Executive Commission on China, a fanatical anti-China grouping, he even nominated three professional agitators, Joshua Wong Chi-fung, Nathan Law Kwun-chung, and Alex Chow Yong-kang, for the Nobel Peace Prize, assuring the award committee of their "peaceful efforts to bring political reform and self-determination to Hong Kong", a brazen fabrication. He failed to disclose that, far from being peaceful, the trio had only recently been convicted of a forcible invasion of restricted government premises that left 10 security guards injured, a crime the Court of Appeal described as "a large-scale unlawful assembly, involving violence".
What this meant, therefore, was that, if Burns was to secure his ambassadorship, he was left with little choice but to throw the likes of Cruz, Hawley and Rubio the red meat they craved. If he stood on principle, and provided a realistic analysis, his nomination would be dead in the water. Although, in the past, this canny individual had said China is not an enemy but a partner with whom the US must work to resolve global challenges, he knew that this was the last thing they wanted to hear, and he cut his cloth accordingly. While it cannot have been an easy decision, he nonetheless spewed out the necessary venom, and his confirmation is all but assured.
Once he assumes his position, however, Burns will need to do a 180-degree turn. He will hopefully show that the shameless careerist who pirouetted before the Senate is not the real deal, and that a principled diplomat lies underneath. If, like Qin Gang, he can show some real maturity, he may yet be a positive influence, not least in promoting more understanding and less tension. If, however, he cannot rise to the challenge, he will be just another peripheral timeserver, like Smith, now reduced to attention-seeking by lighting candles in the hope of irritating his hosts.
Although Burns is said to be worldly-wise with a mind of his own, he has grossly insulted his future hosts, and his priority must now be bridge-building. If he can, behind the scenes, bring some constructive thinking to bear, it may still be possible for Beijing to take him seriously. This, however, is by no means a given, and he must first try to regain the trust so recklessly imperiled by his Senate posturing.
(Source: China Daily)
The author is a Senior Counsel, Professor of Law and criminal justice analyst, and was previously the Director of Public Prosecutions of the Hong Kong SAR.
The views do not necessarily reflect those of DotDotNews.
Read more articles by Grenville Cross:
Opinion | National Security: New mechanisms ensure fair trials
Opinion | Foreign interference: Protective mechanisms legitimate and necessary
Opinion | AUKUS is a stab in the back and a big mistake