Milestone: Shenzhen issues first offshore RMB bonds in HK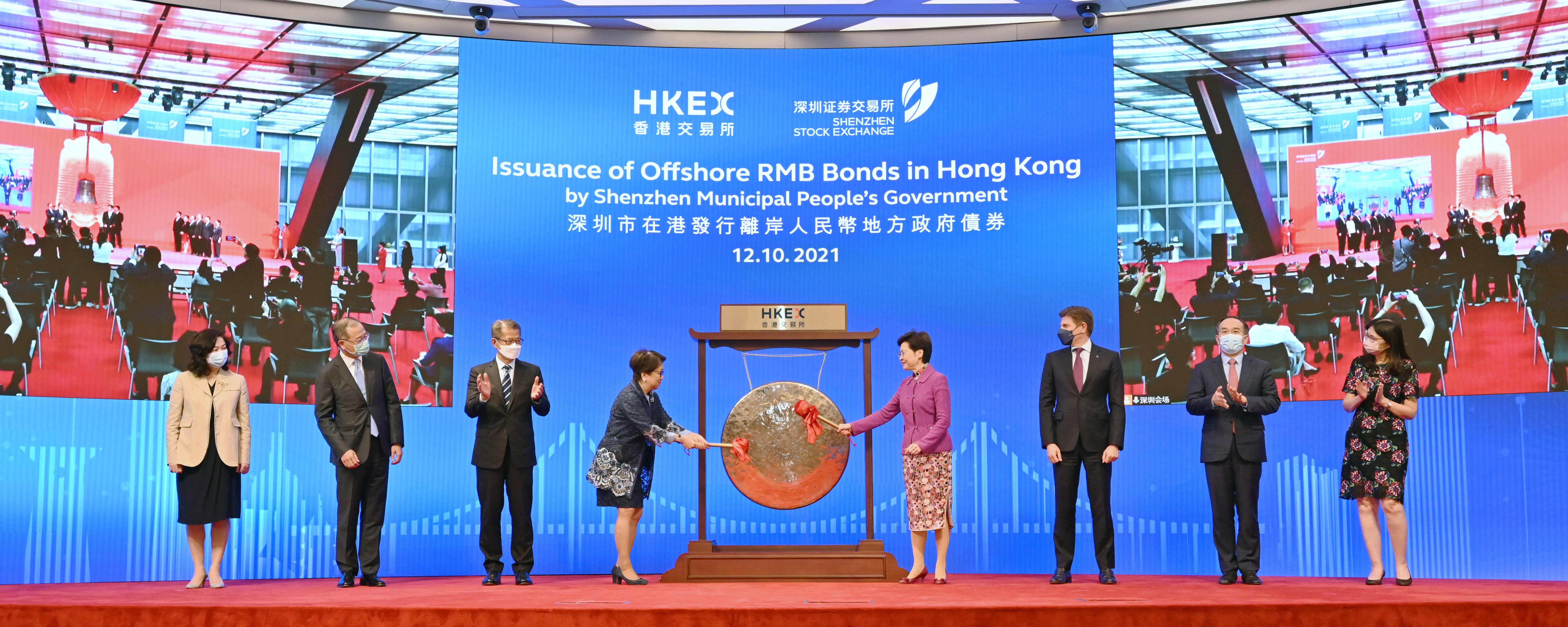 The Shenzhen and Hong Kong governments completed a gong striking ceremony on Tuesday (Oct. 12) to mark the debut of domestic local government bonds' offshore listing, signaling further integration between the Hong Kong Special Administrative Region and the Chinese mainland.
The Shenzhen government will issue up to 5 billion yuan ($774.5 million) of renminbi bonds in Hong Kong via the Stock Exchange of Hong Kong. The bonds will be issued in tenors of two years (valued at 1.1 billion yuan), three years (valued at 1.5 billion yuan), and five years (valued at 2.4 billion yuan).
The issuance of the bonds is a milestone in the country's local government bond history and deepens the financial opening-up and consolidation of the special administrative region's role as an offshore renminbi center, officials and bankers said.
It is the first time an offshore renminbi municipal government bond has been issued in Hong Kong.
The issuance of Shenzhen's "dim sum" bond will broaden funding channels for local governments, promote bond issuance innovation and advance the orderly opening-up of the government bond market, said Xu Hongcai, vice-minister of finance, at a ceremony celebrating the bond issuance on Tuesday.
Hong Kong Chief Executive Carrie Lam Cheng Yuet-ngor said that the issuance is of huge importance as these are the first offshore bonds to be listed in Hong Kong, as well as the first time a municipal government has issued offshore bonds outside the mainland, marking a milestone in the internationalization of the renminbi.
Meanwhile, the three- and five-year bonds will be green bonds, the proceeds of which will be used for education, water treatment as well as the "sponge city" program aiming for the city's flood management.
The green bonds issued this time will contribute to achieving the goal of peak carbon dioxide emissions by 2030 and carbon neutrality for the country by 2060 under the guidelines of the 14th Five-Year Plan (2021-25), said Lam.
"It is beneficial for Hong Kong to raise its position as the green finance hub of the Guangdong-Hong Kong-Macao Greater Bay Area," Lam said. "The bonds would also connect the country and abroad in the meantime, so as to facilitate the capital flowing into the green finance market."
Lam added that the launch of the bonds will deepen cooperation between Hong Kong and Shenzhen, achieving the effect of "a whole is greater than the sum of the parts", while speeding up Hong Kong's integration into the national development.
In addition, the bonds will be exempted from individual income tax, enterprise income tax, and stamp duty in the Chinese mainland, as well as any stamp duty in Hong Kong. Any interest and revenues generated from selling the bonds will also be excluded from profits tax in Hong Kong, according to an earlier announcement.
(With inputs from China Daily)