Economics experts applaud stimulus measures in budget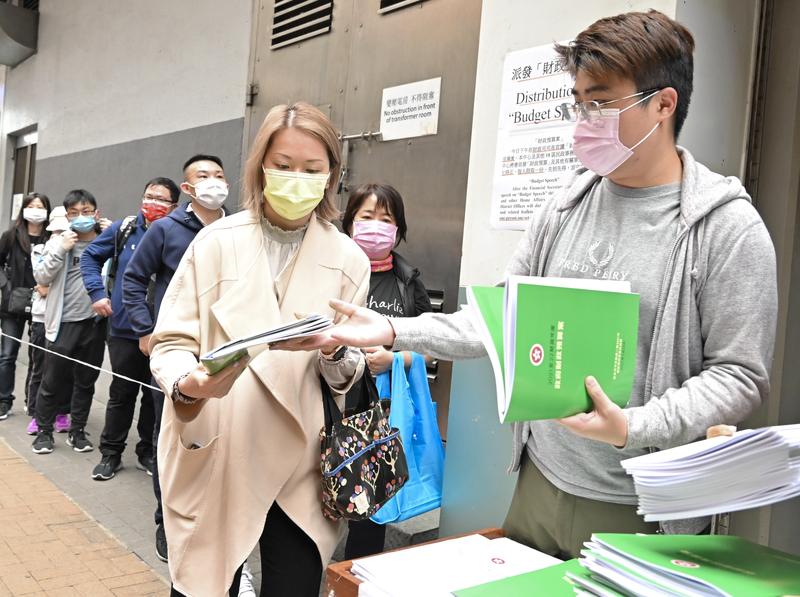 The 2021-22 budget sets a promising direction that seeks new economic impetuses in the development of the Guangdong-Hong Kong-Macao Greater Bay Area, experts say.
They also urged strengthening and hastening cooperation with cities in Guangdong province, especially in the technology-innovation and air cargo transport sectors.
Hong Kong Financial Secretary Paul Chan Mo-po stated in the annual budget that the Bay Area is "the best entry point" for Hong Kong to participate in the domestic circulation of the country's economy.
He said the Guangdong-Hong Kong-Macao Greater Bay Area Development Office has been set up to strengthen the planning, coordination and promotion of the various policies and measures in the area.
One of the new measures to participate in the mainland's economic growth disclosed in the much-anticipated budget is tied to the cargo transportation industry. Chan said he plans to submit a funding application to the Legislative Council within this year to redevelop the Air Mail Centre at Hong Kong International Airport.
Witman Hung Wai-man, principal liaison officer for Hong Kong at the Shenzhen Qianhai Authority, welcomed the proposal and envisaged it could help give full play to the city's advantageous air cargo transportation industry in the future.
As mainland export volume is booming, in the Bay Area in particular, the demand for international delivery services also remarkably increased. HKIA last year handled 4.5 million metric tons of cargo and air mail, which decreased by only 7 percent compared with the pre-pandemic level.
Hung said high-tech products are and will still be the main trend in the Bay Area, and the category relies largely on air transportation, creating huge opportunities for Hong Kong.
But he also said that the Asia transportation hub should also strengthen cooperation with cities in Guangdong to attract more mainland exporters. For example, he applauded a new freight transfer station being prepared in Dongguan to cover cargo packing for quick international transporting.
Another domain with huge potential is technology innovation and investment. Hung advised opening more Hong Kong funds for mainland firms and scientific research institutes, such as the Partnership Research Programme, which in return is beneficial to Hong Kong investors.
The finance chief said in his speech that the Ministry of Science and Technology, Guangdong provincial government and Shenzhen municipal government in the past two years have approved over 340 million yuan ($52.7 million) for universities and research institutes in Hong Kong, since permission was granted for the remittance of mainland research and development funding to Hong Kong.
He said he expects to form a comprehensive upstream, midstream and downstream technology industrial chain in hand with "our brother cities that have advanced manufacturing industries".
Meanwhile, Hong Kong could also identify new areas of economic growth in the process, he added.
Guo Wanda, executive vice-president of the China Development Institute, echoed that sentiment, saying that Hong Kong's scientific research prowess is widely recognized among mainland companies and more attention should be paid to it.
In addition, he said, Hong Kong should participate more in the Bay Area comprehensive national science center, which is being built in Shenzhen and Dongguan, as scientific research and innovation are becoming a major drive of the Bay Area economy.
Agnes Wong, a tax partner with PwC Hong Kong, agrees that the government has invested heavily in encouraging enterprises to devote resources to local R&D, but she observed many firms also have part of their R&D team in Guangdong.
Therefore, she suggested expanding the tax deduction for eligible R&D expenditures to Hong Kong invested firms in the Bay Area, inspiring more cross-boundary cooperation.
(Source: China Daily)