CE gets vaccinated as HK sees 16 new COVID-19 cases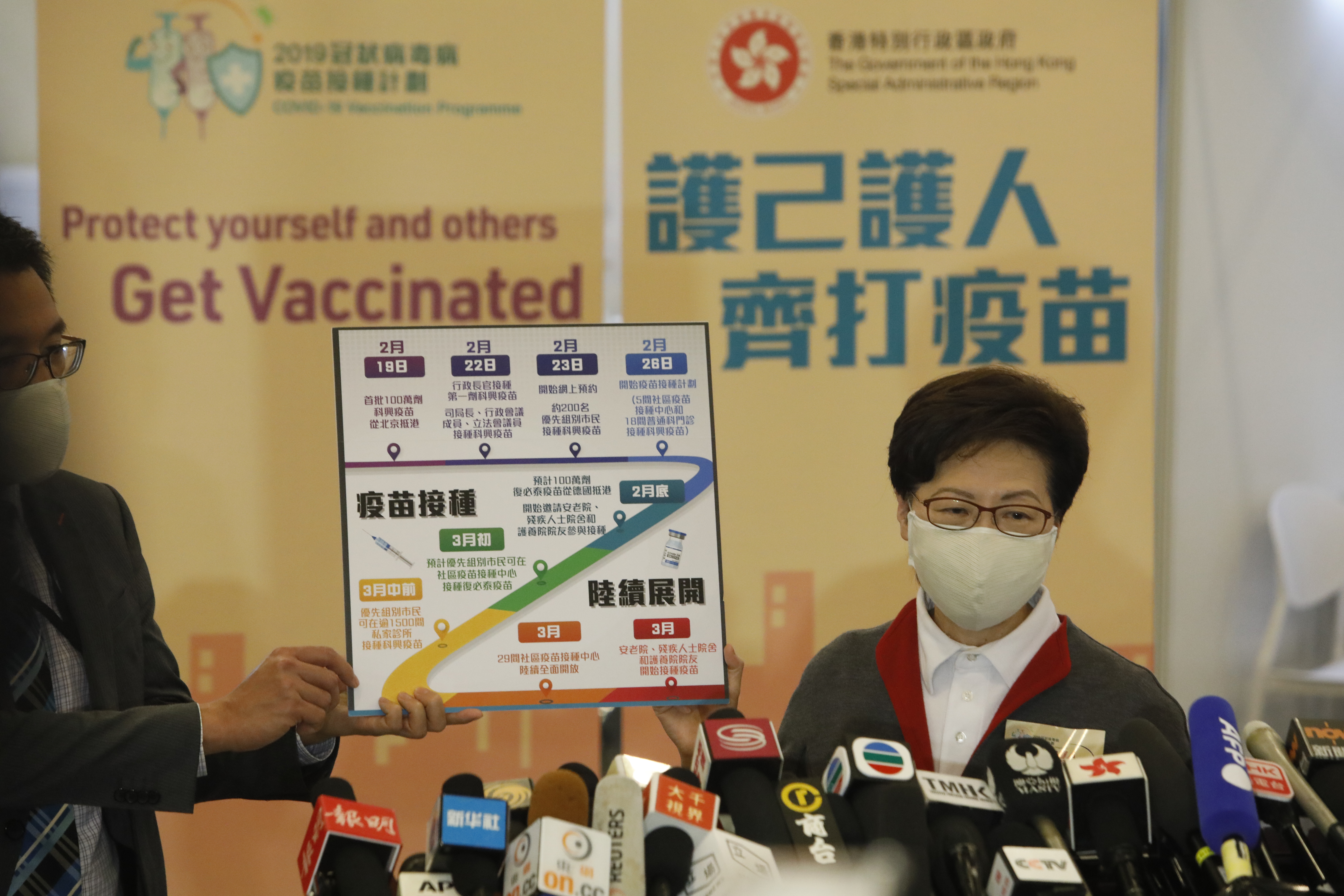 Chief Executive Carrie Lam was inoculated on Monday (Feb. 22) afternoon with a shot of Sinovac Biotech's coronavirus vaccine as the city reported 16 new COVID-19 cases.
Lam was vaccinated at a community inoculation center at Hong Kong Central Library and was followed by high-ranking government officials. Executive Councilors and lawmakers were also expected to follow suit on Monday.
Describing the upcoming vaccination program as a silver lining in the city's pandemic fight, Lam appealed to residents to get inoculated.
"If residents are not confident enough to come forward (to receive jabs) on the basis of false information, the work cannot be done and the expected benefits of the vaccination program cannot materialize," Lam said.
"When your turn comes, please register on the internet and come forward to receive your jab as soon as possible. We have procured enough vaccines. We will do all we could to make it easier for residents to receive the vaccination."
The city's new COVID-19 cases included 13 local infections and three imported cases, the Centre for Health Protection (CHP) said in a statement.
Four of the latest infections were untraceable while the city's tally of confirmed cases rose to 10,884.
The CHP said the four cases of unknown origin included that of a 66-year-old postnatal care helper who last went to work on Feb 11 before developing symptoms on Friday.
The other three involved two retirees – a 76-year-old man who lived at Yee On Centre in Kwun Tong and a 62-year-old man who lived at Wang Toi Shan Wing Ning Lei in Yuen Long – as well as a 41-year-old computer officer who visited his workplace on Feb 11.
The imported cases involved three women from Indonesia, the CHP said.
(Source: China Daily)