China's 'Father of Hybrid Rice' joins TikTok, pulls in 15 million followers in 3 days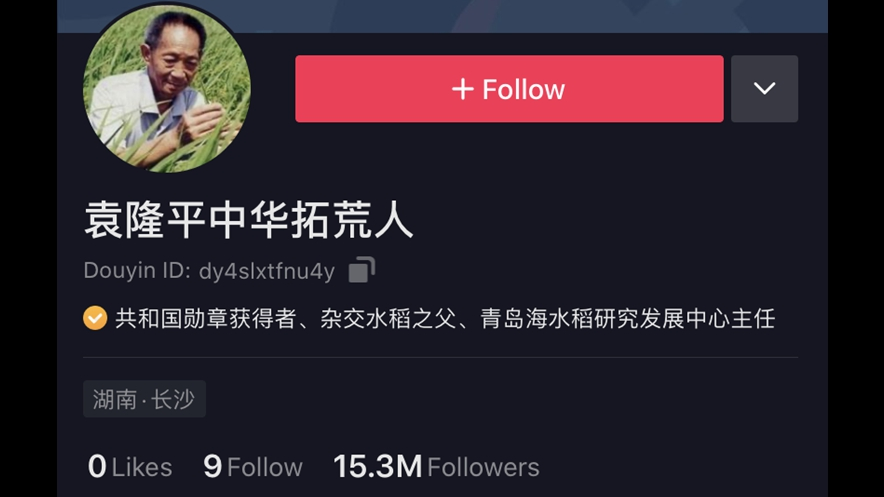 Chinese agronomist Yuan Longping, famed for developing high-yield rice varieties, joined the short-video app Douyin, known outside China as TikTok, over the weekend, attracting more than 15 million followers even before publishing any post.
The account "Chinese Pioneer Yuan Longping" was set up on Saturday, and has amassed a massive following of 15.3 million people as of Monday noon.
Despite the instant popularity of the account, Yuan, who is known as China's "Father of Hybrid Rice," has yet to be active on the app, and his silence has caused a stir on Douyin. "When will grandpa Yuan Longping post?" became the hottest topic on the app on Sunday.
Users are thrilled to see the 90-year-old scientist joining the platform.
"I followed him immediately since I've eaten the rice he's developed," said one user. "He is the real idol that millions of people should pay attention to," said another.
However, the credibility of this account soon came under question as the media reported Yuan didn't know about opening a Douyin account of his own. Xinhua said on its official Weibo (China's Twitter-like social media platform) account on Monday afternoon that Yuan, currently working at the Nanfan Scientific and Research Breeding Base in Sanya, south China's Hainan Province, has no idea about this account, and it was registered by "some company."
In response to the questions posed by the media, Douyin made an official statement on Weibo later in the evening, clarifying the reliability of the account. It said the Qingdao Sea Rice Research and Development Center, which is led by Yuan Longping, contacted Douyin in August, 2020 about having Yuan join Douyin, Toutiao and Xigua Video, and provided the platform with necessary materials for authentication, including Yuan's ID and a letter of authorization. Douyin said the follow-up processing of this account will fully respect the opinions of Yuan and his team.
Yuan has devoted himself to breeding strains of rice – a staple in the country – with prolific growth. China has to feed one-fifth of the world's population with just seven percent of the world's arable land and six percent of its water. It's a mammoth task that has benefited from the genius of Yuan, who in the 1970s developed the world's first hybrid rice. Since then, varieties of the super crop have repeatedly broken yield records.
In 2020, Yuan and his team managed to produce 1,500 kilograms of rice per mu (about 22.5 tonnes per hectare) over two growing seasons in central China's Hunan Province. Local double-cropping rice yields an average of 700-800 kilograms per mu.
Yuan has also been working on breeding seawater rice that can thrive in saline-alkali soils. In one experiment last year, the average yield of salt-resistant rice planted in the eastern province of Jiangsu reached 802.9 kg per mu (about 12 tonnes per hectare), a new record.
The celebrity scientist already has a social media presence. On September 20, 2020, Yuan opened an account on Kuaishou, a major rival to Douyin, to mark the third annual Chinese Farmers' Harvest Festival, which falls on September 22. There he shared agricultural knowledge and advanced rice-growing concepts.
Yuan will host his first live broadcast on Douyin in a week, the company told Shanghai-based newspaper The Paper on Sunday.
(Source: CGTN)