Exclusive Case | People under quarantine become new fraud targets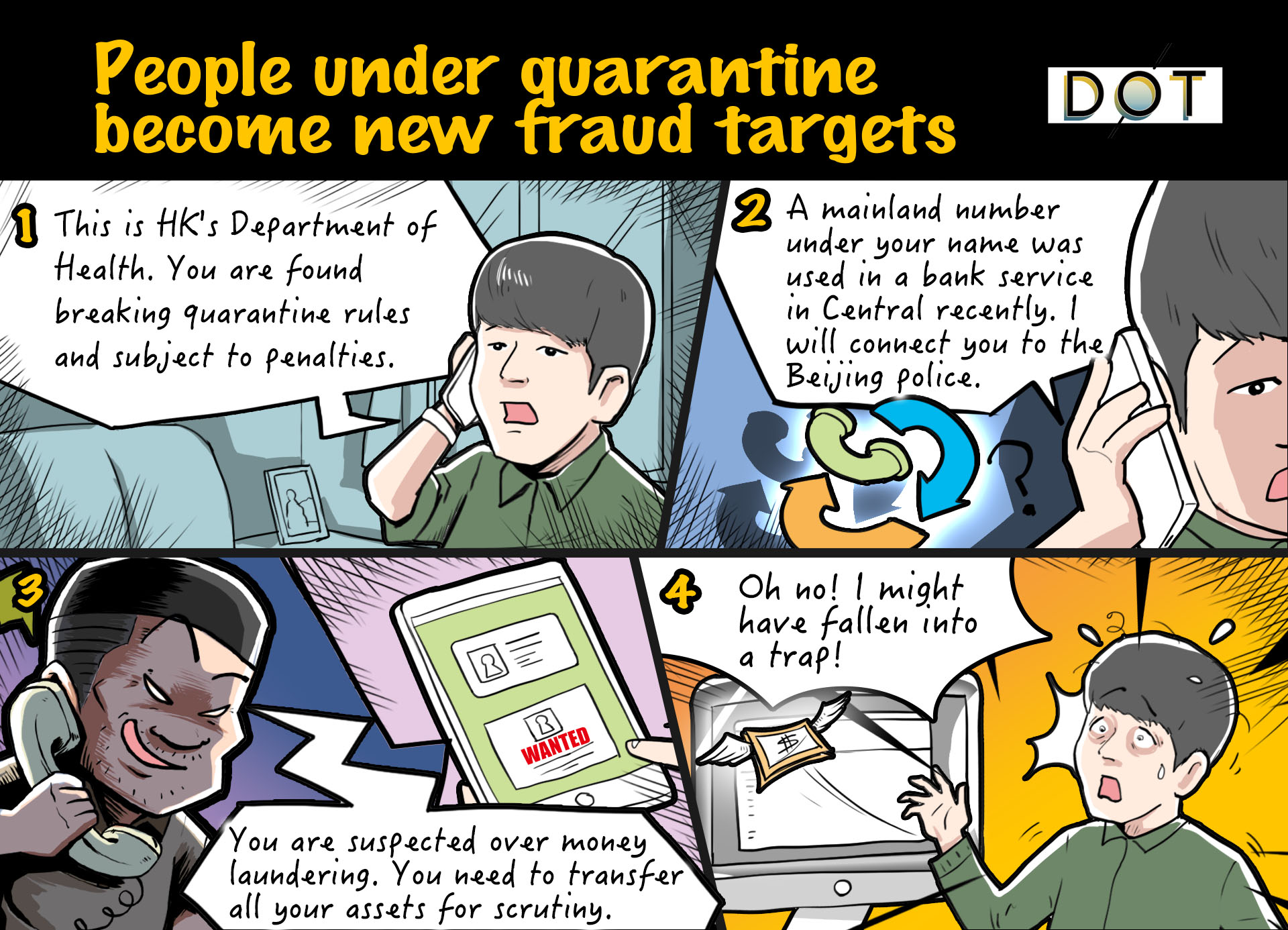 By Tom Wan
It seems that the fraudsters can always find new ways to set a trap for their victims. It is not surprising that in the pandemic era, cheaters get to take advantage of the special physical and mental states of people under quarantine to pave the way for their tricks. The following case shows how COVID-19 could lead to victimization in a scam.
A new HKU PhD candidate who arrived in HK in August, referred to as X, was involved in this case. One day during his quarantine period, X received a phone call in which the other side claimed to be an officer from the Department of Health, saying that X was found breaching the quarantine requirements, and requiring him to pay a fixed penalty. Upon hearing this, X felt a bit afraid since he did go out to the staircase to empty the trash bin several times. The PhD candidate, however, still stayed alert and asked for the details of his alleged non-compliance with the quarantine requirements.
The fraudster then said that they found two registered phone numbers under X's name, one for HK, the other, mainland China, and that the latter number, starting with "183", was tracked and found being used in a bank service in Central. X immediately denied this, saying that he didn't have such a phone number registered. The fraudster went on to tell him that the number was registered in Daxing district of Beijing, and warned him that his personal data might have been leaked, suggesting him to connect to the Daxing Branch of Beijing Municipal Public Security Bureau for following-up. Starting to feel worried, X said yes.
Then, another fraudster who claimed to be a policeman in the Daxing Branch picked up the phone. After learning about the situation, the "policeman" sent X a counterfeit police warrant and a wanted poster with X's name with a recent photo on it, saying he was suspected for involving in a money laundering case.
Shocked and puzzled, X couldn't figure out how they managed to get a recent photo of his. The fraudster gradually wormed his way into X's confidence. Despite X's denial, the fraudster claimed that the money in his bank account was illegal, and requested him to transfer all his money to the fraudster until he was proved not guilty. X was tricked into transferring HK$ 21,000 to the "police", whom he lost contact with right afterward. X then realized that he had fallen into a trap, and called the police.
HK Police Western District reminds all citizens to stay alert when they receive phone calls that are claimed to be from the officials and when they have to make decisions regarding their property. It is the cheaters' stock-in-trade to utilize victims' personal information or counterfeit official documents to earn their trust. Immigrants, especially newcomers to the city, are often vulnerable to such scams and are urged to keep their eyes peeled. Once they notice something wrong, they should consult their friends or family and of course, they can always call the police for help.