Exclusive Case | Virtual love could be scam in disguise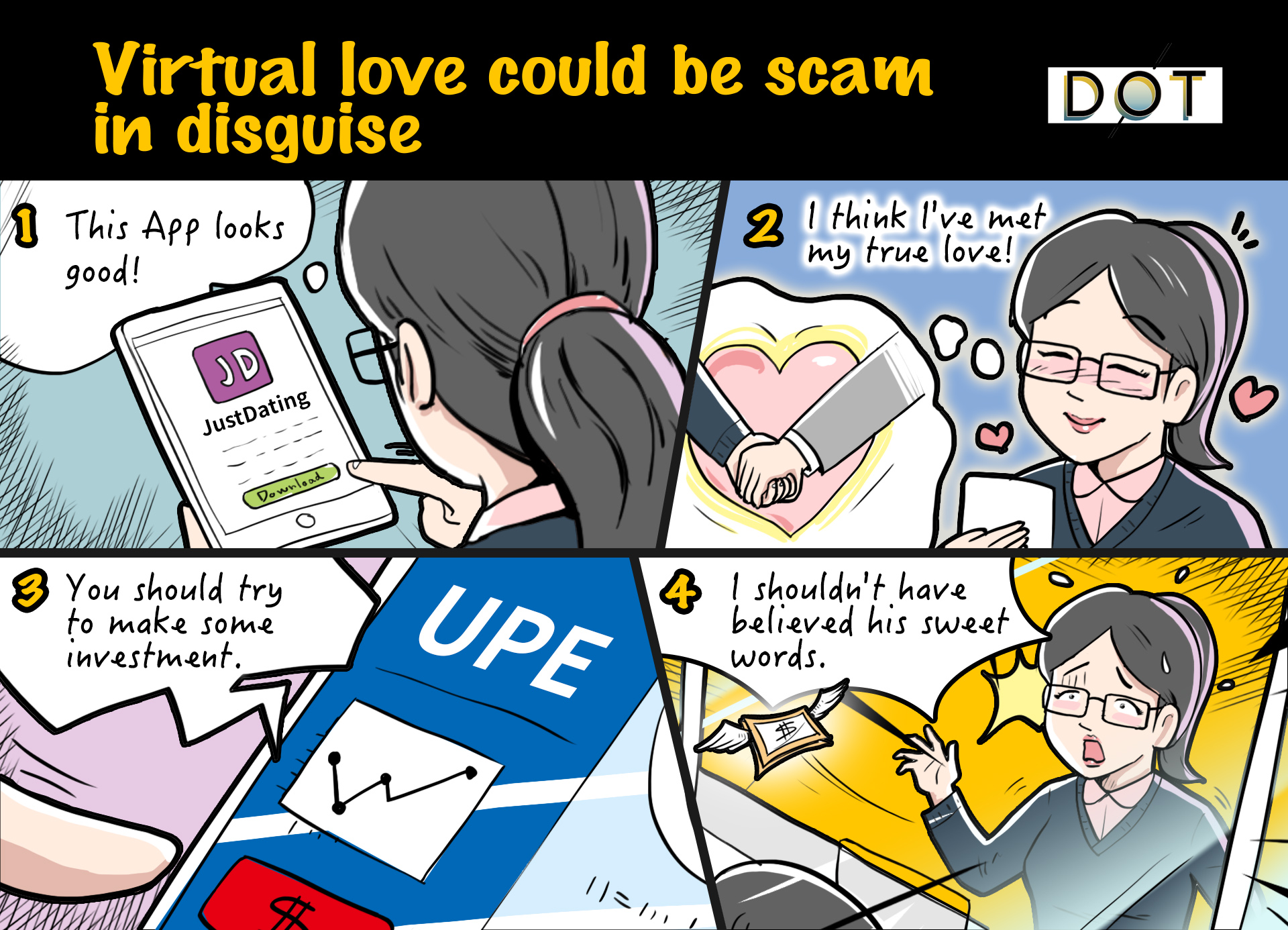 By Ang Li
To many, it is romantic to develop a virtual relationship and there are moments when you believe you've found your soulmate who can read your mind. But be cautious: The sweet words might turn into a poisoned sword that will eventually attack you severely.
The victim this time, referred to as A, is a 34-year-old private tutor. This October, A met someone, referred to as B, through the online dating App called "JustDating". After chitchat back and forth via WhatsApp, they soon became more and more intimate and later built a virtual relationship, although they had never arranged to date in person.
Just as A was dazzled by her strong affection towards this guy, B suggested that A should make some investment by downloading the "UPE" App. A followed his instruction without raising any doubt. From Oct. 14 to Oct. 17, A transferred HK$26,000 to B, which earned her more than HK$60,000. The first earning from this investment was like a sweetener, and A started to deeply trust B especially in his investment advice.
In order to earn more profit, A continued to invest and transferred a total of HK$600,000 to B nine times within a week. But later, just when A tried to withdraw around HK$1,007,000 from her investment account, she was unable to withdraw any money. Only then did she realize that she might be fooled by a fraudster and called the police for help.
Trick works for all ages
A scam disguised as virtual love is quite common nowadays, and there can be a huge difference in victims' ages. Another similar case involves a 74-year-old female victim. She still believed in true love and met a fraudster who claimed to be an American engineer on the social media platform.
After they established a virtual relationship, the fraudster asked for her help since he was in urgent need of compensation money for his customer. She trusted him so much that she transferred money to him 11 times, with a total of more than HK$4,000,000. It is only when the victim tried to borrow money from her friend that she realized it was a scam under her friend's reminder and called the police.
Hong Kong's Western District Police Station reminds everyone to stay alert and cautious when using any dating Apps because it is hard to tell a person's identity simply by chatting online. Citizens should be rational and not be fooled by fraudsters' sweet words. It is important to always think twice before rushing into any decision and ask advice from friends or family. After having doubts about being trapped in a possible scam, be sure to call the police as soon as possible.