Exclusive Case | A fake kidnapping by obstructing communication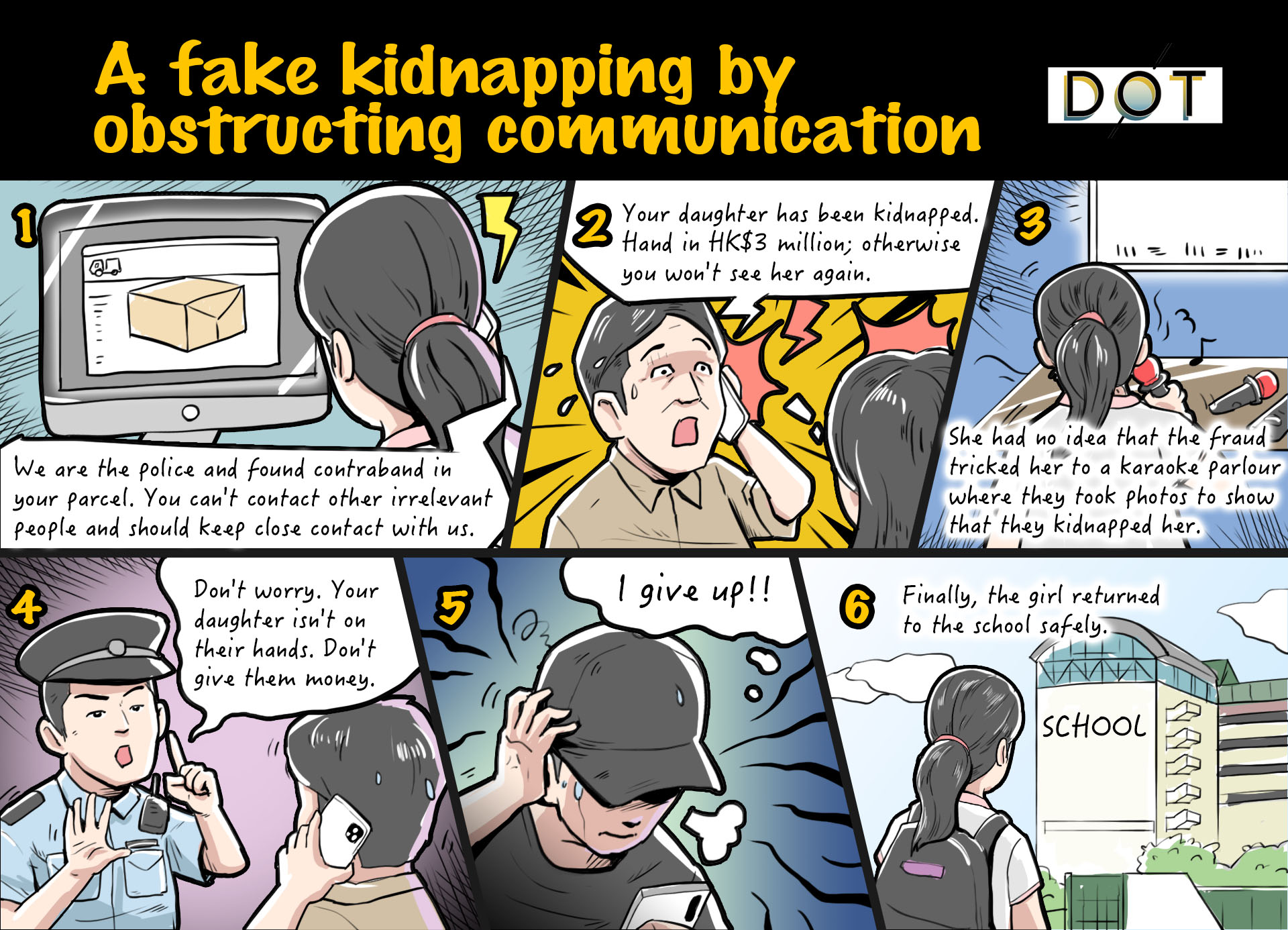 By Ang Li
Sometimes the lack of communication can be something that fraudsters get their way. The situation is even worsened due to the physical distance amid the pandemic. That's how the following tricks almost succeeded.
This case involves A, a high school female student in Hong Kong. She lives in the school dormitory and her parents are currently staying in mainland China. The pandemic makes it almost impossible for cross-border traveling without quarantine.
On an ordinary day when A went shopping with her friends, she received a phone call in which someone claimed to be the police and they found contraband in a parcel sent to her. A was quite convinced because her parents often sent her parcels. She got so anxious, logged into the phishing website and input her personal information just as the fraudster instructed her. Then, the website displayed a fake warrant with all her personal info which was actually input by herself. But this made A believe in them instantly.
The fraudsters saw the target swallowing the bait and then told her, "You can't contact other irrelevant people and should keep close contact with us. You need to get a new phone and a new SIM card for the safety of your privacy. And remember, don't talk to other police because some of them are fake police. That could be dangerous for you."
The following day, A was tricked to a karaoke parlour where they took photos and videos via video call. And with the WeChat accounts leaked by A, the fraudsters managed to reach her parents and threatened that they kidnapped her.
They blackmailed, "Your daughter has been kidnapped. Hand in HK$3 million; otherwise you won't see her again." The parents got so worried about their daughter's safety and were thinking about giving them the money.
To make sure the communication between A and her parents obstructed, the fraudsters tricked A to stay at the HK International Airport without contacting anyone, to make her parents believe that their daughter really got abducted.
The parents later got suspicious of the whole thing and called the police. The real police pointed out that this was only a fraud case and those people didn't really have their daughter at hand. So under the instruction of the police, A's parents negotiated with the fraudsters to talk down on the amount of money, trying to stall for time.
After getting no result, the frustrated fraudsters finally gave up and A returned to school safely.
Similar fraud cases are on the rise in recent days. The HK police remind everyone that it is crucial to check with families and friends when facing such situations. Remember to maintain regular and timely communication and be cautious of any suspicious websites or people that ask for personal information. It is also important to tell parents such cases so that they won't buy fraudsters' words easily. And most importantly, call the police and ask for help if necessary.