Travel More: Explore unique ethnic cultures in SW China's Yunnan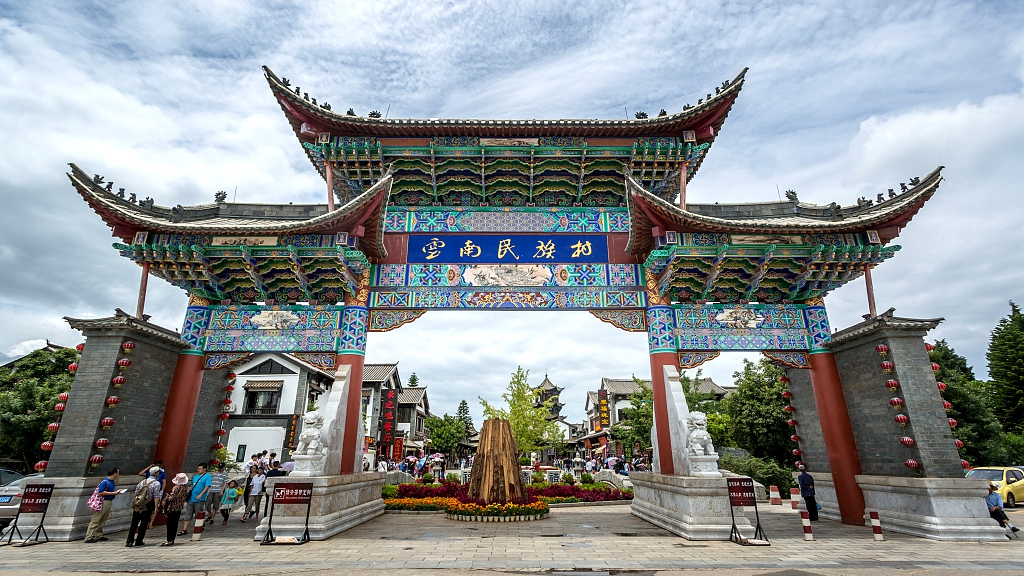 Yunnan Province in southwest China is becoming one of the most popular travel destinations in the nation thanks to its combination of breathtaking natural scenery and charming ethnic communities. Its capital, Kunming, is also known as the "Spring City" because of its excellent year-round weather, which makes it a great spot to visit and call home.
Yunnan Ethnic Village, which is close to Dianchi Lake, the biggest freshwater lake in Yunnan, provides a quick look into the province's natural beauty and cultural value.
Yunnan Province, in southwest China, Kunming, Yunnan Ethnic Village entrance.
The most remarkable thing about the village—as its name implies—is that it functions as a microcosm of Yunnan's varied ethnic cultures. China is home to 26 ethnic groups, including the Yi, Dai, Miao, Jingpo, Wa, Naxi, and others, whose architectural styles, religious doctrines, and folk customs are displayed in exquisite detail.
Dai Village is one of the most charming locations for sightseeing because it is encircled by water on three sides. Trees and flowers provide shade for the stilted bamboo homes. There are beautiful pavilions, bridges, and a tall white tower among the many tropical and subtropical plants that can be seen all over the place.
Traditional homes in the Yunnan Province of southwest China, in the Yunnan Ethnic Village.
There are also ethnic performances and shows offered. Don't forget to take some time to enjoy their renowned peacock dance, which is accompanied by the sounds of Hulusi, or cucurbit flutes.
The Water-Splashing Festival is celebrated in April. It started out as a symbolic event where individuals sprayed sacred water for good luck. The religious act has developed into a popular tourist destination that draws visitors from all around the nation and even the world to partake in the entertainment these days.
The Torch Festival, which takes place in the sixth lunar month between the 24th and the 26th, is known to Yi people as "the Oriental Carnival." Summer nights are illuminated by burning torches while men and women of all ages dance and sing traditional folk tunes around a campfire.