Artistic maestro presents fascinating crossover of Chinese music, symphony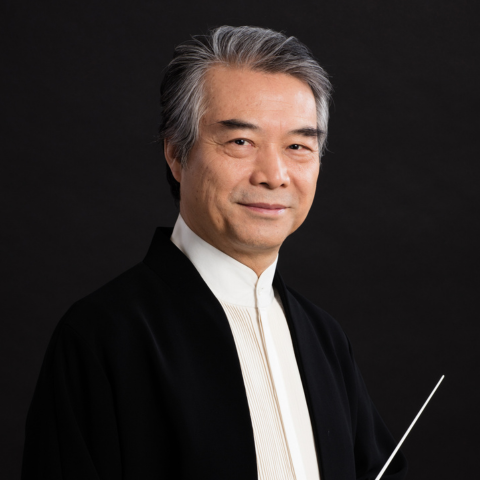 The vast hall of the Hong Kong Cultural Center was packed on Friday (Sept. 15) night when the Hong Kong Chinese Orchestra performed the Palace of Eternal Life on a Moonlit Night.
The lights dimmed and the music was yet to start.
"What a bright moon night!" Yan Huichang, 69, artistic director and principal conductor for life of the orchestra, said aloud from the podium.
This was a Kunqu opera and traditional Chinese music concert, featuring artists from the Chinese mainland, Hong Kong and Taiwan, kicking off the orchestra's 47th orchestral season.
The show was about the tragic love story of Emperor Tang Xuanzong of Tang Dynasty (618-907) and his beloved consort Yang Guifei. It innovatively adopted the form of a musical theater and integrated the performing art of ancient Kunqu opera with the live performance of a Chinese orchestra, bringing the audience new visual and sound experience.
"Crossover" is not new to Yan. Since taking the helm of the Hong Kong Chinese Orchestra in June 1997, Yan has been determined to be "eclectic and unique." He was always at the forefront of the Chinese music circle, actively explored interaction with different sectors, and made a series of bold attempts to foster collaborations between Chinese orchestras and various artistic genres.
Yan's orchestra took Chinese music as the core and looked at the world. "We expand the artistic expression through the integration of cross-culture and cross-media, to allow more Chinese and foreign audiences to understand and love our Chinese music," he said.
Growing up in a rural area of northwest China's Shaanxi Province, where Chinese traditional culture is profound, Yan was surrounded by a strong artistic atmosphere since childhood. During festivals, troupes entered the village to perform drama, singing, dancing, which became Yan's initial musical enlightenment.
"We have a rich collection of folk music including opera, instrumental music, singing and dancing, and it's an important category of traditional Chinese music," he said, adding that this was an inexhaustible source of artistic creation.
The orchestra and the Hong Kong Arts Festival jointly launched the "Music about China" series in 2007, releasing pieces of works each year since then to showcase the rich diversity of Chinese music.
"As traditional Chinese music is a priceless treasure, we have the responsibility to protect and inherit it, and do our best to present it, so that the audience can appreciate the charm of traditional culture," Yan said.
In July 2019, Yan was awarded the Silver Bauhinia Star by the Hong Kong Special Administrative Region government in recognition of his efforts to promote the development of Hong Kong culture and art.
In the first years after taking office in HK, an international metropolis where Chinese and Western cultures converge, Yan had been thinking about the positioning of Hong Kong Chinese Orchestra.
While the orchestra is backed by the motherland and deeply rooted in Chinese traditional culture, it should be a platform for cultural and artistic exchanges and integration between China and foreign countries, according to him.
Yan worked in the China National Orchestra for many years, and had also conducted large orchestras in Singapore, Russia, Japan and other countries. He has gained a global vision through these cross-cultural experiences.
He often led the Hong Kong Chinese Orchestra to go out and perform at well-known art festivals around the world to enhance exchanges with counterparts and broaden their horizons.
After decades of pioneering work, Yan has become a well-known Chinese music conductor and composer at home and abroad.
"I take the propagation of Chinese culture as my life responsibility. It is my mission and I'm honored to be able to explore and contribute to the development of Chinese music," he said.