Dubai ETO hosts seminar in Doha in celebration of 25th anniversary of establishment of HKSAR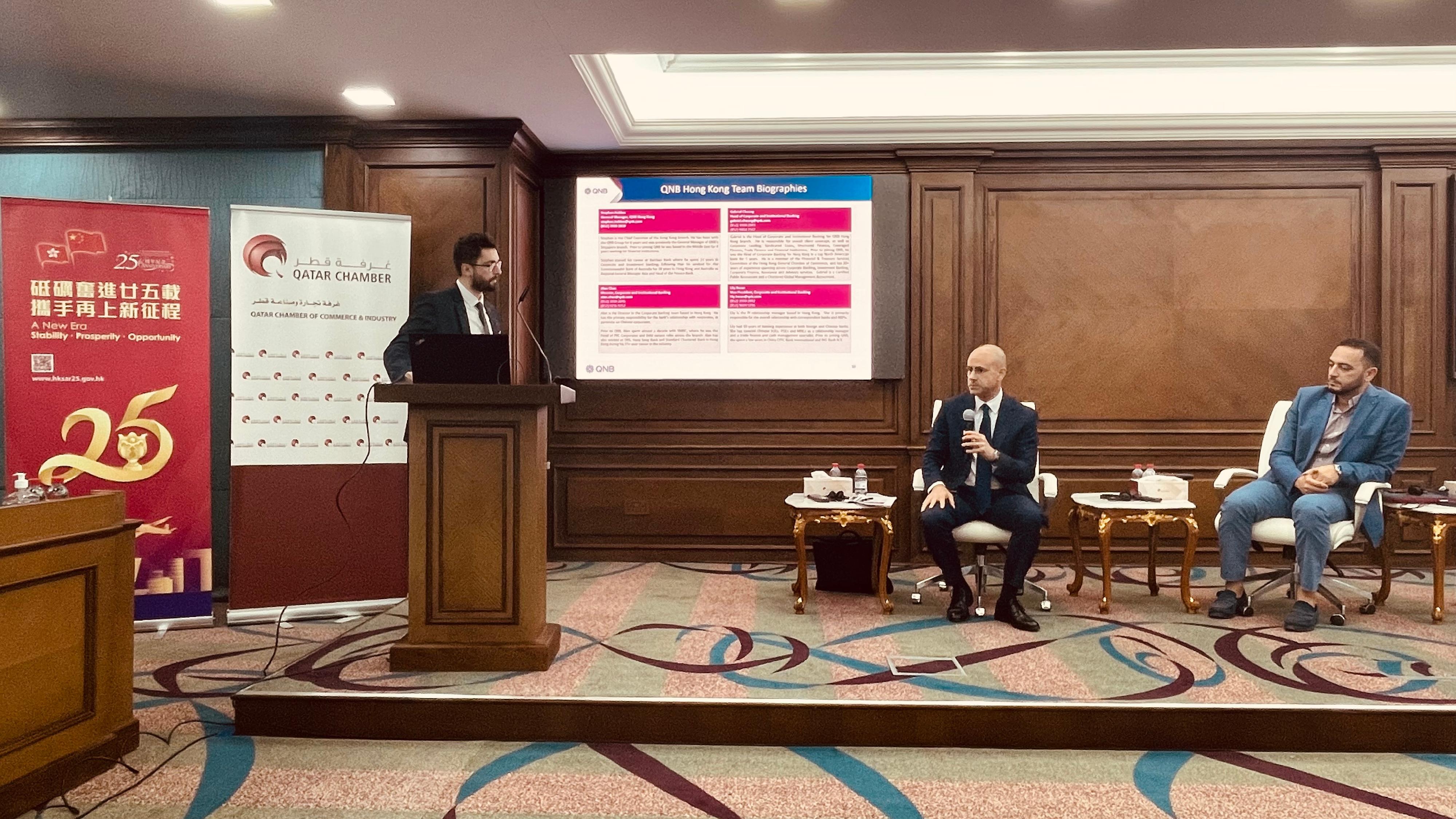 The Hong Kong Economic and Trade Office in Dubai (Dubai ETO) held a business seminar in Doha, the capital of Qatar, to celebrate the 25th anniversary of the establishment of the Hong Kong Special Administrative Region (HKSAR) on October 19 (Doha time). The event was jointly organised by the Dubai ETO, the Qatar Chamber of Commerce and Industry, the Hong Kong Trade Development Council (HKTDC) and Invest Hong Kong.
The seminar featured a speech from the Director-General of the Dubai ETO, Mr Damian Lee. The Consul-General of the State of Qatar in Hong Kong, Mr Ali Saad Al-Hajri, also gave a speech via videoconferencing. Both the Associate Director-General of Investment Promotion (Business Development) of Invest Hong Kong, Dr Jimmy Chiang, and a representative from the HKTDC gave video and live presentations respectively to introduce the relevant business and trade promotion to the attendees of the seminar.
Speaking to some 80 guests from the public and private sectors attending the seminar, Mr Lee welcomed them to the first major business event in Doha organised by the Dubai ETO. He said that this year marks the 25th anniversary of the establishment of the HKSAR, and remarked that despite various challenges over the years, Hong Kong had always proven its resilience by emerging stronger.
He highlighted that Hong Kong is a city that offers a secure and dynamic environment for business, and has unique competitive advantages on the global stage. He therefore encouraged participants to tap into Hong Kong's unprecedented business opportunities brought about by such national development strategies as the development of the Guangdong-Hong Kong-Macao Greater Bay Area as well as the Belt and Road Initiative.
A panel of leading business people in Doha also spoke with the attendees on their experiences and insights on doing business in and through Hong Kong.
As part of the celebratory events for the 25th anniversary of the establishment of the HKSAR, the Dubai ETO will hold another seminar in Saudi Arabia in November to highlight business opportunities, as well as a film festival in Dubai in December to showcase talents of the Hong Kong film industry to the local community.