Full text | Grenville Cross: Reflections on criminal justice since 1997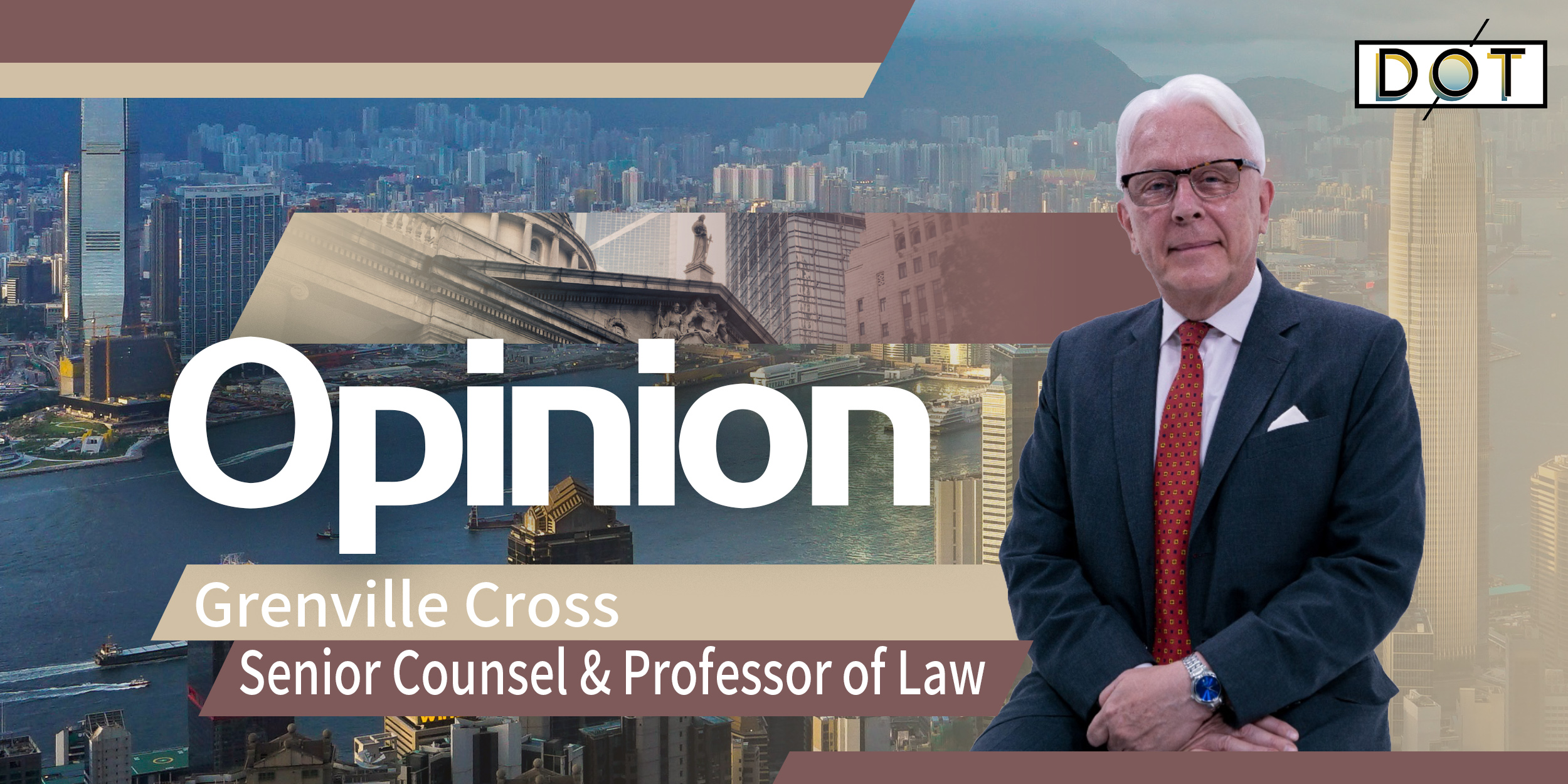 Editor's note: The following is the full text of the speech delivered by Grenville Cross at the Bauhinia Culture International Symposium on the Achievements and Future of One Country, Two Systems on Thursday (June 16).
By Grenville Cross
Good morning, ladies and gentlemen.
I am honored to have been invited to address you today. As 25 years have now elapsed since Hong Kong's reunification with the motherland in 1997, this is an appropriate time to take stock of how things stand, and to consider the shape of things to come. I propose, therefore, to review how three criminal justice institutions, comprising the judiciary, the prosecutions division, and the police force, have fared since 1997, and to suggest how their operations can be enhanced.
Since 1997, the judiciary in Hong Kong has grown enormously in stature, and this has been acknowledged globally. It provides a highly professional service not only to the public, but also to the business world. It does this from a secure constitutional base, with the Basic Law providing that the courts "shall exercise judicial power independently, free from any interference" (Art.85), a guarantee that did not exist in the colonial era, when judicial independence was based on convention.
Over the past 25 years, the judiciary has ensured that the trials of criminal suspects are fair, and that they satisfy the legal standards stipulated by the International Covenant on Civil and Political Rights (ICCPR). It has provided a level playing field for litigants, and disputes of all types are justly resolved. With the creation of the Court of Final Appeal in 1997, Hong Kong has acquired the power of final adjudication, and, through the combined efforts of local permanent judges and non-permanent judges from other common law jurisdictions, justice of the highest order has been dispensed. Although some people imagined that there would be difficulties in assimilating the National Security Law into our common law system after its enactment in 2020, the Court has provided impeccable guidance, and people now know exactly where they stand. Indeed, it is no exaggeration to say that the Court has developed a truly remarkable body of case law, and its judgments are regularly cited in other jurisdictions, invariably with approval.
This, however, is not to say that the judiciary has had an easy time of things, because it certainly has not. When those involved in the social disorder of 2019-20 set about trying to wreck Hong Kong and undermine the "one country, two systems" governing policy, they realized they faced a major obstacle in the judiciary, and they were quite correct. The judges held them to account in various ways, including by punishing lawbreakers, issuing injunctions to combat the doxxing of public officers and incitements to violence on Facebook, and by freezing criminal assets. And, precisely because the judges did so much to uphold the rule of law, they themselves became the targets, and efforts were made by both local activists and foreign forces to interfere with their work.
In an attempt to intimidate the judges, the protest movement's armed wing launched arson attacks against the Court of Final Appeal, the High Court and the Sha Tin Magistrates Court, but to no avail. Once they realized that their attacks were not having the desired effect, their strategy switched to threatening particular judges. Although this started in 2019, when judges were demonized on social media and condemned in graffiti, the intimidation escalated in 2021, when many of the culprits finally faced justice. The threats to the judiciary took various forms, including death threats, bomb threats, and threats of injury, sometimes also directed at family members, with corrosive and other substances even being sent to the courts. However, the judiciary refused to buckle, and, despite the dangers, the judges have upheld the rule of law and remained true to their judicial oath, which requires them to "safeguard the law and advance justice without fear or favor, deceit or self-interest".
Although the protest movement's domestic plan was to intimidate the judiciary from within, its foreign supporters mounted a separate campaign to undermine its effectiveness. Starting in 2019, long before anybody had heard of the National Security Law for Hong Kong, anti-China elements in the United Kingdom's Parliament were calling for British judges to be withdrawn from the Court of Final Appeal, as they imagined this would weaken its capacity to uphold the rule of law. Once the National Security Law was enacted, those calls increased in volume, and non-permanent judges in Australia, Canada and the United Kingdom came under pressure to withdraw from the Court. However, with only one or two exceptions, they stood firm, as they knew the Court's qualities from first-hand experience, and saw through the fallacies being disseminated. They appreciated not only the Court's independence, but also its ability to provide the people of Hong Kong with a world-class legal system.
It is certainly true that there have been occasional departures among the Court of Final Appeal's overseas judges, with two serving judges from the UK walking away from their responsibilities as recently as March 30, but this was a sideshow. The real story is not that several overseas judges left Hong Kong in the lurch, but that the vast majority of them made it absolutely clear that they are committed Hong Kong and its people, and that they are determined to continue to dispense justice here. As things stand, there are ten overseas judges available to sit when required as the fifth member of the Court of Final Appeal, along with the Chief Justice and the three permanent judges, and this should be more than enough.
If, however, more overseas judges are required, there should be no difficulty in recruiting them. Apart from the traditional jurisdictions of Australia, Canada, New Zealand and the United Kingdom, there is no reason why judges from elsewhere should not also be considered, from places like India, Jamaica or Singapore. Although some people suggest that the time is fast coming when, as in most other places, the Court of Final Appeal should be composed entirely of local judges, given there is now so much home-grown talent available, I believe it remains a good arrangement for an international city.
The Court's own judges have sometimes acknowledged their indebtedness to their overseas colleagues, pointing out how beneficial it can be, when difficult issues of law are being considered, to have access to their experience and insights. And remember this, the ten overseas judges are not just any old judges, but jurists of the highest possible international standing. They include two former Presidents of the UK Supreme Court, two former Chief Justices of Australia, and the former Chief Justice of Canada, and Hong Kong is lucky to have them. Brains apart, their presence also serves to underscore the independence of the judiciary, which is important not only for the public but also for the wider business community, including entrepreneurs, financiers and investors.
Although the judiciary has been greatly tested since 1997, it has overcome the challenges it has faced with flying colours, and this has also been true of the city's prosecutions division and police force. Under the Basic Law, prosecutors, for the first time, enjoy a constitutionally guaranteed independence, and it stipulates that the Department of Justice "shall control criminal prosecutions free from any interference" (Art.63). This has been profoundly reassuring for prosecutors, whose decisions are often controversial and easily attract criticism, and, when they find themselves pressurized, they can always point to their Basic Law protections.
This, of course, does not mean that prosecutors can act irrationally or that they do not need to explain themselves, and they can always be held to account. Since 1997, prosecutors, recognizing the importance of public support, have gone to great lengths to promote transparency, and a series of prosecution guidelines has been published and made available to the community. They not only explain prosecution policy and practice, but also indicate the way in which prosecutors consider that victims of crime and witnesses should be treated and how cases of domestic violence should be handled. These levels of transparency were unimaginable before 1997, and they indicate the extent to which prosecutors now recognize the need to dispel misconceptions about their work and to promote a greater understanding of how they operate.
During the social unrest, the city's prosecutors found themselves under great strain, and saboteurs reportedly sought to influence their operations from within, although this was nipped in the bud. Apart from the huge pressure of work, which sometimes led to serious delays in the processing of cases, their decisions often attracted criticism, with allegations of political bias being not uncommon. The protest movement did all it could to demonize prosecutorial decisions, and tried to give outsiders the impression that they were not free agents but Beijing puppets. This, of course, was fallacious, as the Central Authorities have always scrupulously observed the provisions of the Basic Law, including prosecutorial independence, but dirt, unfortunately, sometimes sticks. However, even though I was the Director of Public Prosecutions for over 12 years after 1997, I was never subjected to any type of pressure from Beijing, or by local officials, to take particular decisions. When I was criticized it was invariably by the so-called "pan-dems", for deciding, on the basis of established prosecutorial criteria, not to prosecute particular individuals they disliked, either because they had mainland connections or were prominent in society, and this was the only sort of political pressure I ever faced.
As with the judiciary, the prosecutors have emerged stronger from the challenges they have faced, and they must now build on this, whether by strengthening their expertise, enhancing their transparency, or developing their external links. Prior to 1997, they had very little contact with prosecutors around the world, but this changed in 2001, when the prosecutions division joined the International Association of Prosecutors (IAP), as its 75th organizational member. This opened new doors for the Department of Justice, enabled its prosecutors to forge valuable ties with prosecutors elsewhere, and facilitated the development of effective anti-crime strategies. Going forward, and at a time when the city's legal system is under fire in some Western countries for propaganda purposes, the Department of Justice should enhance its profile in the IAP and take full advantage of the opportunities afforded by its membership. Everybody needs to hear that prosecutions in Hong Kong are as fair as ever, that nobody is ever prosecuted unless there is a reasonable prospect of conviction on the available evidence, and that the rule of law is as secure as it has ever been.
Turning, finally, to the police force, they have, after 1997, faced the greatest challenges of anybody involved in upholding criminal justice. During the social disorder, they were the city's first and last line of defence, and, but for them, it could so easily have been ruined. Although, in the absence of national security laws, they initially faced great difficulties, they nonetheless displayed professionalism of the highest order, invariably thwarting the rioters with a minimum of force, albeit sustaining multiple injuries in the process. Despite massive provocations, and in the face of incessant fire bomb and other attacks, they achieved wonders in protecting Hong Kong, and they did this without causing any loss of life, which was quite remarkable after months of mayhem. Although the protest movement and its foreign backers did everything possible to demonize the force and undermine its morale, including attacking police married quarters and terrorizing police families, police officers courageously defended Hong Kong in the highest traditions of the force, thereby earning themselves the lasting gratitude of not only the city, but also of the entire country.
With the enactment of the National Security Law, the police force now has the tools it needs to protect the city and defend the country, but more still needs to be done to protect the officers themselves. Throughout the insurrection, police officers regularly had to confront the vilest of insults and abuse, much of it intended to provoke them into over-reacting, thus providing footage for the foreign media to gleefully broadcast globally. Of course, under the Basic Law, everybody enjoys freedom of speech, but, as the ICCPR recognizes, necessary restrictions, lawfully enacted, are legitimate, in order, for example, to ensure respect of the rights or reputations of others, the protection of national security or the maintenance of public order.
I firmly believe that police officers, who expect a certain amount of rough and tumble in their work, do not forfeit all of their own personal rights when engaged in public policing. There can be no absolute right to abuse, insult or demean a police officer on duty, particularly when this might cause a breach of the peace and endanger public order. Once trouble makers start throwing abuse around there is, as was seen in 2019, a real possibility that tensions will escalate, thereby impacting adversely on effective law enforcement activities. Over the years, there has been sporadic talk of criminalizing obnoxious conduct of this type, and it is surely time to provide police officers, as well as other law enforcement agents, with the protections they need from vile abuse when discharging their public responsibilities. After all, this has been achieved in places like France and Singapore, and their models can now provide valuable guidance for Hong Kong.
The police force also needs to be protected from fake news, a type of propaganda. In 2019, fake news was a powerful tool in the hands of those seeking to harm the city and alarm its people. In particular, false reports of wrongdoings by the police force appeared almost daily on the internet, and some journalists, instead of giving them a wide berth, eagerly provided them with oxygen. Malicious reports, designed to weaken morale at the very time police officers were trying to protect the city, were constantly aired, including by RTHK. When challenged, media representatives, oblivious to the harm they were doing, waffled away about "freedom of the press" and "balanced pictures", but never about public responsibility. It was almost as if the allegations of the protest movement, however ludicrous, were sacrosanct, and had to be placed in the public domain, regardless of the consequences.
After, for example, the protest movement claimed that police officers had killed protesters at an MTR station, raped women in custody, tortured suspects, drowned a student protester, and blinded an activist, these and other fallacies were eagerly recycled by the media. Although the claims were spurious, they delighted the foreign media, and were seized upon by everybody in the West who wanted to undermine the police force and malign the government. On the streets, the fallacies were used to whip up anti-police feeling, thereby fueling further black-clad violence, and 600 police officers were assaulted during the riots, including the officers who were doused in corrosive liquid, ignited when hit by petrol bombs, and knifed when going off duty. Fake news was deliberately used to stimulate hatred of the police force, and this often made it harder for it to enforce the law, which was the intention of those responsible.
I believe that no responsible society can tolerate the dissemination of falsehoods that cause hatred of the authorities, divide society, and promote criminal objectives. Of course, under the National Security Law, the city is required to "take all necessary measures to strengthen…guidance, supervision and regulation over matters concerning national security, including those relating to…the media, and the internet" (Art.9), but, even without this, the need for legislation to control fake news is blindingly obvious. And let nobody ever forget, Hong Kong had a very narrow escape in 2019 and the "one country, two systems" policy was almost destroyed, with fake news having played a significant part.
The right of freedom of expression, whether oral or written, is not absolute, and restrictions may, by law, be imposed for good reason. Quite clearly, there are red lines that should not be crossed, and people who are concerned about freedom of expression need to understand that the best way of protecting it is by using it responsibly. In determining the way forward, Singapore, which enacted its own fake news law in 2019, entitled the Protection from Online Falsehoods and Manipulation Act ("POFMA"), has provided a useful template for Hong Kong.
In conclusion, it can be seen that the judiciary, the prosecutions division and the police force have all faced great challenges since 1997, and they have all learnt from their experiences and emerged stronger. This will assist them greatly over the next 25 years, and will contribute decisively to the success of the "one country, two systems" policy. In order to achieve their full potential, however, they will need every support, and this must be forthcoming as it will strengthen our most important asset, the rule of law.
Thank you.
Grenville Cross is a Senior Counsel and Professor of Law, and was previously the Director of Public Prosecutions of the Hong Kong SAR.
The views do not necessarily reflect those of DotDotNews.