Opinion | Reformed bureaucracy can achieve effective governance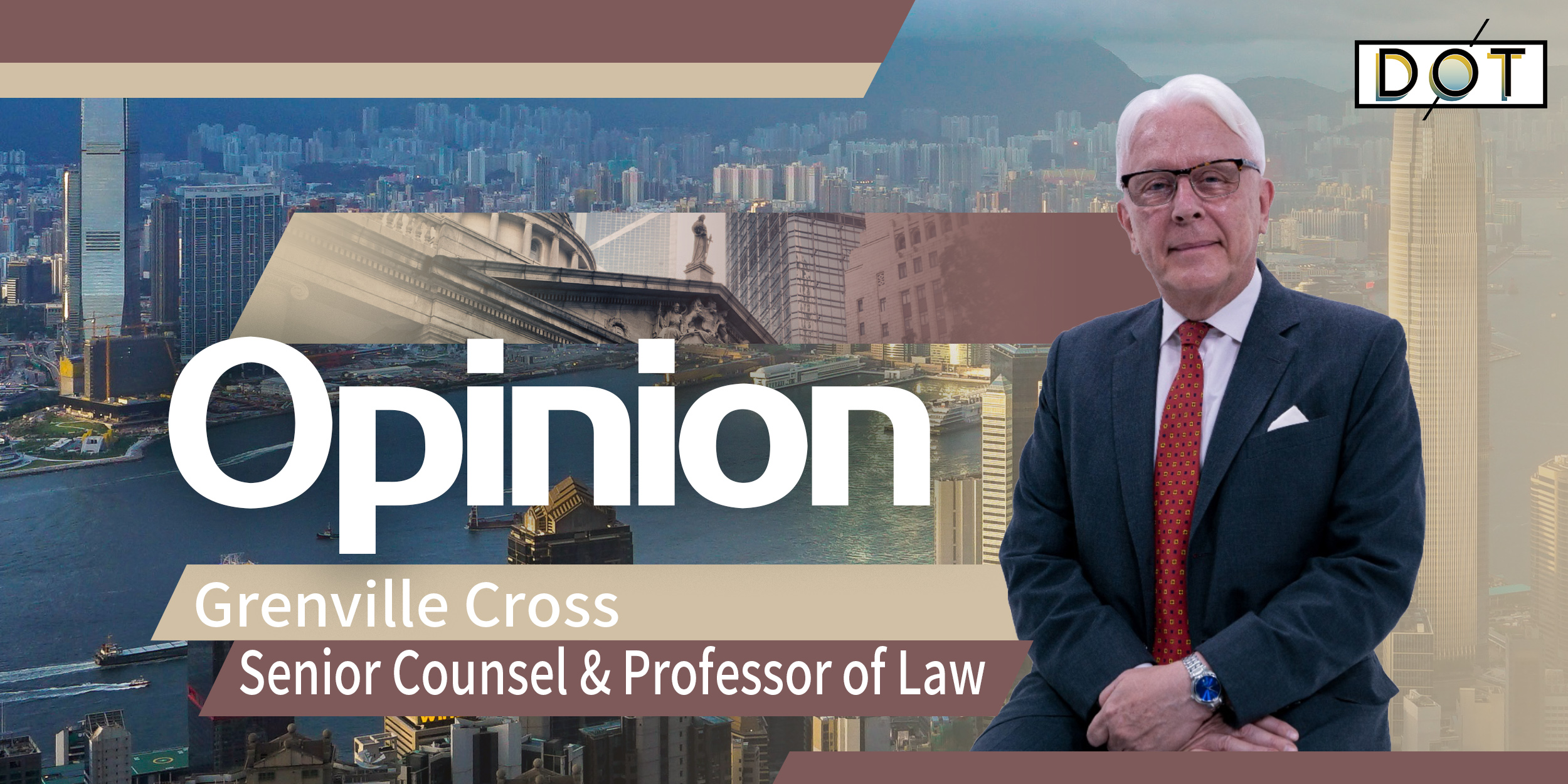 By Grenville Cross
On Nov. 27, 2019, the then-secretary for the civil service, Joshua Law Chi-kong, declared that "the civil service is the backbone of the government of the Hong Kong Special Administrative Region". While responsible to the chief executive, he said, it supports the government in formulating, explaining and implementing its policies. Apart from delivering public services, it undertakes law enforcement duties and, by contributing to good governance, it helps to ensure the city's stability and prosperity.
Both the Basic Law and the Civil Service Code require civil servants not only to uphold the Basic Law, but also to bear allegiance to the HKSAR and show dedication in their work. The code, moreover, requires them to loyally serve the chief executive and the government of the day to the best of their ability. Indeed, it identifies the core values that civil servants must uphold, and these include commitment to the rule of law, honesty and integrity, objectivity and impartiality, political neutrality and accountability for actions, together with dedication, diligence and professionalism.
These standards, of course, are high, but, by and large, the bulk of civil servants have achieved them since 1997. This, of course, is not to say there have not been problems, sometimes grave, but, whenever these emerged, they have been firmly addressed. On Sept. 30, 2020, for example, the secretary for the civil service, Patrick Nip Tak-kuen, revealed that 46 civil servants had been suspended from duty after having been arrested or prosecuted for participating in unlawful public events. There were, moreover, also credible reports that some civil servants were sowing dissension from within, and openly siding with those opposed to the government and its policies.
In one egregious incident, a prosecutor in the Department of Justice, who was subsequently removed, reportedly vilified the Police Force, whose cases he was supposed to conduct, accusing it of "harming the judicial system". He even used the departmental email system to urge colleagues to join an unauthorized assembly on June 4, 2020, and this triggered his downfall. Apart from the Civil Service Code, conduct of this type contravenes the Basic Law, which states that "public servants must be dedicated to their duties and be responsible to the Government of the Hong Kong Special Administrative Region" (Art.99).
There are, of course, bad eggs in every civil service, who may or may not be politically motivated, and mechanisms to neutralize them are vital. With the enactment, on June 30, 2020, of the National Security Law for Hong Kong, the Civil Service Bureau acquired just such a tool, and it stipulates that a resident who "assumes public office shall confirm in writing or take an oath to uphold the Basic Law of the HKSAR of the PRC and swear allegiance to the HKSAR of the PRC in accordance with the law". In consequence, each of the city's 180,000 public sector employees have been required to enter into this solemn commitment.
Although some may have crossed their fingers, most will have meant what they said. However, new recruits must still be closely scrutinized during their probationary period, and supervisors must exercise ongoing vigilance of those on the permanent establishment. As an extra precaution, those applying to join the civil service will, from July, be required to pass the new Basic Law and National Security Law Test. There must, however, be no complacency, and quality controls at all levels are also clearly sensible.
On Oct. 6, 2021, moreover, in her final policy address, the chief executive, Carrie Lam Cheng Yuet-ngor, announced a review of the existing selection and appointment mechanism for senior civil service posts. This was "with a view to appointing the most visionary and competent officers to the most suitable positions". This, it transpired, involves opening up some senior positions to outside experts, however much it may put the noses of the career civil service out of joint.
On May 16, when Patrick Nip Tak-kuen fleshed things out at the Legislative Council, he said that several senior posts had been earmarked as suitable for filling by either internal or external recruitment. He said the head of the Civil Service College, a new position, could come from inside or outside the service, and this would make the field of potential candidates "as wide as possible". He also indicated that external candidates would be eligible for appointment as the commissioner for sports, the commissioner for innovation and technology, the government's chief information officer, and the deputy commissioner for efficiency. This, of course, will mean that some very senior civil servants will, despite years of service, be denied the top jobs, and this might trigger a backlash. If, however, the appointments are truly merit-based, there can be little cause for complaint, particularly if the appointees are successful, as has happened previously.
In the Judiciary, for example, it is by no means uncommon for top barristers to be parachuted in, over the heads of the district court judges, to fill judgeships in the high court. Indeed, the first chief justice after 1997, Andrew Li Kwok-nang, went straight from the Bar to the Court of Final Appeal, although his two successors, Geoffrey Ma Tao-li and Andrew Cheung Kui-nung, were both drawn from the ranks of the existing Judiciary. In 2013, moreover, a practicing barrister, Keith Yeung Kar-hung, was appointed as the director of public prosecutions, given that his claims were considered superior to those of the Department of Justice's own prosecutors.
Although outside appointments of this type are sometimes justified, it is not always plain sailing. It can, for example, take the people concerned a considerable time to master the workings of the bureaucracy, and this can be a big distraction in a busy organization. In particular, this can happen when the duties in question carry a significant administrative portfolio, which is the case in most departments. If, however, outsiders of talent are appointed on the basis of what is manifestly merit, it can go a long way toward defusing the grievances of insiders, particularly if they are still of an age to be considered again next time round.
The chief executive-designate, John Lee Ka-chiu, has made clear that he wishes to improve civil service culture, systems and procedures, although this may be easier said than done. A vast bureaucracy with established traditions does not, however patriotic, readily lend itself to reform, and is capable of foot-dragging if it resents particular proposals, especially if it finds itself being asked to reform. Such things, however, as the overlapping of duties, the prioritization of form over substance, delayed decision-making, excessive bureaucracy and stifling red tape, sap the energies of any organization, and, if real progress is to be made, they cry out for reform.
What Lee wants most is what he calls "effective governance", and the civil service must be his engine house. It needs to be open-minded, pragmatic, responsive to change, and dedicated to the delivery of policy objectives. After all, Lee's stance is not antagonistic, and he has gone out of his way to show goodwill. On April 17, for example, he told the Legislative Council that the civil servants he had worked with had done "a good job", that they had "excellent personal qualities and strong administrative abilities", and that they responded well to "words of praise".
If, therefore, the civil service can reciprocate, and show not only receptiveness to new ideas but also creativity, there is no reason why a good working relationship cannot timeously be established with the incoming administration. Indeed, the civil service should, in preparation, be thinking how to get itself into the best possible shape for the challenges that lie ahead, even if it involves imaginative thinking. In light of recent improvements, the civil service is now loyal, patriotic and dedicated, and the lethargy of the past can hopefully be superseded by a culture, if not of dynamism, then at least of constructive cooperation.
If so, there is no reason to suppose that the civil service will not become the "backbone" of Lee's efforts not only to strengthen Hong Kong's "governance capability", but also to establish an administration that is "results-oriented".
(Source: China Daily)
The author is a senior counsel and law professor, and was previously the director of public prosecutions of the Hong Kong SAR.
The views do not necessarily reflect those of DotDotNews.
Read more articles by Grenville Cross:
Opinion | Russophobia: Athletes unite against political discrimination
Opinion | Chief Executive designate John Lee committed to results-oriented strategy