Peel the Onion | Squid Game Netflix Review: Predatory Capitalism Laid Bare (Part I)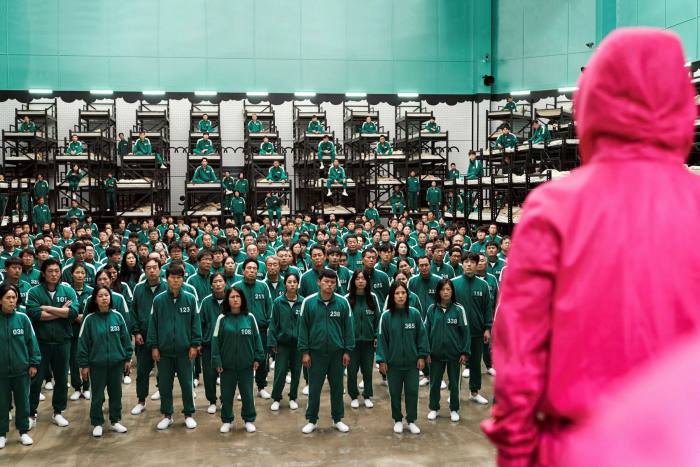 By J.B.Browne
Giant Squid from the Deep
WARNING
[This article contains major plot spoilers]
If anything encapsulates the theorem of pop culture as shoo-in for modern political discourse, Squid Game is it. That it happens to be the most-watched Netflix series ever solidifies its status as cultural phenomena nonpareil. 2.1 billion hours of the show have been viewed since its September release. That's roughly 239,700 years of continuous streaming.
It's not often you get to engage in conversations with people about a true pop culture zeitgeist. Rarer still is the likelihood of it being a non-English speaking TV show. So what is Squid Game? Over-hyped sci-fi? Anti-capitalist fable? Scathing critique of late-stage capitalism?
Here's our review and why we think it's a bona fide global sensation.
But first, let us digress.
To better understand the origins of Squid Game and its core sentiments, we need to understand its framing vis-à-vis South Korea's economic and social developments since 1948. Perhaps many non-Koreans aren't particularly aware of the Korean peninsula's unique past as a Japanese colony. As one of the last places in the world to be colonized, Korean society experienced an immense amount of change over the 100 years before its modernization after brutal Japanese control.
When WW2 ended, the peninsula was split in half. Up to that point, Koreans in Korea had lived together harmoniously. Then American imperialism decided it could fight an ideology it knew nothing about, waging war on a people they couldn't care less for through the lens of a chauvinistic "containment policy." The ensuing Korean War between 1950-1953 pitted the locals against each other, completely devastating the country and economy.
But then, from 1963-1980, South Korea experienced tremendous economic growth, known as The Miracle on the Han River. As things improved, South Korea began to be seen as one of the better-developed countries in Asia — seemingly because of the US's neo-imperial policies to reconstruct it as a vassal or "junior ally," much like they did with Germany and Japan.
But this oasis of hope and prosperity wasn't to last. After the 1997 Asian financial crisis, South Korea abandoned state capitalism for Milton Friedman's free-market capitalism model, which plunged Korean society into an economic abyss in the early 2000s. When the Korean currency lost its value, and foreign exchange dropped considerably, the government had no choice but to request emergency funds from the IMF (30 billion USD).
Those in society who could take the downturn and recover quickly rose high above the counterweight of those who could not and did not; they simply fell even further behind in society. Korean society had nowhere else to go; unemployment skyrocketed, and some ended up on the streets. The rich continued to prosper, and the poor continued to suffer.
People became desperate; families were torn apart.
In such a system where the "strong" prey on the weak to maximize personal gain (Predatory Capitalism), this sense of deprivation soon turned into personal alienation — the feeling that somehow something was wrong with you, the individual. Deprived of the chance to participate as a member of society, this, in turn, leads to guiltlessness, and people become unable to feel any guilt when they attack others out of the growing frustration that they feel themselves. Personal gain is the only thing they see.
As he would refer himself, J.B. Browne is a half "foreign devil" living with anxiety relieved by purchase. HK-born Writer/Musician/Tinkerer.
The views do not necessarily reflect those of DotDotNews.
Read more articles by J.B.Browne:
Peel the Onion | Squid Game Netflix Review: Predatory Capitalism Laid Bare (Part II)
Peel the Onion | Duds, Gems, and Masterworks: A Selection of Films from Ridley Scott (Part III)
Peel the Onion | Duds, Gems, and Masterworks: A Selection of Films from Ridley Scott (Part II)
Peel the Onion | Duds, Gems, and Masterworks: A Selection of Films from Ridley Scott (Part I)