Exclusive | 'My Magic Circle' showcases the magic of poetry and Julia's magical life
The beloved guest of DotDotNews' latest episode of "Be My Guest", Julia Wen, a Hong Kong poet and also an elegant, classy, lovely lady, launched her fourth book of poetry "My Magic Circle" on Nov. 12 in a private Clubhouse.
What is the magic of Julia's poems?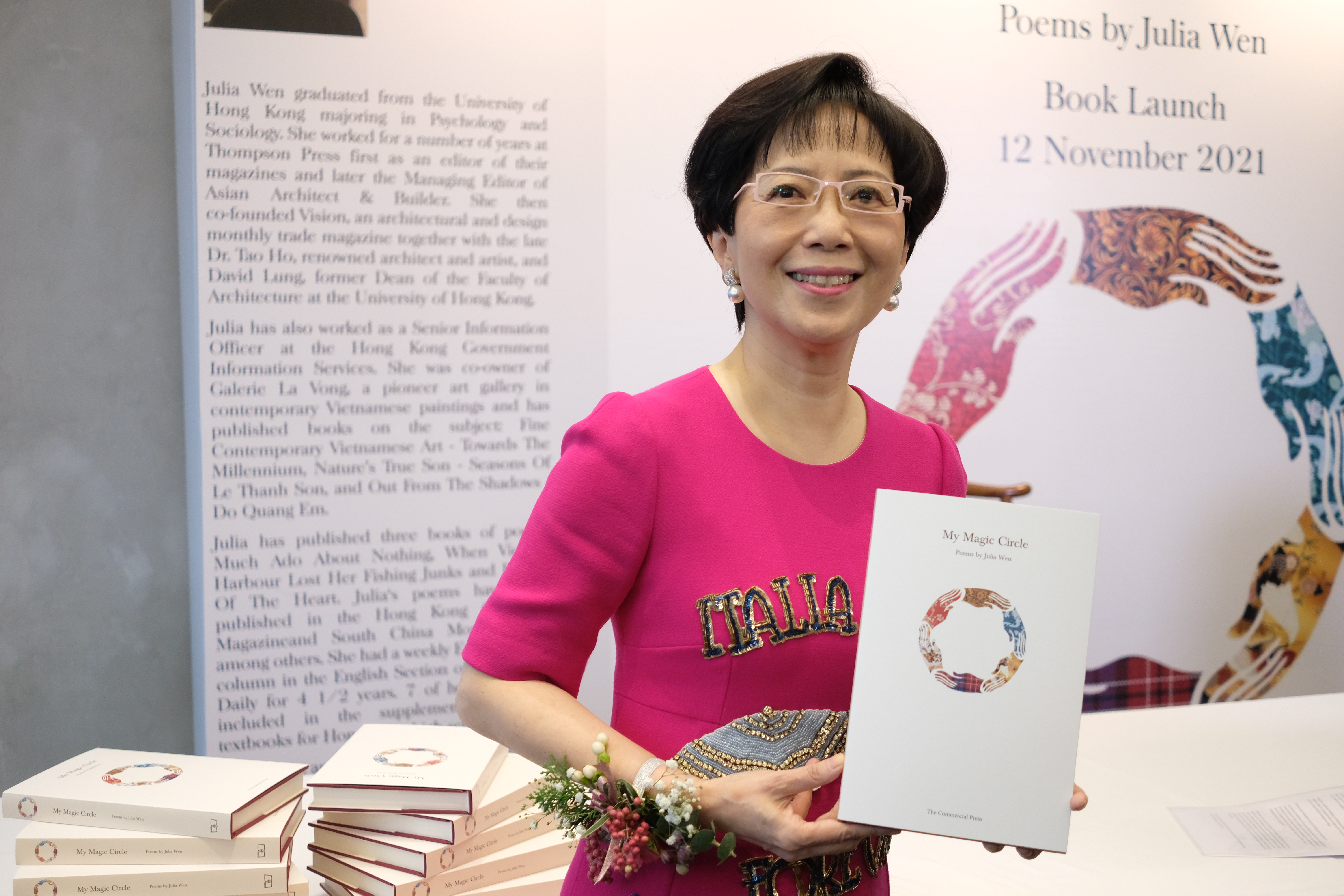 "My Magic Circle" comprises 54 poems on Julia's friends and family, where her husband wrote the "Foreword", her son and daughter-in-law each a prologue, six very good friends the preface. The book is a perfect record of Julia's colorful life as well as her endless love for poetry and for people around her.
Dr. Chiu Ha Ying, Medical Practitioner and Paediatrician, commented, "Indeed, Julia only writes what touched her soul, and in so doing take us with her on a literary journey filled with her thoughts, visions, dreams, joys, and at times, her sorrows."
Sharon Evans, Solicitors and Notaries, vividly depicted the magic of Julia's poems, "With obvious joy and mischief, she picks up each 'stone', lovingly and painstakingly cuts, chisels and polishes, bringing out the facets and the sparkles, turns us to the light, revealing all the radiance in a spectrum and multitude of shades and colors."
Barbara Meynert, Business and thought leader, compared Julia to the best kind of portrait artist, who has the "amazing ability to convey the essence of a person in a few brush strokes and bring them to life."
The way Julia sees poetry is that it is all about seeing beauty even in the most ordinary things, "Anything goes in modern poetry. It is more than just a skillset. It is an attitude. It is a way of life."
But what exactly is the magic of Julia's poems? Maybe you need to find your own answers in "My Magic Circle".
How magical is Julia's life?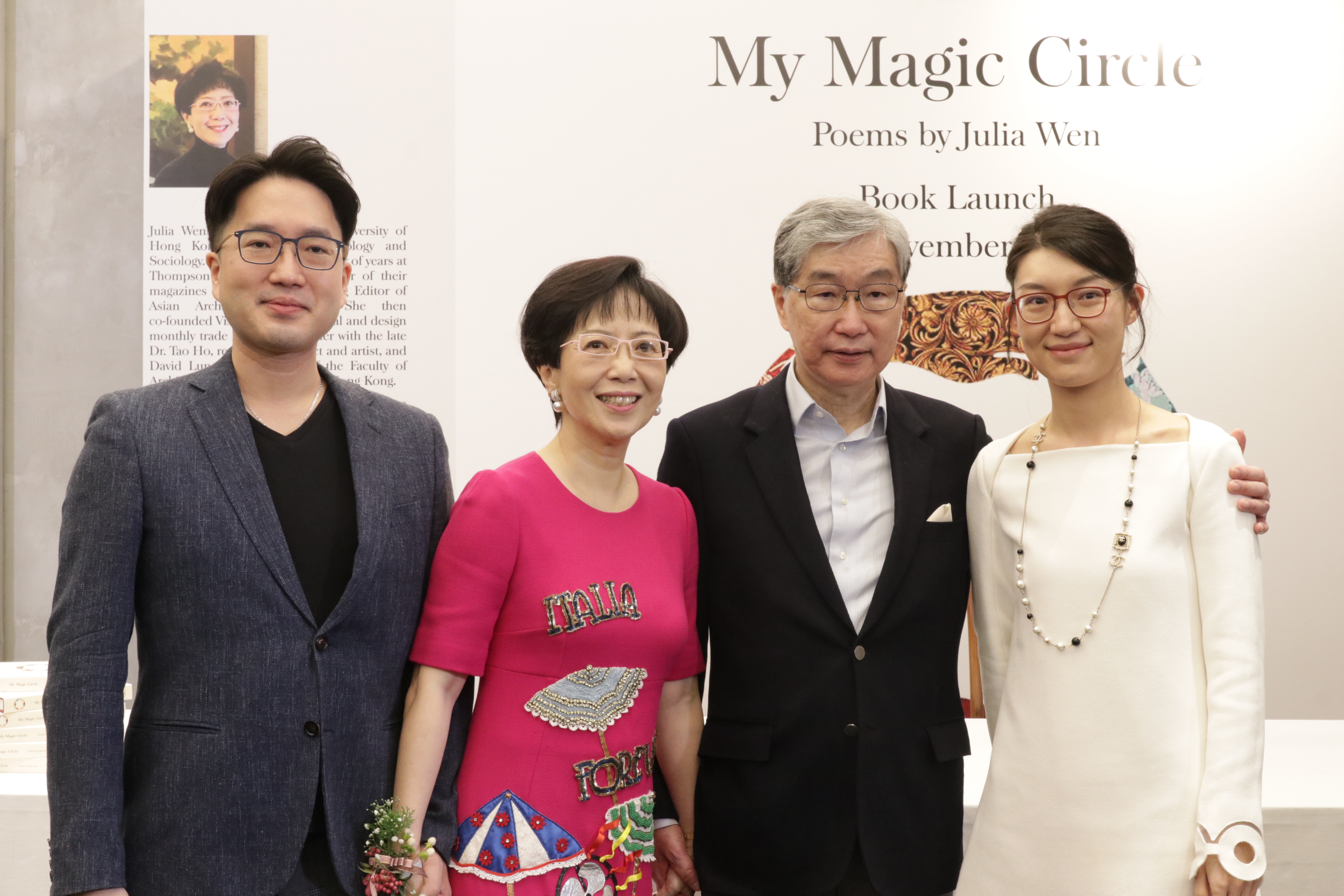 Having graduated from the University of Hong Kong majoring in Psychology and Sociology, Julia worked for a number of years at Thompson Press first as an editor of their magazines and later the Managing Editor of Asian Architect & Builder. She then co-founded Vision, an architectural and design monthly trade magazine together with the late Dr. Tao Ho, renowned architect and artist, and David Lung, former Dean of the Faculty of Architecture at the University of Hong Kong.
She has also worked as a Senior Information Officer at the Hong Kong Government Information Services. She was co-owner of Galerie La Vong, a pioneer art gallery in contemporary Vietnamese paintings and has published books on the subject: Fine Contemporary Vietnamese Art - Towards The Millennium, Nature's True Son - Seasons Of Le Thanh Son, and Out From The Shadows - Do Quang Em.
Julia has published three books of poetry: Much Ado About Nothing, When Victoria Harbour Lost Her Fishing Junks and Echoes Of The Heart. Seven of her poems have been included in the supplementary English textbooks for Hong Kong high schools.
She is also an accredited family mediator and has devoted time to philanthropy and community work.
Just as Maria Tam mentioned in her speech at the book launch, "I would say this poet is patriotic. Julia might seem like just another affluent lady on the outside, but she has a heroic personality at heart, always ready to help out in the name of justice."
Highlights of book launch
The event was a huge success, immersed in laughter and joy. Around 200 guests attended the book launch, including some famous figures such as Maria Tam, Elsie Leung, Tam Yiu Chung, Regina Ip, Yip Kwok Him, Dick Lee, Chan Kam Lam, Elizabeth Quat, Yien Mo, Edward Chen, Sophia Kao, Alan Lai, Nellie Fong, Rashid Yerishev (Consul General of Kazakhstan), Lo Wing Hung, Patrick Ho, Cheng Huan SC, and Edith Shih, etc.
The ceremony kicked off with the opening remarks of Carson, Julia's husband, "Julia has been writing poems for a very long time, even before I met her. Despite advancing, or advanced, age, Julia has kept her childlike innocence to be able to find beauty even in the most ordinary of things. I am not here to say that my wife is naïve, as her poet's eye is perceptive and discerning, enabling her to capture the poignant, the touching, the enigmatic, the ridiculous and the sublime."
Julia herself then spoke about her whole-hearted thanks for her dear friends who have helped her a lot along the journey and even got a little bit emotional at a moment when she mentioned in a subtly choked voice how her friends have always been there for her. Afterwards, she affectionately read a poem named "Ode to my Women Friends" as a tribute to all her women friends enriching her life in their own unique ways and bringing out the best in her.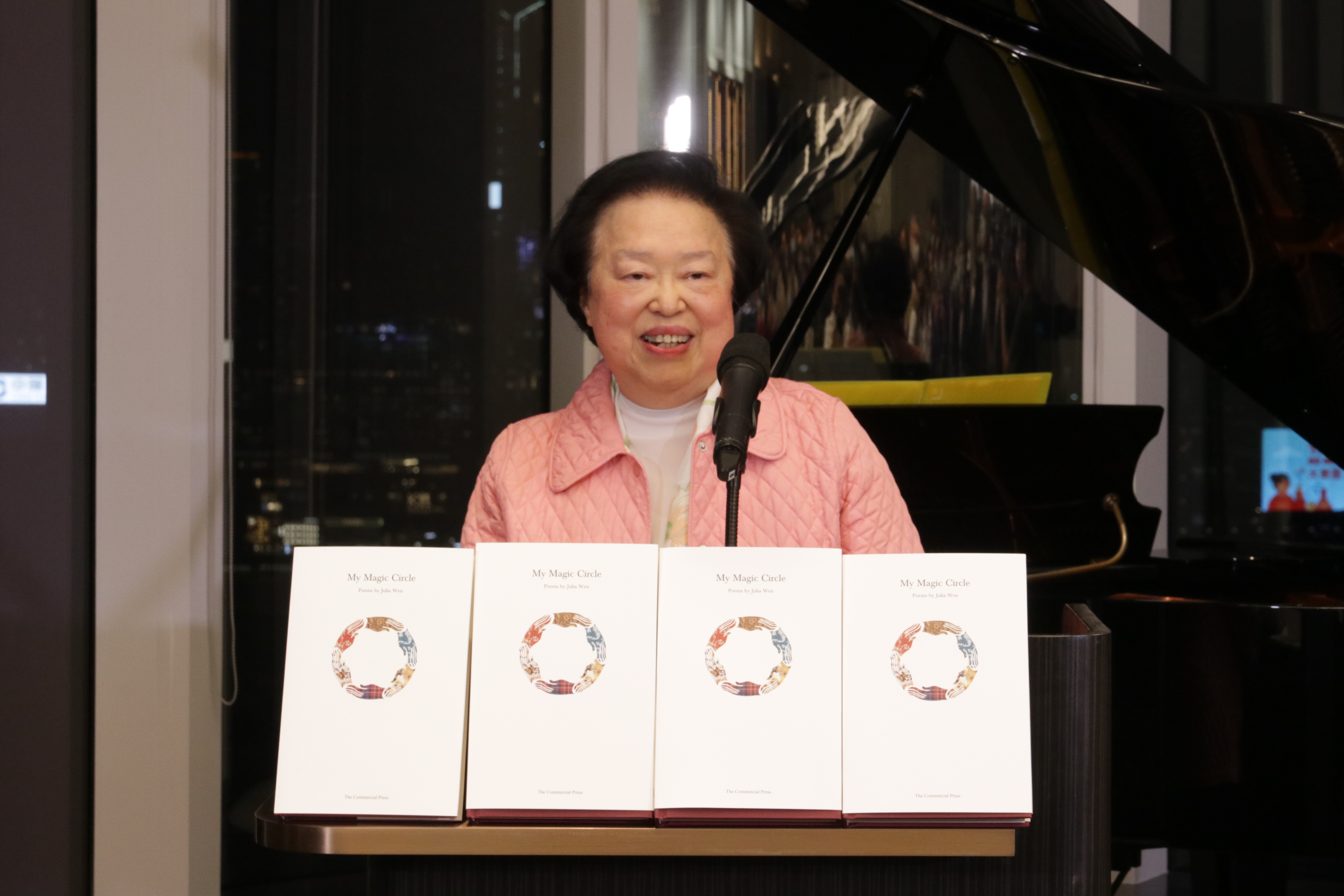 Maria Tam, Vice-Chairman of the Baisc Law Committee as well as a long-time friend of Julia, unveiled the interesting story of how a mosquito named "Cyrano de Mosquesito" became the inspirational origin of Julia's career as a poet. In her own witty and lively words, Tam's marvelous speech about Julia's magical life received rounds of applause from time to time.
Amarantha Yip, Chief Executive of the Hong Kong Family Welfare Society also delivered a speech and thanked Julia's devotion and warm heart to philanthropy and community work.
Julia's friend Dr. Chiu Ha Ying has also spoken vividly on Julia's poetry quoting Julia's verses from her poems. She particularly stressed on the magic of their friendship.
The event ended with Edith Shih, Executive Director of CK Hutchison, singing two songs beautifully for the people present as the finale. And Julia signed all the books that people bought at the venue. The proceeds of this book sale will go to the Hong Kong Family Welfare Society for the underprivileged families.
Just as Edith Shih, Music Legal Eagle, said when commenting on Julia's "My Magic Circle", "The way she 'sees beauty in her eyes, hears music in her ears, says words of love from her lips' makes this world a better place for those around her, and for everyone."