More alike than different: Female comedian uncovers long-existing wrath between both sexes
With the broadcast of the third season of the sensational Chinese stand-up talk show "Rock & Roast," stand-up comedian Yang Li openly "mocked" men, and one of her most famous punchline "why does a guy looks so average, but meanwhile he acts so confidently" (abbreviated as "average but confident") might become one of the most popular internet buzzwords in the Mainland this year.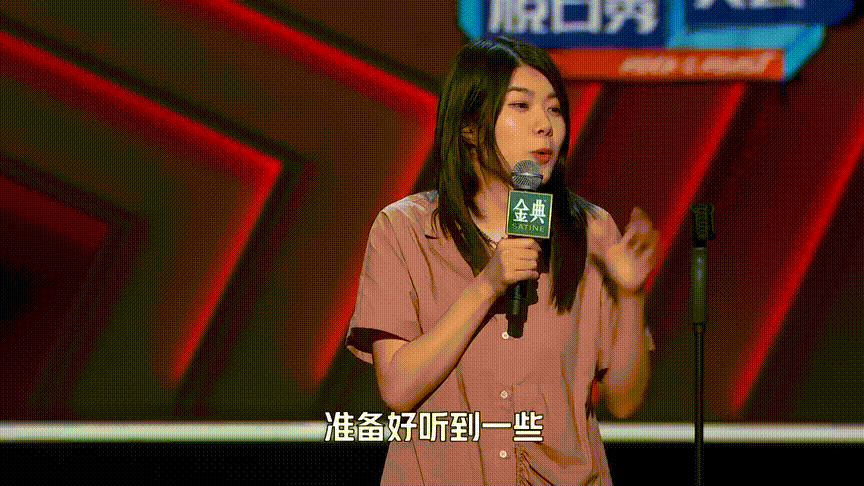 This woman Yang Li, born in 1992, questioned the status quo of gender and social stereotype, which led to discussions and controversies in China in many online communities. Some netizens, including actress Yao Chen, supported this "offensive" expression, and were in favor of mocking "average but confident" males from a female perspective. For some other netizens, however, Yang Li's "hyping of gender hostility" was "hate marketing" and "tearing society apart". The gender war seems still ongoing on Weibo.

As a newly popular female stand-up comedian, Yang has received several advertising contracts from predominantly "male" brands, including Intel Computer and Mercedes-Benz. In the Intel computer commercial, Yang boasted of her high standards for choosing a spouse: "Intel's standards are too high, even higher than my standards for picking a man." This line triggered male fans of Intel brand to boycott this commercial. When the controversy reached its peak, Intel temporarily withdrew the ad. The boycotters called Yang a "female boxer" and a "cult leader," with "female boxer" being a homophone of "feminist" in Chinese. The phrase probably is meant to refer to those uneducated Chinese farmers participating Boxer Rebellion in the last years of the Qing Dynasty.
Yang, who might be accused by her opponents of "provoking gender conflicts", did not actually provoke any gender conflicts on her own initiative. The fact that her advocacy of women's right to choose has led to male netizens boycotting her endorsements, yet at the same time making the female audience feel the same way. This might show that part of the conflict already existed beforehand. Young Chinese men might often feel extremely stressed about marriage, while young Chinese women sometimes have some higher expectations of Chinese men.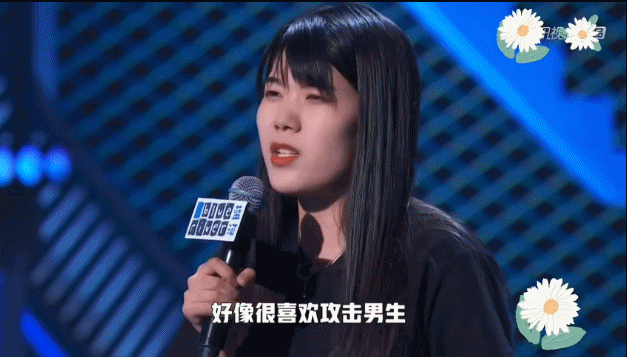 On "Zhihu", a Q&A community that gathers many young college students and novice in workplace, a young man claiming to be a post-00s college freshman declared that, if he would ever get married, the woman who would require a bride price will be exempt from the conversation. So far this answer has gained over 41,000 likes and about 120,000 comments, and might have set a new record for this online forum. In his reply, this young male netizen said, "Marriage is a matter for two people, not for two families, and all relationships after marriage should be viewed with a legal lens, which allows no ambiguity." His resolute attitude supposedly has gained wide recognition among young male netizens.
In 2021, a stereotype that might contain both geographical discrimination and sexism is becoming popular on the Internet. It says, "Don't marry a Jiangxi girl without 880,000 yuan." According to official media in Jiangxi province, in general cases, young Jiangxi men are required to pay a lump sum of 88,000-388,000 yuan to the bride family upon marriage, which is sometimes used as a family fund for the newlyweds to purchase real estate, but more often goes to the woman's parents, later used as a bride price for her brother's marriage. In the event of a divorce, supposedly, the bride price will not be returned to the husband. As one of the largest labor exporting provinces in southern China, young Jiangxi men on the Internet are clearly dissatisfied that they can't keep the fortune in their own hands. Many of them worked & saved very hard for this fortune in their 20s. Rumors like "Don't marry a Jiangxi girl without 880,000 yuan" even appear in many short videos on TikTok. The very expensive bride price has almost become the stereotype of Jiangxi province in the new era.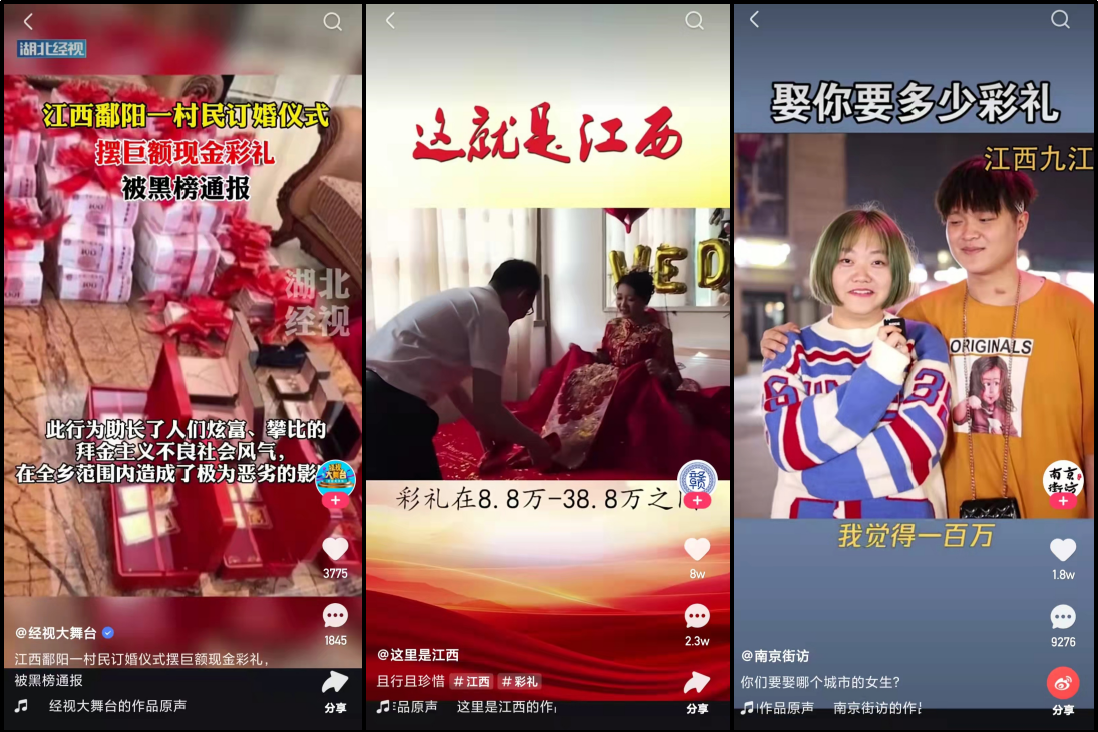 In fact, the Internet as a new medium has grossly exaggerated the extent of the gender opposition among China's younger generation. Keith Sunstein, legal advisor to former US President Barack Obama, once introduced the concept of the "information cocoon", arguing that in the age of the "eyeball economy", users tend to pay attention only to what they choose to read, to what they identify with (even such contents may provoke unnecessary conflict and hostility). Over a period of time, an Internet user whose views are influenced by same-gender KOLs will be more likely to look for content that encourages confrontation to read. Once this "cocoon" is aggravated, netizens will actively seek hateful content, or even actively produce content that incites confrontation and intensifies conflicts. The fierce competition between different Internet platforms also makes these platforms deliberately recommend content that provokes conflicts in order to try to retain new users.
In the current state of the Internet in China, young men and young women might have already been divided into groups with different opinions, especially on the financial aspects of marriage. However, division does not necessarily mean opposition, nor does it mean hatred and confrontation. Young men and women probably have more in common than in conflict. It might be necessary for the online media industry to establish self-regulation rules against "hateful content to attract attention" and, if necessary, to introduce governmental control measures to prevent similar social media hype that antagonizes different groups of people.