Alfred Sit: Govt has made unprecedented strides to promote I&T development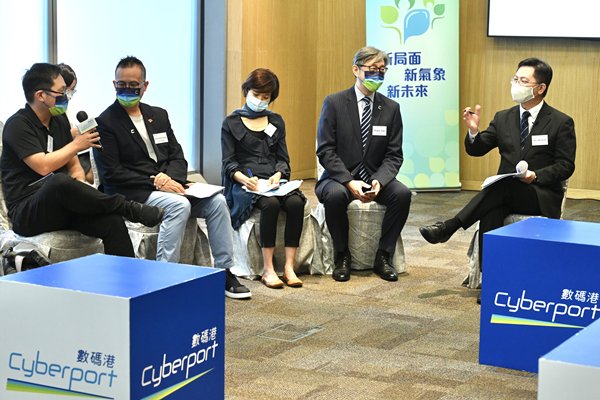 Secretary for Innovation & Technology Alfred Sit on Tuesday (Oct. 12) visited the Hong Kong Science Park and Cyberport to exchange views with the startup community on the innovation and technology (I&T) initiatives outlined in the 2021 Policy Address.
To further drive I&T growth, the Policy Address proposes to revive the Ma Liu Shui reclamation project which, together with the land to be vacated by the relocation of the Sha Tin Sewage Treatment Works, will provide a total of 88 hectares of new land mainly for I&T development.
The Mass Transit Railway Corporation will also study the construction of a new station to improve the public transport service connection of the Science Park.
Additionally, the Government will set aside about 5 hectares of land in Lau Fau Shan to build landmark I&T facilities with a scale comparable to that of Cyberport to facilitate the deepening co-operation with the Qianhai Shenzhen-Hong Kong Modern Service Industry Co-operation Zone.
Sit said I&T is the engine of the city's economic growth, noting that the current-term Government has made unprecedented strides to promote I&T development by investing more than $130 billion over four years.
With the central government's support in developing Hong Kong into an international I&T hub and forward-looking initiatives proposed in the Policy Address, Hong Kong has entered a golden era for I&T development, he added.
Sit encouraged startups to make good use of policy support, seize the opportunities and continue to shine.
Under the Northern Metropolis Development Strategy, the Hong Kong-Shenzhen Innovation & Technology Park in the Lok Ma Chau Loop and the areas around Lok Ma Chau/San Tin will be consolidated to form the San Tin Technopole, where land for I&T-related uses is estimated to amount to about 240 hectares.
This, together with the Shenzhen I&T zone, will form the Shenzhen-Hong Kong I&T Co-operation Zone of 540 hectares and become an essential propeller for the development of an international I&T hub in the Guangdong-Hong Kong-Macao Greater Bay Area.