Freeze Peach | Ghosts of Rome: All Great Civilizations Fall—Is America Next? (Part II)
By J.B.Browne
2049 AD
Blade Runner 2049, directed by Denis Villeneuve, deals with an unsettling vision of the future with startling imagery for what might unfold in Los Angeles in 2049. In this dark dystopia, industrialists have ascended to the top of society, bioengineering humanoids, called replicants, for slave labor. The premise of this chilling scenario is a great cataclysm, an EMP (electromagnetic pulse) detonation that caused a global blackout with massively destructive implications for the world.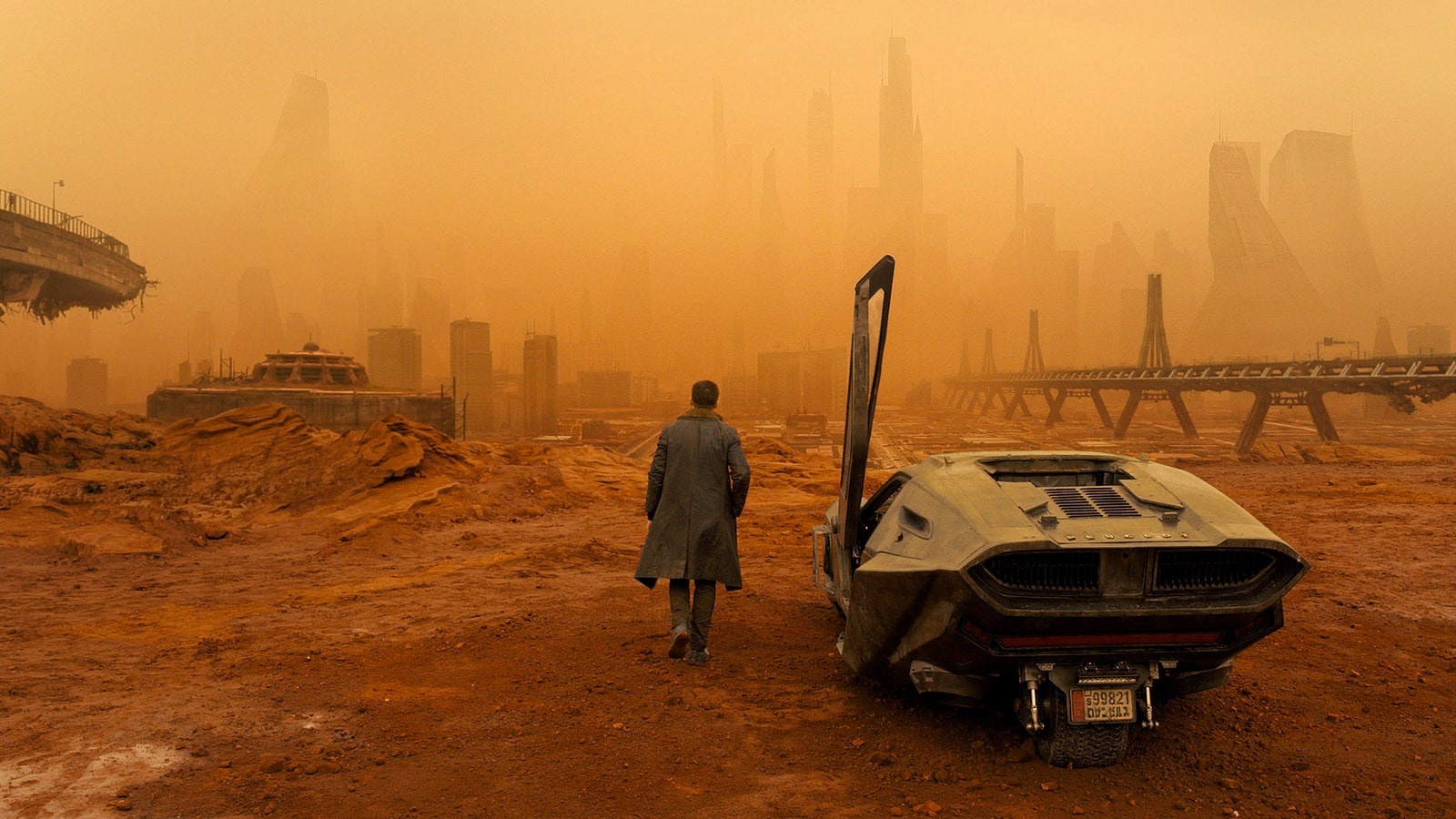 Over its three million years of existence, the human species has continuously sought to modify nature and (technology permitting) drained its resources. We have, over time, become desensitized to the possible scenarios of a great cataclysm that would undoubtedly change the world forever. These imagined cataclysms – from war, nuclear winter, asteroid strikes, or economic collapse – are far from fantasy.
But for America, the reality appears to be much closer to home.
In 'A Study of History' – a 12-volume magnum opus exploring the rise and fall of 28 different civilizations, historian Arnold Toynbee wrote:
"Great civilizations are not murdered.
Instead, they take their own lives."
American psychosis heralds that every external threat, be it a terrorist organization or another civilization, is a projection of fear of looking inward to the rose-tinted ideals of American exceptionalism. That the violence, destruction, and inequality exported globally would never come back to visit them. In essence, Rome never knew it was collapsing even when it was.
Death & Rebirth
"Hard times create strong men. Strong men create good times. Good times create weak men. And, weak men create hard times."
— G. Michael Hopf from "Those Who Remain"
America's collapse is, in fact, its slow decline – a far more confusing and destructive affair with the added fragility of being watched by the world 24/7 like a reality TV show. On Jan. 6, 2021, "the greatest democracy in history" was nearly couped by aspirant revolutionaries in under two hours.
But if the American Empire is to collapse like the Roman Empire it so keenly emulates, why does it instead resemble a bold facsimile of the Weimar Republic? Germany's 1920s ill-fated attempt at democracy quickly descended into violence and political upheaval, falling eventually at the jackboots of the not-so-great mustachioed one.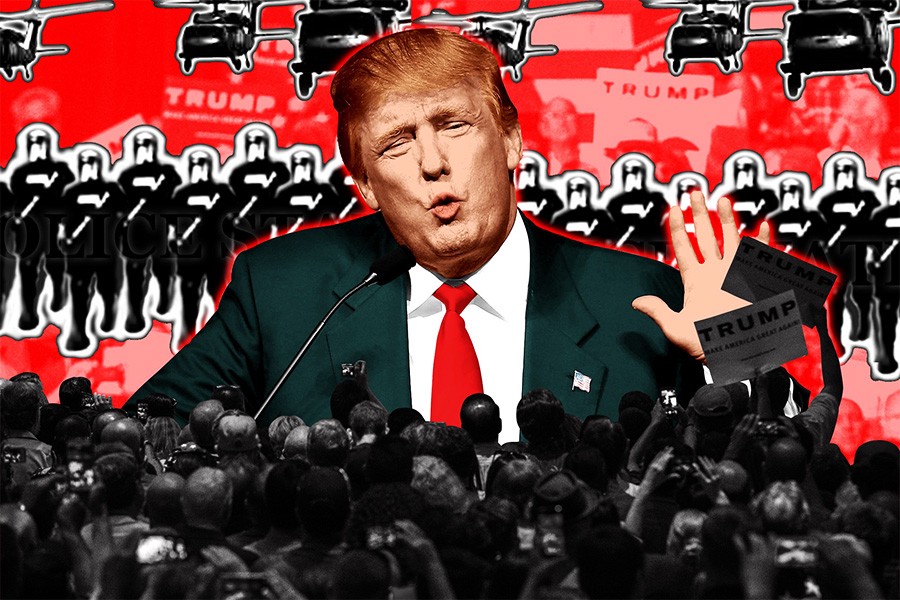 The pandemic has only hastened the plight of working-class and minority workers who automatically bear the brunt of economic turmoil. And only in a failing state on the brink of collapse does this happen instead: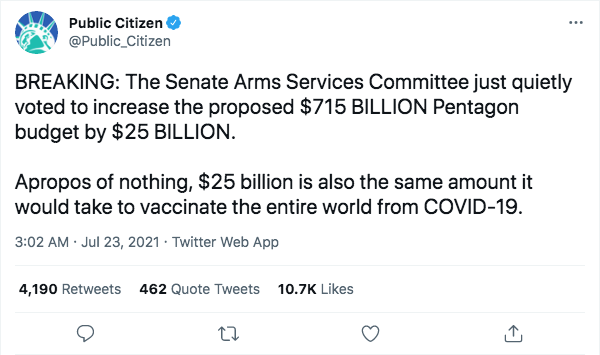 Link: https://twitter.com/Public_Citizen/status/1418285356080930817?s=20
So what for America? Seceding factions? A warring states period? With its abundance of arms, America could soon fracture into organized militias as people struggle for resources. What then after that? Military coups? Presidential dictatorships? Socialism or barbarism?
There is light. The dissolution of an empire doesn't always give way to a Dark Age. The turmoil of shifting eras usually means the rise of new thinking, economic activity, and culture. But it will be hard. America's history is knee-deep, and there is time for new history-making. But time and opportunity are running out. Nature has a habit of destroying those that cannot adapt. For those that do, there is hope for re-emergence.
"But the proles, if only they could somehow become conscious of their own strength, would have no need to conspire. They needed only to rise up and shake themselves like a horse shaking off flies. If they chose they could blow the Party to pieces tomorrow morning. Surely sooner or later it must occur to them to do it? And yet-!"— George Orwell, 1984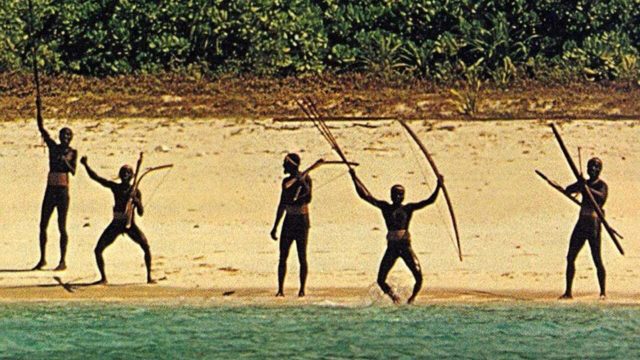 People are power. They already know they're at the mercy of an unfettered capitalism so morally bankrupt as to remove any meaningful outlet to express their grievances consciously. Americans need a genuine party to help systemize the knowledge they possess, channeling their needs into significant political change.
If not – and this is crucial – all movements and thinking will be crushed and snorted up by a ravenous liberal corporatocracy, sabotaging any chance of change. If this reaches a final end point, which is happening, American collapse is imminent, and the world will suffer greatly, momentarily. Then, like Rome, a new America will emerge, different, trimmer, more nuanced, friendlier.
Let's hope. Let's thank the billionaires.
Thanks, Jeff.
You and your dong.
As he would refer himself, J.B. Browne is a half "foreign devil" living with anxiety relieved by purchase. HK-born Writer/Musician/Tinkerer.
The views do not necessarily reflect those of DotDotNews.