Opinion | Reflections on China's legal development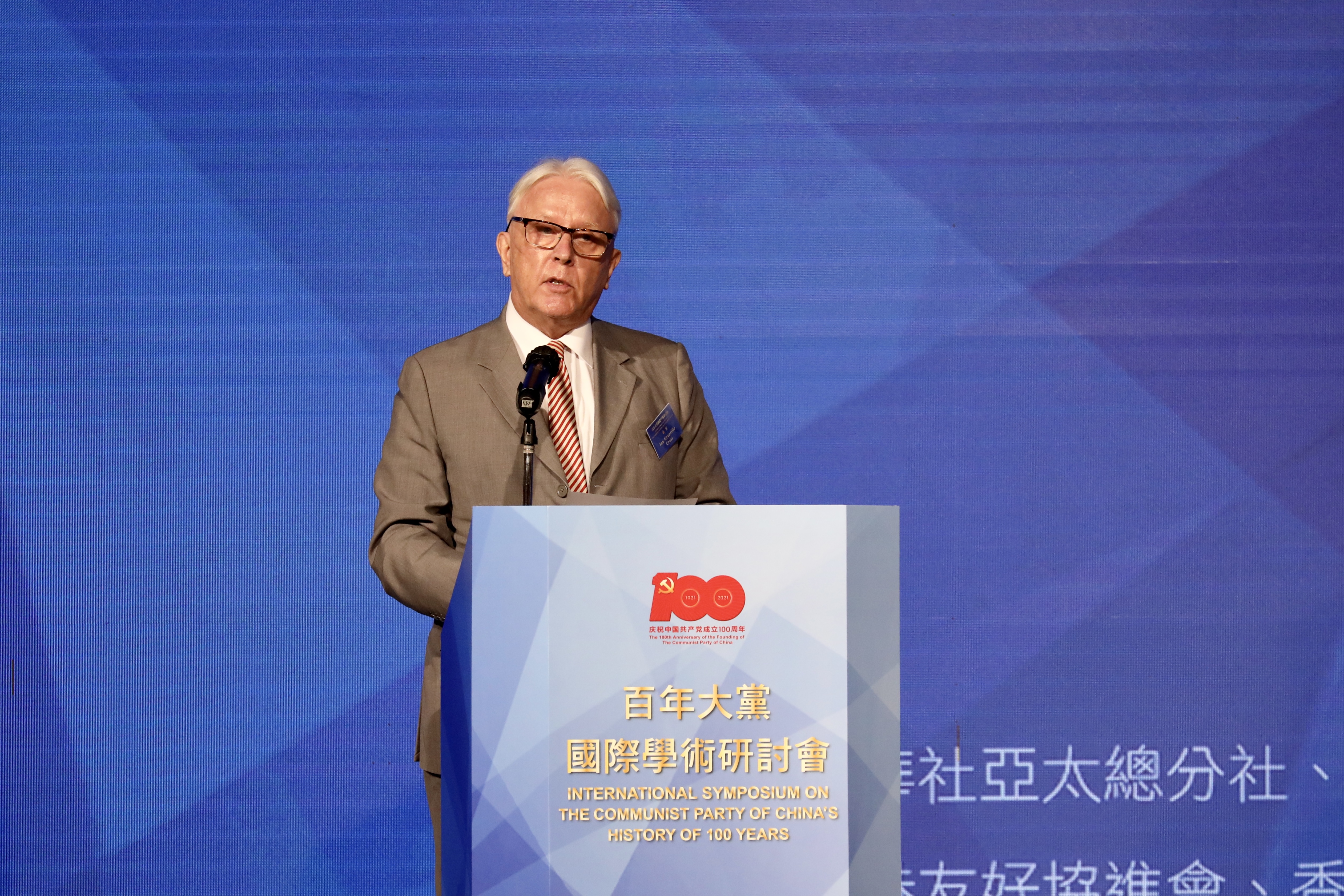 Editor's note: The Liaison Office of the Central People's Government in the HKSAR and the Bauhinia Culture Holdings Limited holds a seminar named "International Symposium on the Communist Party of China's History of 100 Years" on Wednesday (June 16). Various government officials, leaders, experts and scholars from home and abroad attend the event, sharing their knowledge and stories about CPC's development over its 100 years of history. Grenville Cross, Senior Counsel, Professor of Law and former Director of Public Prosecutions of the Hong Kong SAR delivers a speech on "Reflections on China's legal development". The following is the full text of the speech.
Good morning, ladies and gentlemen.
I am honored to have been invited to speak on this historic occasion, and I thank the organizers for allowing me to share my thoughts on recent legal developments in China. Since 1921, the country has undergone profound change, in consequence of which an ancient civilization is now fully realizing its potential. The reform and opening-up policy of the late 1970's has helped to shape the country's destiny, and it has now achieved domestic renewal, economic strength and global influence, all of which are benefiting its people and the wider world. This, moreover, has been achieved through China's own efforts, which have turned its vision into reality.
As part of their modernization program, the Central Authorities, in their quest for a better future for the people of China, have studied alternative methods and experimented with different models. This is strikingly illustrated in the Hong Kong and Macao Special Administrative Regions, both of which, after reunification, have retained their own distinctive features, from which lessons have been learned. These include their long-established legal arrangements, with one following the common law model and the other the civil law tradition.
In the 1980's, the paramount leader, Deng Xiaoping, famously declared that "we must build a modern legal system for China", and, since then, reformers have taken him at his word, by seeking to improve the country's legal arrangements. Although some highly significant reforms have been implemented, they are either being ignored or downplayed in the West, because they interfere with the negative notions some countries like to project of modern China, but they are nonetheless very real. Major progress has been made, including judiciary reform, and this has helped to equip China for its worldwide responsibilities, on the One Belt, One Road Initiative ("BRI"), and beyond. The Chinese courts, for example, resolved approximately 15,000 foreign-related civil disputes in 2013-2017, with BRI-related cases being a major component. In their adjudications, the courts have, as justice requires, adopted equal protection of litigants as a guiding principle, irrespective of where they come from.
In modernizing itself, China has acknowledged that economic development must be underpinned by a fair and efficient legal system, which is exactly what businesses require. In 2020, the Foreign Investment Law commenced, and this provides new opportunities for foreign investors, who, before committing themselves, look for financial certainty and a level playing field, and this is now being provided. In recent times, the emphasis has been on creating a favorable legal environment for the country's reform, development and stability, and, in practical terms, judges handling foreign-related disputes are required to provide foreigners with every assistance, which can take various forms.
At the Tongzhou District People's Court in Beijing, for example, a special reception facility has been arranged for foreign litigants. English-speaking judges are available to explain court procedures to litigants, and there is even a special channel for financial institutions, corporations and individual foreign litigants to file their cases. Judges handling foreign-related disputes are also required to expedite cases, and to ensure litigants have access to convenient legal services. Quite clearly, initiatives of this type will encourage more people, including foreigners, to invest, and will also enhance the judiciary's global credibility. Allied to this, arbitration also has a vital role to play in dispute resolution as China optimizes its business environment. There are, therefore, now 260 arbitration commissions, with 60,000 staff, and they have handled 4 million arbitration cases involving 70 countries and regions. In 2019 alone, the arbitration commissions handled almost 487,000 international arbitration cases, involving 759 billion yuan ($116 billion).
At the same time, and in order to foster a better legal environment, the improvement of judicial services is also being prioritized, and this involves greater transparency. In March, the Supreme People's Court ("SPC") work report indicated that changes are being implemented to streamline court procedures and enhance judicial credibility, and this could pave the way for the world's first legal system integrated with artificial intelligence ("AI"). The judiciary's operations are being transformed by technological initiatives, including the use of AI and big data analytics. In this process, the "smart court" initiative is coming into its own, and this involves "hi-tech" measures such as facilitating the filing of documents by court users, releasing court judgments online, algorithm analytics and AI-assisted decision-making in courtrooms by working with technology companies.
Indeed, the progress being made by the courts is mind-boggling, and far surpasses the expectations of even just a few years ago. The SPC work report reveals that, since 2014, the courts throughout the country have published over 120 million judgments to China Judgments Online, a databank, and that over 11 million trials have been broadcast online. This is significant as the publicization of judgments from different parts of the country widens the knowledge of judges and legal professionals about what is happening elsewhere, and this promotes greater consistency among the courts, which results in fairer judging. It also means that judicial credibility is improved, and this enhances public trust in the courts.
Following its launch in 2014, China Judgments Online now includes criminal, civil and administrative cases, and its search function enables users to track judgments of interest. By March this year, the database, which hosts more than 117 million judgments, the majority of which are criminal cases, had been visited over 5.8 billion times. About 50,000 new judgments are being added daily, with the majority being uploaded by the lower-level courts. Apart from the judges, the lawyers can also access the databank, and this helps them to formulate their submissions.
Although mainland China does not follow the case precedent system of the common law world, it nonetheless assists lawyers who are preparing their submissions if they can show the courts how similar cases have been handled by other judges previously, as they can then seek a uniform approach to the same questions. Quite clearly, if national laws are not applied uniformly throughout the country uncertainties will arise, and the new technology is helping to ensure that there are not wide variations of interpretation among the courts in different cities and provinces.
The courts, moreover, are now experimenting with admitting evidence electronically, and, over an 11-month period in 2020, over 7 million cases were filed online, with more than 4 million cases actually mediated online. In the same period, almost 900,000 trials were heard virtually, which was a seven-fold increase over 2019. A major benefit of this has been that, even during the Covid-19 pandemic, the courts were able to continue their operations. Under China's 14th 5-year plan, the country's courts will upgrade to the fourth generation of smart court by 2025, which will include not only a centralized database platform for all judicial data, but also a centralized control hub that oversees the implementation of the smart court initiative across the country.
If, however, the courts are to function effectively and deliver justice, they must be staffed by people of the highest quality, and here there have been significant advances. Until quite recently, there was only limited legal training for judges at the lower levels, but this has now changed. Anyone who aspires to be a judge (or a prosecutor, or a lawyer) must, having obtained a law degree, pass the National Unified Legal Professional Qualification, which is not easy, as well as a separate judges' examination, and this has raised judicial standards enormously. Many of the new generation of judges have also studied law elsewhere, including in Hong Kong, and this has undoubtedly broadened their horizons and enhanced their credibility.
In my own area, criminal justice, the SPC has, since 2018, prioritized two vital principles in criminal cases. These require, firstly, that there should be no punishment where doubt exists, and, secondly, that illegally obtained evidence should not be used against a criminal suspect at trial. These principles are deeply embedded in the common law tradition followed in Hong Kong, and they reflect the notion that the conviction of a suspect is not an end in itself, and that the processes resulting in a conviction must also be fair. Whereas previously the emphasis in criminal trials was upon ascertaining if a confession was true, it is now upon whether it was voluntary. After the revised Criminal Procedure Law was enacted in 2013, coerced confessions are no longer admissible in evidence against a suspect, even if true. In other words, illegally obtained evidence must be excluded, which reflects global fair trial guarantees.
If, however, the judges are to exclude involuntary confessions, they need to know how they came into existence. This is why the law enforcement agencies are now required to video-record the confession taking process, certainly in the more serious cases. This technique was pioneered by the Independent Commission Against Corruption in Hong Kong, and it resulted in more pleas of guilty and fewer acquittals. Given its success, it was then adopted by the city's police force, as well as by law enforcers in Macao. The principle of legality, which is now accepted, requires that nobody is required to incriminate themselves, and, before the courts can accept confessional evidence, prosecutors must first be able to demonstrate, whether by vide-records or otherwise, that it was made voluntarily.
Another fascinating development concerns people's assessors, whose role is not dissimilar to that of jurors in criminal trials in Hong Kong. Although they were originally introduced in the 1950's, to give the public a voice in the judicial process, the People's Assessors Law, enacted in 2018, gives them equal rights with judges in trials, unless the law provides otherwise. The object is "to achieve judicial democracy", and, although they normally sit on 3-person collegiate panels, they are also eligible, in graver cases, to participate in 7-person panels, usually comprising three judges and four assessors. Although assessors cannot vote on legal questions, they can still discuss them, but they vote jointly with the judges on factual issues, which are decided by the "principle of majority rule". In 2019, 170,000 people's assessors were appointed, and this has greatly enhanced public participation in the judicial process.
I feel sure, therefore, that Deng Xiaoping would have been elated to see the extent to which China has, as he hoped, set about building a modern legal system. He would, I believe, also have been heartened by the successful implementation of the "one country, two systems" policy for Hong Kong and Macao, of which he was the architect. Although the policy has been implemented in Macao without difficulty, there have been problems in Hong Kong, which are now being resolved by constitutional means and through the efforts of people of goodwill throughout the country. There were fanatics in Hong Kong, encouraged by hostile forces elsewhere, who were prepared to use the city's unique status not as a springboard for achieving greater things, but as a means of creating chaos and damaging the country as a whole, but they have now been thwarted.
Since 1997, the Basic Law of the Hong Kong Special Administrative Region, which was enacted by the National People's Congress ("NPC") in 1990, has ensured that the common law system has not only survived in Hong Kong, but gone from strength to strength. Both judicial and prosecutorial independence are constitutionally guaranteed, and convictions are only ever possible if prosecutors have established guilt beyond reasonable doubt. The principle of trial by jury is upheld, and judges are chosen on the basis of their judicial and professional qualities and may, in a remarkable gesture, also be recruited from other common law jurisdictions. The Hong Kong Court of Final Appeal is vested with the power of final adjudication, and there are currently 14 overseas non-permanent judges sitting on it, coming from Australia, Canada and the United Kingdom. The decision to enable Hong Kong to maintain close links with other common law jurisdictions like this was clearly prescient, and it has helped to maintain confidence in the legal system.
There were, however, people who wanted the "one county, two systems" policy to fail, as they knew that this would weaken China. Since Hong Kong lacked its own national security laws, they launched their insurgency in 2019, which involved destruction, violence and terrorist outrages. Opposition forces openly preached "Hong Kong independence" and "self-determination", and they unashamedly aligned themselves with China's geopolitical rivals, even urging them to enact laws which would damage Hong Kong and the country. Once it became clear that the city's way of life was under real threat, the Central Authorities had no choice but to intervene. The National Security Law for Hong Kong was, therefore, enacted by the Standing Committee of the NPC on June 30 2020, but it was done in a way that was constitutional, minimalist and respectful of Hong Kong's legal norms.
It was constitutional because, firstly, the NPC was exercising the power conferred on it by the Constitution itself, and, secondly, the Basic Law (Art.18(3)) provides that the NPC Standing Committee can add national laws to the Basic Law's Annex III if they relate to defense and foreign affairs or other matters outside of Hong Kong's autonomy. It was minimalist, because it only contained the laws for the suppression of the criminal acts which were immediately threatening Hong Kong, namely, secession, subversion, terrorism and collusion with foreign powers, and the city, as the Basic Law (Art.23) stipulates, was entrusted to enact the remaining and not so urgently needed national security laws, including treason, sedition, and theft of state secrets. It was respectful of legal norms because, at the outset of the National Security Law (Art4), it is stated that "human rights shall be respected and protected in safeguarding national security", and these are specified as including freedoms of speech, of the press, of publication, of association, of assembly, of procession and of demonstration, which are rights that residents already enjoy under the Basic Law, the International Covenant on Civil and Political Rights and the International Covenant on Economic, Social and Cultural Rights.
In criminal justice terms, the National Security Law (Art.5) provides that the "principle of the rule of law shall be adhered to" in the conduct of criminal cases. This is achieved by ensuring that the protections enjoyed by criminal suspects are upheld, that the presumption of innocence is respected, that the right to a fair trial is guaranteed, that prosecutions are based on legal certainty, and that, wherever possible, cases are handled in accordance with existing judicial procedures. Although certain judges are designated by the Chief Executive, on the advice of the Chief Justice, as being suitable to handle cases involving national security, it is for the Judiciary itself to decide which judge will handle which case, and the chosen judge enjoys the judicial independence guaranteed by the Basic Law (Art.85). There is, moreover, no restriction on foreign judges handling national security cases, which is remarkable, and it once again highlights China's high regard for Hong Kong's international character and legal traditions.
In conclusion, it is apparent that, throughout China, legal reform is now buttressing national development, and that the modernization process is yielding positive results, which bodes well for the future. A successful country must be underpinned by an effective legal system, and law-based governance is now entrenched as a governing principle. The people of China are benefiting from the protections provided by increasingly sophisticated laws and legal institutions, and the rights of the parties to litigation, whether civil, commercial or criminal in nature, are being appropriately prioritized. The law should always be used as a means of achieving just outcomes, and this must be a national imperative as China moves forward.
Thank you.
Grenville Cross
June 16 2021
The views do not necessarily reflect those of DotDotNews.