Budget | All you need to know: Measures proposed to relieve HK people's burden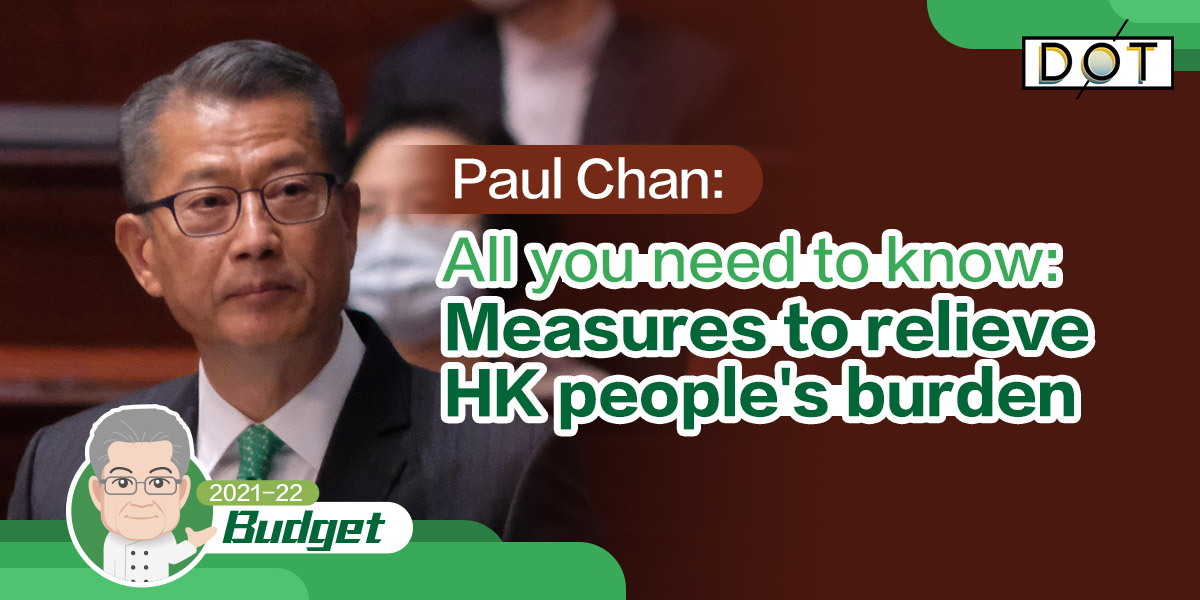 Hong Kong's Financial Secretary Paul Chan Mo-po began his budget speech at the Legislative Council at 11 a.m. on Wednesday (Feb. 24) with a pledge to stabilize the city's much-battered economy and relieve people's burdens.
Residents to get HK$5,000 electronic vouchers
The government will issue electronic consumption vouchers in installments with a total value of $5,000 to each eligible Hong Kong permanent resident and new arrival aged 18 or above. The measure is expected to cost the government HK$36 billion and benefit around 7.2 million people.
The government has no plan to send out cash like the previous year, Chan said.
Profit tax, salaries tax reduced by 100%
As part of the government's one-off measures to help the public ride out the downturn, Chan pledged to reduce salaries tax and tax under personal assessment for 2020/21 by 100 percent, subject to a ceiling of HK$10,000. This is expected to benefit 1.87 million taxpayers.
Chan also proposed to reduce profits tax for 2020/21 by 100 percent, subject to a ceiling of HK$10,000, benefiting 128,000 businesses and costing the exchequer HK$1,050 million. Also, business registration fees will be waived for 2021-22, benefiting 1.5 million operators.
Govt to create 30,000 more positions
Chan said that in the last fiscal year, the government created about 3,1000 positions in public and private institutions with the Anti-epidemic Fund. As of the end of January, about 16,000 people have been hired.
The government intends to allocate another HK$6.6 billion to create about 30,000 jobs, with contracts no longer than 12 months.
Special loan scheme to support the jobless
Chan announced the Special 100% Loan Guarantee for Individuals Scheme with the government acting as the guarantor. The maximum loan amount per applicant is set at six times of his/her average monthly income during employment, subject to a ceiling of HK$80,000.
Apart from this, the government also proposed to relax the working hour requirements under the Working Family Allowance Scheme for non-single parent households for one year.
Govt to spend HK$934mn to boost tourism
The government will earmark HK$934 million to boost tourism – one of the industries hit hardest by the Covid-19 pandemic.
HK$169 million will be used to promote local cultural, heritage and creative tourism projects, such as the Yim Tin Tsai Arts Festival and the City in Time.
The rest of the money will go to the HK Tourism Board for it to roll out promotional offers when cross-boundary travels resume as COVID-19 eases.
Other measures to improve people's livelihood
Also, each residential electricity account will be subsidized by HK$1,000 and rates concession will be provided for domestic properties for four quarters of 2021-22 according to a prescribed schedule.
Chan proposed to earmark HK$1 billion to provide subsidies for owners of more than 3,000 old buildings with relatively low rateable values to carry out drainage repair or enhancement works. This measure is aimed to improve the environmental hygiene of HK residents.