Opinion | Jimmy Lai prosecution: Rule of law stands firm against US interference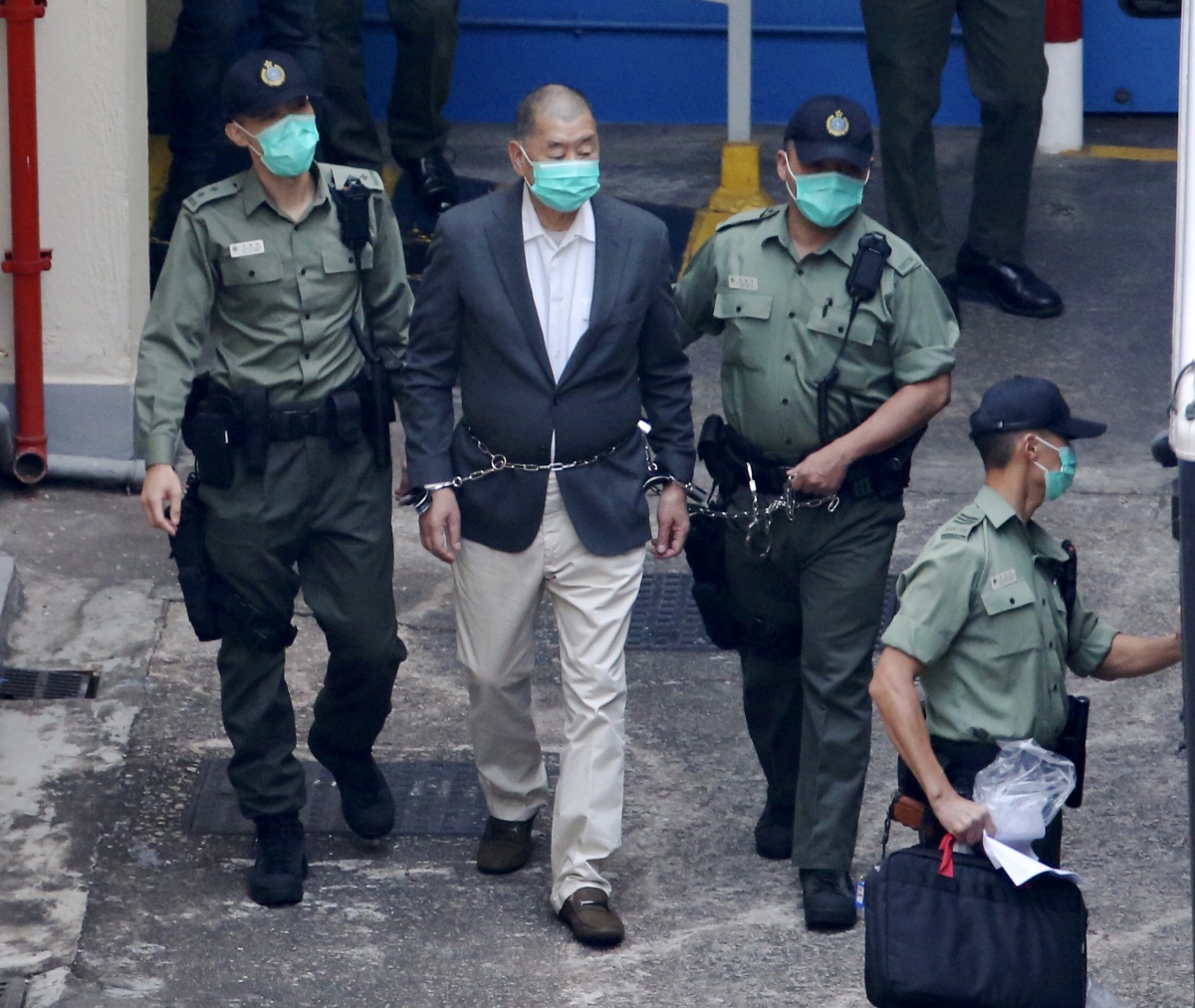 By Grenville Cross
In July 2019, just days after the armed wing of the protest movement desecrated Hong Kong's Legislative Council building, the Next Digital owner, Jimmy Lai Chee-ying, who had been vocal in support of the protesters, visited the United States. In Washington DC, he received the sort of red-carpet treatment normally reserved for visiting statesmen and dignitaries. However, given his credentials as a visceral China critic, doors which are normally shut to people like him suddenly swung open.
Indeed, China's antagonists in the U.S. saw him as a godsend. Here, after all, was a Chinese resident of Hong Kong who was prepared to malign his home place, and to say the very things the US Sinophobes wanted so much to hear. He was their man, ready to advance their agenda, and they were determined to make full use of the opportunity his visit provided. So it was that Lai was ushered into the White House, to meet the Vice President, Mike Pence, and then taken to the State Department, to meet the Secretary of State, Mike Pompeo. Since every China basher in town was eager to shake his hand, his next meeting was with the National Security Advisor, John Bolton, followed by a trip to Capitol Hill, where he was welcomed by Republican Senators.
Although details of what exactly Lai discussed with his hosts are sketchy, his assistant, Mark Simon, indicated that Hong Kong, mainland China and Taiwan all featured in his exchanges at the State Department. He said that Lai "thanked Secretary Pompeo for the administration's concern about human rights, and encouraged continued international attention to Hong Kong", which must have delighted Pompeo, who had been trying to interfere in its affairs since his appointment in April 2018. The State Department spokesman, Morgan Ortagus, elaborated that the pair also discussed Hong Kong's extradition proposals, and "the status of Hong Kong's autonomy under the 'one country, two systems' formula".
Although it is not known for sure what the US officials asked Lai to do for them, their encouragement would have greatly emboldened him. Indeed, after returning to Hong Kong, he ramped up his efforts to sustain the protest movement, notwithstanding its excesses, and to cast the government and its police force in the worst possible light. This, of course, was music to Pompeo's ears, and, at every opportunity, he was fulsome in his praise of what Lai was doing.
On August 28, 2019, however, there was an extraordinary development, which was apparently off-script. At a time when the insurgents were doing their utmost to destroy Hong Kong and bring the government to its knees, Lai agreed to be interviewed by the Cable News Network (CNN). He declared that "we in Hong Kong are fighting for the shared values of the U.S. against China. We are fighting their war in the enemy camp". These admissions stunned even seasoned observers, as they not only showed where his allegiance lay, but also shed light on how he viewed his birth country.
However, surprise notwithstanding, Lai's handlers stuck with one of their most helpful proxies. After all, Lai was well-placed not only to assist those trying to weaken China, but also to supplement the efforts of other US agents who were highly active at that time in Hong Kong. Pompeo, of course, was seeking to destabilize the city in different ways, and this meant he had to operate on various fronts, using not only useful idiots like Lai, but also protest leaders and even his own officials.
On August 8, 2019, for example, at the height of the violence, the political counselor from the US Consulate General, Julie Eadeh, was discovered meeting covertly with protest leaders, including Joshua Wong Chi-fung and Nathan Law Kwun-chung, at a local hotel. It would, of course, have been fascinating to be a fly on the wall during this liaison, hearing what Eadeh told Wong and Law to do, or, indeed, what not to do, but it is certain that whatever she said would have advanced Pompeo's agenda. Indeed, once Eadeh's cover was blown, Pompeo, instead of apologizing and re-calling her for overstepping the mark, blustered away about such meetings being the norm, which fooled nobody.
Quite clearly, Pompeo sees Lai as an invaluable asset, and he therefore supports Lai wherever possible. In April, when Lai was arrested for alleged involvement in an unauthorized assembly, Pompeo, ignoring the objective evidence, said "politicized law enforcement" was "deeply concerning". In August, after he was arrested for a suspected national security offense, Pompeo announced that he was "deeply troubled" by a detention which showed that the city's freedoms had been "eviscerated". In December, when Lai was charged with colluding with foreign powers, by seeking to have sanctions imposed on his home place, Pompeo called for the charges to be dropped, claiming Lai was only "speaking the truth". This time, Pence also weighed in, calling the charges "an affront to freedom-loving people", and even describing Lai as a "hero", presumably code for an "agent".
The notion that Hong Kong's prosecutors and judges would capitulate to foreign pressure from the likes of Pompeo and Pence is, of course, risible. Under the Basic Law (Art.63), the Department of Justice controls criminal prosecutions "free from any interference". The courts, likewise, "exercise judicial power independently, free from any interference" (Art.85). The International Covenant on Civil and Political Rights also applies in Hong Kong under the Basic Law (Art.39), as well as under the National Security Law (Art.4), and it provides accused persons with fair trial guarantees in abundance.
In reality, the Department of Justice exercises its prosecution discretion independently, which, hopefully, also happens in the U.S, and it takes no instructions from anybody, let alone from Pompeo. Suspects are only prosecuted if, as elsewhere in the common law world, there is a reasonable prospect of conviction on the available evidence. Once cases go to trial, convictions only result if the guilt of the accused is proved beyond a reasonable doubt, which is a valuable safeguard.
Indeed, in September, Lai himself was acquitted of criminally intimidating a journalist, after the court found the evidence against him unreliable. Pompeo, however, was uncharacteristically quiet about Lai's acquittal, undoubtedly because it showed, contrary to his claims, that the judiciary is entirely independent.
Unless the US Consul General in Hong Kong, Hanscom Smith, is feeding him with inaccurate information, Pompeo must know that nobody in Hong Kong is above the law. Even if they are prominent, and, like Lai, have powerful friends in the U.S, suspects must expect to be prosecuted if they break the law, provided that the evidence suffices. Although Pompeo rejoices in claiming that the legal system is under Beijing's thumb, he produces no evidence of any kind to support his fantasy, and, worse still, has no interest in ascertaining the truth. By resorting to reckless calumnies, therefore, this notorious bully not only discredits himself, but exposes his true motivation, which is to undermine Hong Kong in the hope that this will harm China.
It was, therefore, entirely appropriate for the Department of Justice, on December 12, to describe Pompeo's attempted interference in the criminal justice process not only as a threat to the rule of law, but also as an attempt to "meddle" in China's internal affairs. By seeking to subvert the legal system, in order to help his proxy, Pompeo has again behaved like a global thug, and he may also have attempted to pervert the course of public justice, a serious crime in Hong Kong, as in the U.S.
Nobody, however, should be in the least surprised by Pompeo's contempt for criminal justice, and his record is despicable. In June, for example, in a move which attracted global condemnation, he even imposed punitive sanctions and travel restrictions on Fatou Bensouda, Prosecutor of the International Criminal Court. He did this even though she was simply discharging her United Nations given mandate, which was to investigate if US troops had committed war crimes and crimes against humanity in Afghanistan.
Quite clearly, Pompeo is a political pariah, alien to any sense of decency, and contemptuous of criminal justice. He seeks to get his way by threats, intimidation and coercion, with no regard for the truth. He has not only discredited himself, but also damaged his country's reputation for honesty and fair play. His departure from office on January 20 will, therefore, be welcomed by everybody who cherishes the rule of law.
Grenville Cross is a Senior Counsel and Professor of Law, and was previously the Director of Public Prosecutions of the Hong Kong SAR.
The views do not necessarily reflect those of DotDotNews.