Study suggests 57% of people in Mumbai slums had coronavirus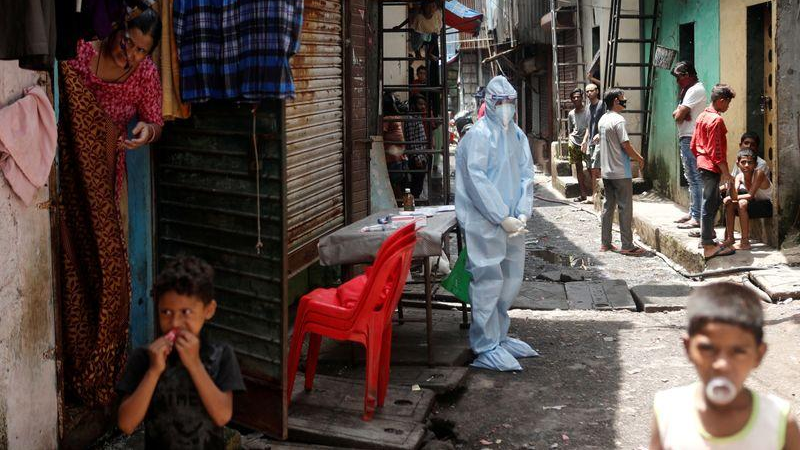 More than half of the people living in the crowded slums of India's financial capital Mumbai may have contracted coronavirus, according to a study conducted by local authorities and medical institutions. The study has raised fresh doubts over India's official case numbers.
Mumbai, with a population of more than 12 million, so far has confirmed more than 110,000 cases, with at least 6,180 deaths. India has become the third worst-hit country after the U.S. and Brazil, with nearly 1.5 million coronavirus cases.
The study collected blood samples from 6,936 randomly selected people, and found out that 57 percent of the slum residents tested positive for coronavirus antibodies and 16 percent of the non-slum residents had virus antibodies.
Antibody tests were often used to show if the person had coronavirus in the past and has since recovered, but U.S. scientists said in May that antibodies in some people can be detected within the first week when they get infected with the coronavirus.
Despite the high rate of infection, the study noted that a large proportion of the cases are likely asymptomatic and the death rate among the infected was as low as 0.05 percent, which is pretty low than that in the U.S. and some of European countries.
The mortality rate per capita in India is 2.47 deaths per 100,000, while the rate in the U.S. is 45.24 and 68.95 in the United Kingdom. Experts attributed the low death rate to India's relatively young population as the young are less susceptible to dying from the coronavirus.
Due to the low number of deaths and high recovery rate, the Indian government has highlighted its successes, and is expected to further reopen its economy, getting more people back to normality.
However, some scientists, including the Maharashtra Medical Council's Dr. Utture Shivkumar Shankar said that the antibody tests suggested that the testing had clearly not captured all the cases. Though India has done well to broaden its testing, it needs to do more in the future.
A week earlier, random antibody tests in the Indian capital of New Delhi found that 25 percent of the residents may have been infected with the coronavirus. However, the results of same tests in other countries are lower.
In Sweden, 7.3 percent of the residents in its capital Stockholm were found infected with the coronavirus in a May research, and 14 percent of adult residents in New York had developed the antibodies by the end of March, 10 percent higher than the official count.
(Source: CGTN)