Trump wore a face mask in public for the first time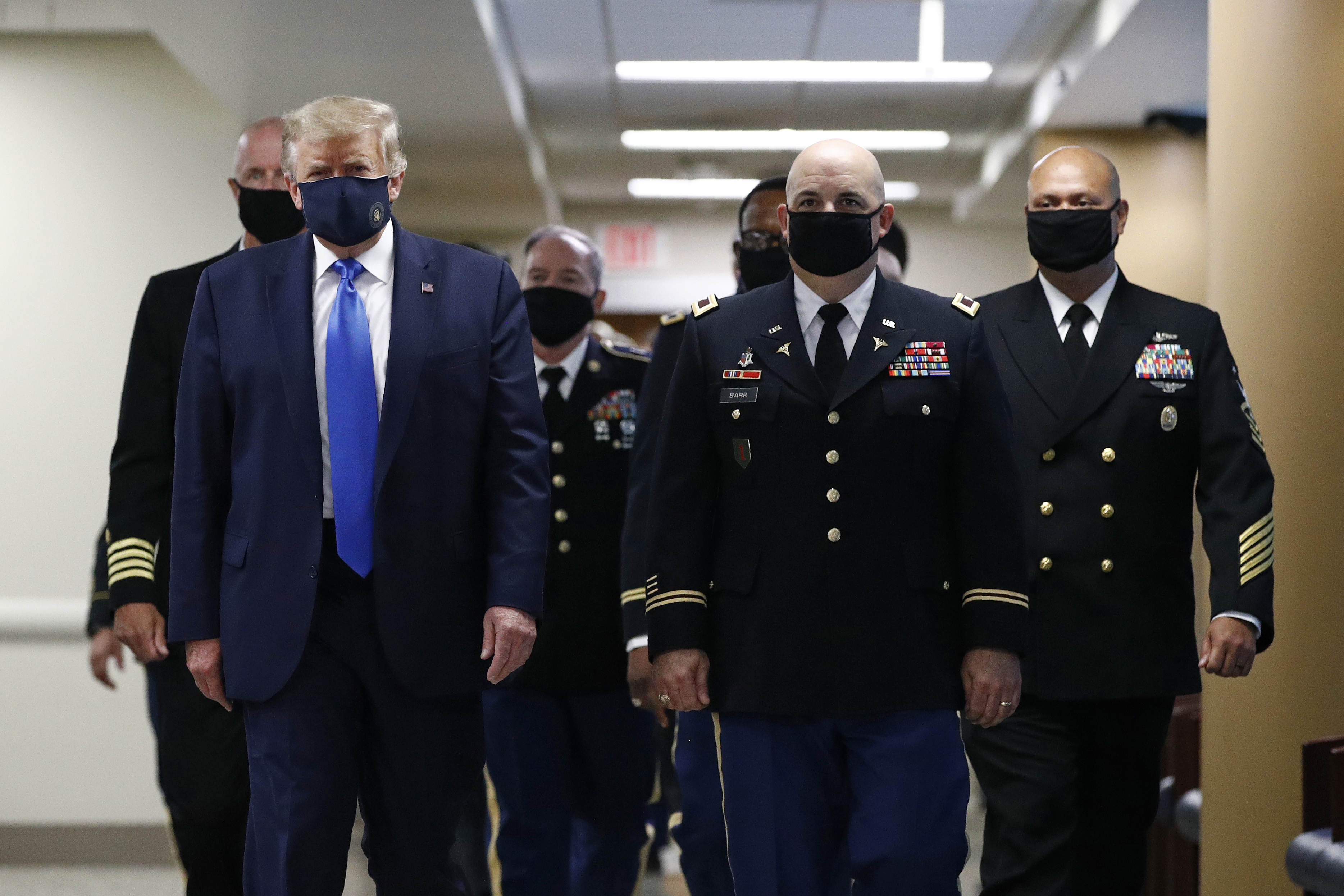 In the United States, some local media expected that the epidemic would last for a long time because the virus continued to spread, and the death toll climbed.
Under pressure from many parties, President Donald Trump, who has been refusing to wear a mask, finally wore a mask in public for the first time in front of cameras during a visit to Walter Reed hospital, which immediately became the focus of global media.
More than 3.2 million people have been diagnosed, and at least 134,000 have died in the U.S. The number of new cases has exceeded 60,000 per day.
The US media have warned that COVID-19 is the most severe challenge to the U.S. since World War II. However, the US virus detection capabilities are inadequate to identify the epicenter of the outbreak, and people are still debating whether or not to wear masks.
Infectious disease expert Dr. Anthony Fauci suggested Trump wear masks since May 27, and he said, "I want to protect myself and protect others, and also because I want to make it be a symbol for people to see that that's the kind of thing you should be doing."
However, the White House didn't take Fauci's advice, and he was even banned from media interviews. At the same time, Trump went around the country canvassing despite the epidemic and kept advocating for classes' resumption.
In late June, New York Gov. Andrew Cuomo publicly urged Trump to put on his mask and said, "Let the President lead by example and let the President put a mask on it."
Since the outbreak, Trump has repeatedly claimed that he is routinely tested for the virus and does not need to wear a mask. Still, the number of new confirmed cases in the U.S. continues to rise, many senior officials, including Vice President Pence, have recently started wearing masks.
White House officials reportedly witnessed Trump at a campaign rally in Oklahoma with thousands of attendees who refused to follow vaccination recommendations to wear masks, which is a frightening scenario.
Through these kinds of rallies, Trump conveyed a signal to his millions of supporters that he was refusing to wear a mask and encouraging them they didn't need to either.
America's leadership of the world amid the epidemic is also growing weaker. For example, when Trump hosted a White House dinner last week to celebrate the entry into force of the new United States-Mexico-Canada Agreement (USMCA), Canadian Prime Minister, Trudeau, refused to attend the meeting on the ground of the epidemic.
A spokesman from Biden's campaign criticized Trump for consistently ignoring the advice of medical experts and reacting too slowly, pointed out that Trump wasted four months to encourage people to protect themselves, ultimately resulting in a considerable sacrifice.
If Trump did the right thing and put on his mask in front of the public earlier, there is no doubt that the COVID-19 conditions in the U.S. would be much better.