Opinion | Rectifying education is a top Hong Kong priority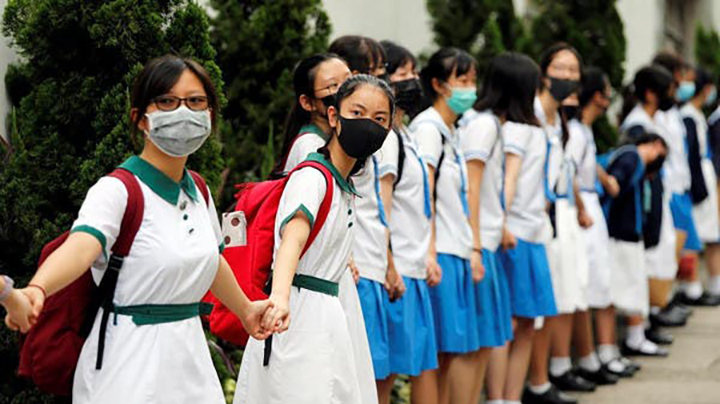 By Thomas Hon Wing Polin
Of all the successes of anti-Beijing forces in Hong Kong since the territory's reunification with China in 1997, none has been more spectacular than their wholesale subversion of education. And it is breathtaking, surely a world record. From kindergarten through university, an entire generation and more of young Hong Kongers have been brainwashed to hate their own nation and people.
Spearheading the effort has been the Hong Kong Professional Teachers' Union, a cabal of committed Beijing-haters pretending to be educators. Their entire project happened under the nose of a negligent HKSAR government, whose allegiance is supposed to that nation and people.
Abetting this subversion of education has been Hong Kong's neocolonialist media, which are Sinophobic and pro-"Western values." As a result, the issue never came on to the public radar, never really entered the public discourse. Until last year.
The Black Terror of 2019 brought the monster into the light. Students, from age 11 up, formed the core of the "pro-democracy" shocktroops violently laying waste to Hong Kong. Being foulmouthed and thuggish was a badge of honor to them.
Zombie-like, they chanted slogans and sang songs that denounced their country and people. These were entirely removed from any recognizable reality in China. The slogans and songs were also paeans to "freedom, democracy and human rights" -- the official ideology of the Anglo-American Empire seeking to undermine the chanters' nation and people.
Only then did ordinary Hong Kongers start waking to how corrupt their educational system had become. Beijing stepped in with its National Security Law. Belatedly, Hong Kong education minister Kevin Yeung has been talking tougher about curbing longstanding abuses in the schools. More significantly, even Chief Executive Carry Lam is signaling a need for major changes.
At a forum on education in Hong Kong, she said she had asked Yeung to draft a comprehensive plan for the teaching of the Chinese Constitution and the Basic Law, as well as the recently passed National Anthem Ordinance and National Security Law for Hong Kong.
The problem regarding the younger generation in Hong Kong, said the CE, stems from "education being politicized." It should be evident, she added, that anti-central government forces have penetrated local campuses through various channels.
According to Beijing's Global Times, Lam also said "negative media coverage of the country, the mis-description of history, and the wanton discredit of the government and law enforcement agencies are all reflected in textbooks, classroom teaching, exam questions, and students' extracurricular activities. Lam said that more than 3,000 students were arrested for committing violent acts in the anti-extradition bill protests, reflecting the 'politicization' of education in Hong Kong. She hopes that the National Security Law could put education back on track."
That is further than any top SAR official has gone in pinpointing a serious disease in Hong Kong's body politic. Of course, the problem stems also from the lack of real decolonization in Hong Kong since 1997, including its educational system. For the SAR's sake, the sooner and more decisively the rectification process gets underway, the better.
The views do not necessarily reflect those of DotDotNews.