US treats international students cruelly on their visa issue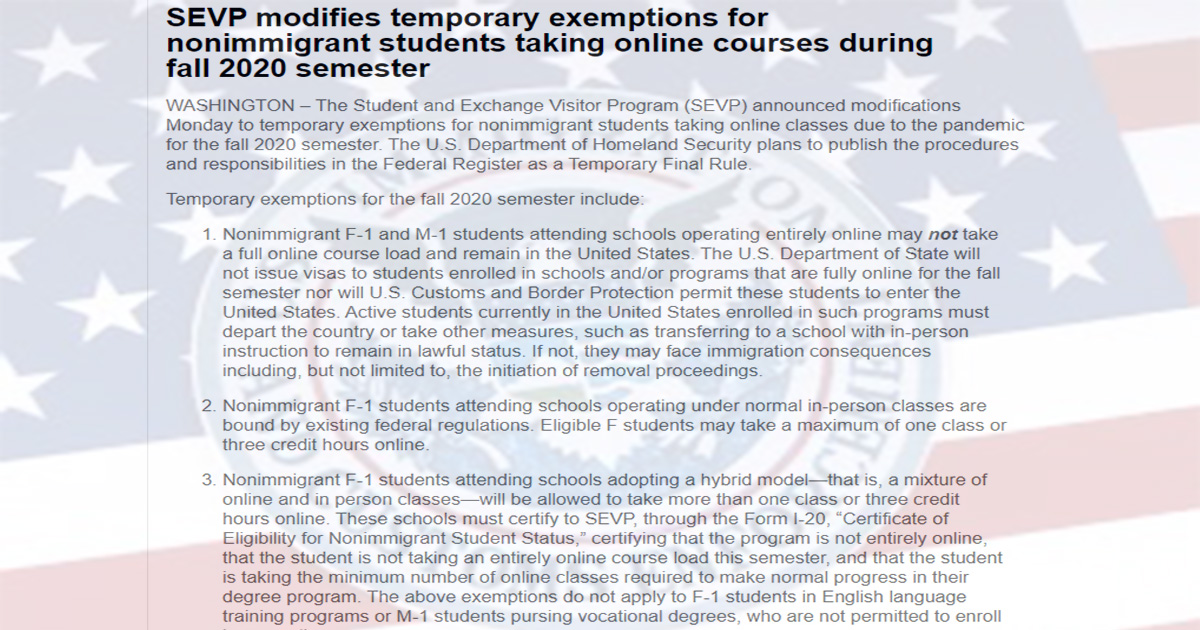 International students on non-immigrant F-1 or M-1 visas will not be permitted to stay in the U.S. if they are taking a full schedule of online classes in the upcoming academic year, according to an announcement by the U.S. Immigration and Customs Enforcement (ICE) on Monday (July 6).
The announcement pointed out that international students will have to leave the country or transfer if their colleges opt to have only online classes.
This announcement has aroused the dissatisfaction and opposition of many U.S. universities and the concern of many students coming to the U.S.

With the COVID-19 epidemic worsening in the U.S., many of the country's formal universities have been forced to move their courses online. Harvard University has announced that all of its courses are being taught through a web-based platform, and even those students who live on campus can only take online classes.
This means that many international students studying at Harvard are also potential targets for deportation by ICE.
According to the Migration Policy Institute, a think tank based in Washington, D.C., about 1.2 million students who fall under the affected visas were enrolled and registered at more than 8,700 schools nationwide as of March 2018.
Many universities in the U.S. are adamantly opposed to this practice. American Council on Education, an organization that represents 1,800 U.S. universities, said that the U.S. government's move was so abrupt that it surprised many people, created confusion and a great deal of uncertainty for schools and students, and may even cause international students to boycott studying in the U.S. in the future.
In a statement, Harvard University rebuked the U.S. government for its "one-size-fits-all" approach which completely ignores the fact that the school's choice of online teaching is a compromise between the need to protect the health and safety of students and their academic performance.
On Wednesday (July 8), MIT and Harvard announced they filed a lawsuit against this administrative order. NYU, with the highest number of international students in the U.S., said that it would use the hybrid model in the next fall semester.
According to an economic analysis by NAFSA: international students contributed US$41 billion to the U.S. and provided more than 458,290 job positions during the 2018-2019 academic year. ICE movements will harm the U.S. education industry and economic development.
However, ICE has not responded to or adjusted this controversial policy.
Many international students in the U.S. are worried about dealing with this absurd policy. After all, even if these students eventually have to go back to their motherland, it is indeed challenging to return to the homeland from such a country with the most severe COVID-19 epidemic in the world.