Opinion | The National Security Law will not restore HK's peace and stability immediately, but will protect it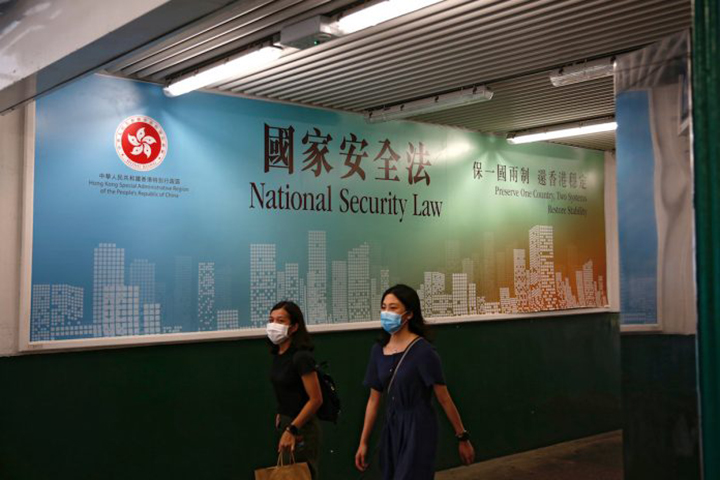 By Alan Leung
In contradiction to the beliefs of many in Hong Kong, the National Security Law (NSL) will not be able to stop the ongoing unrest or restore peace and stability immediately, as the NSL only prohibits secession, subversion, terrorism and collusion with a foreign country or external elements to endanger national security. The NSL will not suppress nor limit freedom of speech or the right to peaceful protests in HK, as these rights are protected and relegated by the Basic Law.
The primary goal of the NSL is to stop foreign interference, intelligence agencies and regime-change NGO operation in HK, which would effectively halt funding, training, materials, technical and strategic support that has been fueling the year-long unrest.
Nonetheless, the NSL will target a small group of local people who have been collaborating with foreign powers and those who have taken an active part in subversion and terrorism activities.
Therefore, the unrest and instability in HK may continue for some time but because of the existence of the NSL, foreign powers will not be able to escalate the unrest into a color revolution nor a civil war. The HKPF will have to use existing laws to deal with the unrest, but as we can see on live television, without their foreign backers providing support and leadership, these black-clad thugs are no longer well-organized and are becoming a loose pack of hooligans.
In conclusion, the NSL will assist the HK government to restore and protect its peace and stability over time. The anti-government movement will lose stream with the absence of tactical, technical and psychological (brainwashing) specialists support provided by foreign intelligence services and regime-change NGO together with the arrests of instigators and foreign collaborators. However, a peaceful movement campaigning for freedom, democratic right and universal suffrage may continue.
At the end of the day, HK people need to understand peaceful protests, rally and movements that campaign for more freedom and democratic rights are completely different from campaigning for independence and separatism or the use of radical and violent means. We must not be fooled by the twisted narrative the Pan-Dems and the West are trying to impose.
The views do not necessarily reflect those of DotDotNews.