HSI rise to welcome national security law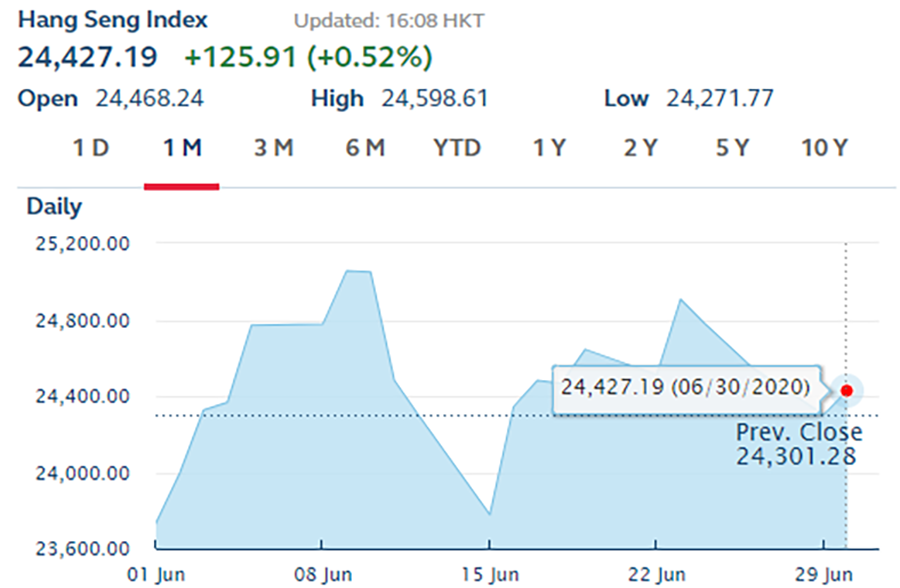 To suppress the implementation of national security law in Hong Kong, the U.S. has announced on Monday (June 29) that it was suspending HK's preferential treatment, halting defense exports and restricting HK's access to high tech products. These measures, however, had no impact on HK stocks.

HK's benchmark Hang Seng Index rose 125 points to 24,427, with a turnover of HK$122.5 billion on Tuesday (June 30). Net inflows of HK stocks reached HK$5.22 billion, the highest since March 25.

In the views of experts, after HK implements the national security law, society will gradually restore peace. The stability of HK stocks will attract more investment and promote the development of the Greater Bay Area economic circle. The national security law of HK can encourage the development of HK's financial market.
Various financial analysts have expressed their views on the trend of HSI.
The Chairman of the HK institute of financial analysts and professional commentators limited (IFAPC), Dr. Kenny Tang, said that HK's national security law reduces the uncertainties in the market and improves the overall investment environment which could attract more investment.
The implementation of the national security law is like the "second handover" of HK. The application of the national security law is like HK's "second return" to the motherland, Tang said.
Tang predicted that mainland China would step up its efforts in developing the Greater Bay Area economic circle, which will promote the economy of the Greater Bay Area, including HK. HK's financial situation will improve in the second half of the year, and HSI may rise back to 28,000 points soon.
The Vice-Chairman of the IFAPC, Sze-Chi Kwok, also explained people's concerns about capital outflows from HK. He said that the flow of capital enters and exits HK has always been free, and it is normal for money to flow in and out. The U.S. sanctions against Hong Kong have not much impact, and it has no time to worry about matters outside its own country under the unpleasant epidemic situation.