Hurun revealed the richest 4 months after COVID-19 outbreak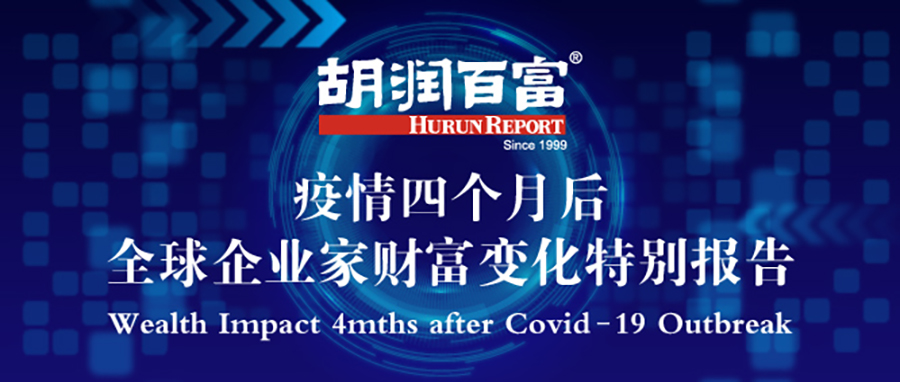 On June 23, Hurun Research released "Wealth Impact 4mths after Covid-19 Outbreak", a special report looking into wealth changes of the world's most successful entrepreneurs in the four months ending May 31, 2020.
In the four months since the outbreak, 60% of the Hurun Global Rich List Top 100 saw their wealth rise or stay the same, while 40% were down.
By the end of May, Jeff Bezos, founder and CEO of Amazon, had increased his wealth by 14% to US$20 billion during the period, making him the richest man in the world.
During the epidemic period, the top 5 wealthiest entrepreneurs in Hurun Global Top 100 came from China, including Colin Huang Zheng, founder of E-commerce platform Pinduoduo. He added US$18 billion to his fortunes, pretty much all the gains coming in the past two months.
Ma Huateng, chairman of Tencent, maintains the richest man in China with US$46 billion of wealth, and Ma Yun, the founder of Alibaba, ranks the second richest man in China with US$45 billion of wealth.
According to the report, under the epidemic situation, the wealth of Liu Qiangdong, chairman of e-commerce JD.COM, increased by 24% to US$12.9 billion, newly entering the top 100 in the world 72nd.
Eric Yuan Zheng, founder of popular video conferencing app Zoom, who saw his wealth triple from US$4.5 billion in January to US$13 billion, propelling him up from 555th in the world four months ago to knocking on the door of the world's Top 100.
The biggest losers in the last four months were Bernard Arnault of LVMH and Warren Buffett, each down US$18 billion, followed by Carlos Slim Helu down US$17 billion and Amancio Ortega of Inditex down US$14 billion.

In the four months until May 31, 2020, China added three individuals to the world's Top 100 billionaires, with the USA, Russia, and Italy each adding one. The USA has 39 in the Top 100, compared with 26 from China. China has narrowed the gap with the USA at the top of the Hurun Global Rich List, from 13 down to 11.