Chinese Lady Visits Hospital Wearing Giant Giraffe Costume to Prevent the Coronavirus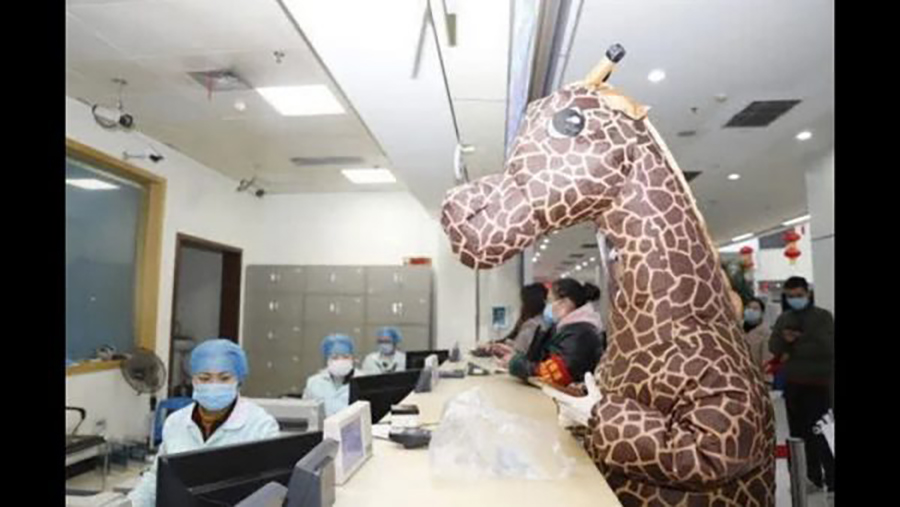 To prevent coronavirus, people are taking every precaution to avoid catching the virus, even at the risk of looking ridiculous.
A Chinese woman called only as Ms. He went viral recently. She was caught on camera wearing a rather unusual outfit – a giant inflatable giraffe costume – when she visited a hospital in Luzhou, southwest China's Sichuan province.
In the short clip posted by the Chinese video platform Pear Video, the woman can be seen walking around in a clumsy brown plastic costume with only a small window of clear plastic film to see through.
When this lady visited the hospital by wearing giraffe costume /A short clip posted by the Chinese video platform Pear Video
When asked why she wore party costume, Ms. He said that as the strongest member of her family, it fell to her to visit the hospital where her father usually treated his respiratory problems before the coronavirus epidemic and ask his doctor to perform a virtual checkup, through a webcam.
She did put on an expired medical mask she had lying around the house, but fearing it wasn't enough to protect her, so she decided to put on the plastic giraffe costume as well.
The hospital staff has documented her unusual wearing. Ms. He has been doing some stories on Chinese social media, with a smile on people's faces at a time when they needed something positive in their lives.
Welcome to download 「點新聞」app in Apple/Google play store, or you can visit our home page:
www.dotdotnews.com
Subscribe us in other platforms:
Facebook:https://www.facebook.com/Dotdotnewscom-106040667538957/
YouTube: youtube.com/c/dotdotnews點新聞
Telegram: t.me/dotdotnews
Instagram: instagram.com/dotdotnews