Hong Kong slips down the list of most attractive global business districts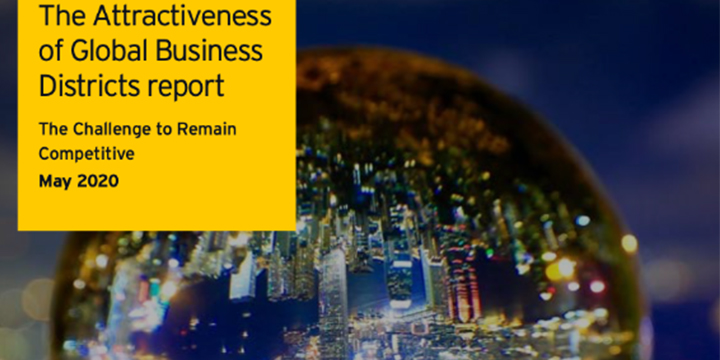 Hong Kong's main financial district, Central, has slipped two places to 13th in a list of the 21 most attractive global business districts. The list is compiled by auditing firm Ernst & Young (EY) and a think tank called the Urban Land Institute. It falls behind Asian rivals such as Marunouchi in Tokyo and Singapore's Downtown Core, based on factors including the ability to attract talent, quality of urban environment and access to markets.
Maintaining the most expensive office rates in the world, Central District received a score of 40.4 in the EY-ULI index released on Tuesday (May 19), higher than the 36.6 points it received in 2017 when it ranked 11th on the list.
However, three new entrants, Gangnam in Seoul and the financial districts of Toronto and San Francisco, have shown astonishingly rapid growth and overtaken Hong Kong on the list.
The City of London remained the most attractive global business district, followed by Midtown in New York, Marunouchi in Tokyo, La Défense in Paris, and Canary Wharf in London.
Hong Kong's lower ranking in the EY-ULI index is closely related to the city's political crisis and social instability in 2019, which triggered an economic recession and weakening investors' confidence. With already increasingly competitive situations among all the GBDs (Global Business Districts), the gaps continue to narrow, which makes the ranking of Hong Kong even more under threat by new booming business districts.
In March, Hong Kong lost its crown to Singapore as the world's freest economy, a position the city had held for 25 consecutive years, according to an index compiled by the Washington-based think tank, the Heritage Foundation.
Marc Lhermitte, a partner at EY Advisory in France, points out that the outbreak of coronavirus has reset the rules for global financial hubs, and their ability to adapt will be what differentiates them in the future.
"Among the big questions for business districts will be whether they are able to convince all their stakeholders that they are still special and unique places to operate," Lhermitte said. "Under new rules and those markets that can adapt to a post-pandemic world will be best-placed to success. In particular, business districts users will look for optimized, safer and more attractive workplaces."
However, every cloud has a silver lining. In the Resilience Index by FM Global, one of the world's largest commercial property insurers, Hong Kong is deemed the most resilient place in Asia, placing 19th globally in a list of 130 countries and territories, which is followed by Singapore in 22nd place, Japan in 26th, Taiwan in 29th, and South Korea in 37th.
The index provides companies with information about factors like economic risks and supply chain resilience of these places. Traditional risks such as disasters and cyber-security remained critical and were heightened by the pandemic.
"As we look ahead to post-COVID-19 recovery, resilience takes on new meaning for many businesses across Asia," said Alex Tadmoury, senior vice-president and EMEA/Asia-Pacific division manager of FM Global. "Those that endure most successfully will be those who invest in thorough risk-and-resilience analysis and timely loss prevention measures."